The Record Company with ZZ Ward
Sales Have Ended
Registrations are closed
Thanks for registering don't forget to keep your tickets handy, either in the Eventbrite app or print them out and bring them with you. This is a FREE concert and tickets have no resale value.
Sales Have Ended
Registrations are closed
Thanks for registering don't forget to keep your tickets handy, either in the Eventbrite app or print them out and bring them with you. This is a FREE concert and tickets have no resale value.
Description
Twitter | Facebook | Instagram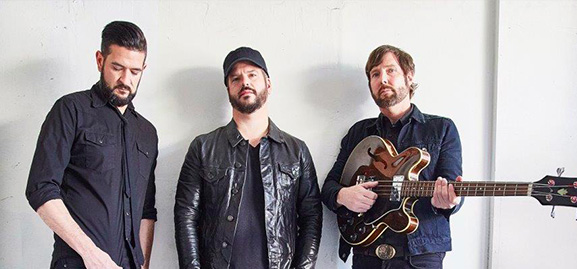 "After that first album, everything just got amplified," says Chris Vos singer/guitarist for The Record Company. "Our lives got crazier and bigger and more complicated in the best possible ways, and our sound and our songwriting just naturally grew alongside that. We're the same people we always were, but The Record Company isn't just three guys in a living room anymore."
One listen to the band's exhilarating new album, All Of This Life, and it's clear that things have changed. The gritty slide guitar, fuzzed-out bass, and driving drums are all still front and center, but the songs are bolder and more ambitious, deeper and more reflective, brimming with adventurous vitality while still remaining firmly tethered to the roots of American rock and roll that have always grounded and nourished the group. The stakes were higher this time around to be sure, but the music more than delivers, bolstered by the kind of growth that can only come from the trial-by-fire the band experienced on their meteoric rise.
By now, The Record Company's story is a well-known one: a trio of musicians grit it out on their own for years in bars and clubs, join forces in LA, set up some microphones in a living room, and cut an album that turns their world upside down. Released in 2016, Give It Back To You spawned three Top Ten hits at Triple-A radio (including the #1 smash "Off The Ground"), earned the band a slew of festival appearances and sold-out headline dates around the world, and garnered a GRAMMY nomination. The group made the rounds on late night TV, shared bills with John Mayer, Zac Brown Band, My Morning Jacket and Nathaniel Rateliff among others, and racked up more than ten million streams on Spotify. The critical response was just as ecstatic, with Rolling Stone raving that the band "kick[s] up a raw, rootsy racket" and Entertainment Weekly calling the album a "soul scorcher."
Far from altering The Record Company's DNA, success only served to enhance it, strengthening the band's bonds and elevating the intangible chemistry that ignited their breakout. At its core, the group is a pure democracy: all the work, all the rewards, all the happiness and heartache and joy and pain are split evenly. Each member brings their own unique strengths to the table, and the three fit together seamlessly, filling in each other's gaps like pieces of a puzzle.
"We're a true band in that we all elevate each other," explains Vos. "Our individual strengths cover each other's individual weaknesses, so there's no way to replace any one of us. We'd all played in bands before, but none of us found what we were looking for until we got together.
Even at their first jam session, it was clear that the trio was on to something special. With a sound that blended the biting blues of John Lee Hooker with the charismatic swagger of the Rolling Stones, the band went from releasing their home-recorded debut to taking the stage at Madison Square Garden in the span of just 18 months. As the group's audience grew, so did their artistry, and when it came time to record All Of This Life, it was clear that their approach in the studio would have to take a big step up to reflect the maturation they'd undergone on the road.
"What we did making that first record by ourselves in my living room, we wore that like a badge of pride," says bassist Alex Stiff. "But we evolved so much as a band after that and our songwriting grew so much that we knew we had to take it out of the living room this time around."
While the group still worked up the core of most songs at home and produced themselves like the old days, they headed to nearby Boulevard Recording in Hollywood on a quest to break new sonic ground. The eclectic array of analog gear in the studio, which had previously hosted everyone from Pink Floyd to Fleetwood Mac to The War on Drugs, enabled the band to push the limits of their productions and arrangements while still capturing all the scintillating power and spontaneity of their live show.
"We want to be known as the best live band on Earth," says drummer Marc Cazorla, "and the only way to do that is to believe it. We were an opening band for five years, and we made it our goal every night when we took the stage to be remembered."
The same unshakable faith that sustained the group through their long, arduous climb now courses through the album's veins. Belief is the record's lifeblood, a defiant optimism that stands tall in the face of doubt and division. The songs reflect our troubled times, but they focus inwards rather than outwards, musing on personal empowerment, self-improvement, and the supremacy of love. Album opener "Life To Fix" is a driving ode to forward motion and getting through hard times by continually putting one foot in front of the other, while the utterly infectious "Make It Happen" finds Vos proclaiming, "If you want something / You got to go out and get it."
"This record to me is about self-reflection and making yourself better," he explains. "It's about taking responsibility for your own spot in the world. If you're not on the right path, the only person who can take that next step to fix it is you, and at the end of the day, after all the highs and lows, all you're left with is yourself."
"We learned from the first album that our audience really connected to songs with a little more inner depth and reflection," adds Stiff. "Sometimes people would find deeper meaning in the music than we ever thought possible. Folks would come up after shows and tell us that our songs got them through a divorce or a grieving process, which was really powerful and inspiring."
In addition to digging deep lyrically, the band pushed themselves beyond their traditional musical boundaries on the album. "Goodbye To The Hard Life" is a slow-burning 6/8 ballad that calls to mind the simmering potency of Led Zeppelin, while the acoustic twang of "I'm Changing" taps into the rural southern intensity of Johnny Cash, and the rollicking "I'm Getting Better" captures the essence of Bob Dylan's rambunctious Highway 61 Revisited period as if played by some punk rock kids stepping into the garage for the first time.
"We wanted to take risks we couldn't have the first time around," explains Stiff. "We wanted to create moments that our audience hasn't seen or heard from us before."
In the end, that's what makes the record so special. It's that rare sophomore album that retains the magic of the debut while simultaneously pressing forward into uncharted territory, expanding the band's emotional and sonic palette to reflect the wild journey they've shared these past few years. The muscle and beauty and longing and brotherhood of those original home recordings is still present, but it's been turned up a notch here, pushed to a new level of command and sophistication. The Record Company has moved out of the living room with All Of This Life, and they're ready to share it with the world.
---
Twitter | Facebook | Instagram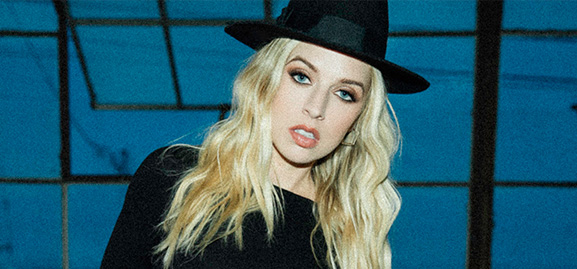 ZZ Ward didn't have to look far for inspiration on her second full-length album, 2017's The Storm. Equally evocative of blues grit and hip-hop bounce, the Los Angeles-based vocal powerhouse and multi-instrumentalist leapt forward by taking a deeper look at some of her earliest inspirations—including Howlin' Wolf, Robert Johnson, Vera Ward Hall and Big Mama Thornton.
"For me, this album wasn't really about experimenting," she admits. "It was more about simplicity, honing in on what I love about music and what makes me who I am as an artist. Growing up, I listened to a lot of hip-hop and blues, and I love those two genres so much. Sometimes, to evolve you don't need to go outside of yourself; you can reach further inside of yourself instead."
It's a realization earned over a whirlwind five years. The Fedora-rocking, guitar- shredding, harmonica-wielding blues siren peppered an old backporch musical recipe with hip-hop urgency and hashtaggable wisdom on her 2012 mixtape Eleven Roses. Followed by her full-length debut Til The Casket Drops yielded a veritable hit in the form of "Put The Gun Down." The latter generated 7.4 million-plus Spotify streams and held strong in the Top 10 of AAA radio for 10 weeks as well as receiving over 100 high-profile licensing placements and syncs, including the feature film We're The Millers. Kendrick Lamar ["Cryin Wolf"] and Freddie Gibbs ["Criminal"] were quick to collaborate, while Rolling Stone, Guitar World, Elle, Interview Magazine, USA Today, NPR and more extolled her. She lit up the screen on Jimmy Kimmel LIVE!, Conan, Good Morning America, The Tonight Show, The View, and many others and practically set stages ablaze on tours with Eric Clapton, Gary Clark, Jr., and Fitz & The Tantrums and at Coachella, Bonnaroo, Firefly, and Made In America.
Coming off the road, she decided to open up more than ever before.
"All of my favorite artists would tell real stories," she goes on. "I wanted to talk about similar things that were close to my heart. Every song became something I experienced. I've had my slew of disappointing relationships, times when I was pissed off, heart broken and times when I felt a false sense of euphoria. There are times when you struggle with yourself or with somebody else. I wanted to pour all of those emotions into my music, stay true to my roots, and tap into what inspired me in the first place."
Capturing this vision, ZZ recorded around L.A. at different studios and at home over the course of 2015 and 2016. She re-teamed with previous collaborators such as Blended Babies [Chance the Rapper, Kid Cudi], Neff-U [Eminem, Dr Dre], Ludwig Goransson [Childish Gambino, Haim] and Michael Fitzpatrick of Fitz & The Tantrums in addition to Warren "Oak" Felder of Pop & Oak [Kehlani, Alicia Keys, Alessia Cara] for the first time. "It was all about getting that raw emotion," she exclaims.
The first new single "The Deep" [feat. Joey Purp] emerged as a welcome surprise for fans, bottling the creative burst of confessional crooning and clever rap wordplay that defined Eleven Roses. A sample of The Charmels' "As Long As I've Got You" draped in classic slide guitar scorches as ZZ sings, "Don't know how much I can take, but I need it" before finger-snaps elevate the harmony. Kicking off 2017, W called it, "her most candid body of work yet," and The Fader praised its "spectacular effect."
"'The Deep' is about feeling trapped in a relationship that I knew was no good for me," she sighs. "I met someone that made me lose control of myself. When I wrote the song, we noticed something really haunting about The Charmels' 'As Long As I've Got You,' and we just had to sample it. I thought Joey would be perfect to bring a fiery passion and flavor to the song."
Elsewhere on the record, she serves up a gospel-style plea on the stirring and stark "Help Me Mama." "'Help Me Mama' is about my personal revelation that not everything in life is what it seems. Growing up I had expectations about what my relationships should be like with other people, the world and even myself. Realizing nothing would ever be perfect, I had to take control of my life and, unlike when I was a kid, Mama isn't always going to be around to solve my problems.
Her booming delivery on "Cannonball" [featuring 2017 Grammy-Award winning blues artist Fantastic Negrito] belies a delicate admission of admittedly being used by someone to pass the time.
Meanwhile, "Domino" [feat. Michael Fitzpatrick of Fitz & The Tantrums] hits us right in the heart. "Fitz and I wrote this song about recurring relationships that we'd had in our pasts that left us feeling unsatisfied," she adds. "I spent many sleepless nights feeling like there was something more out there for me. This song talks about the hopeless journey I faced trying to find the right person."
In the end, The Storm represents ZZ at her core. "This album as a whole really reflects much of the internal and external conflict that I've experienced. I feel like I dug deeper into what means the most to me," she leaves off. "I hope that my stories connect with people out there and help them know they aren't alone in these struggles. That's what I can give to the world. Storms come and storms pass, it's how you weather them that defines you and makes you stronger."
*****************************************************************************
Every Saturday Night, from July 13th to August 17th, enjoy the free concert series at Pershing Square, an outdoor venue in the heart of Downtown LA. The free six week Saturday night concert series features a carefully curated selection of legacy and contemporary live music, set against the Downtown LA skyline. Some of this years' artists include Best Coast, The Psychedelic Furs, Easy Star All-Stars, Smash Mouth, Pat Benatar & Neil Giraldo, and She Wants Revenge. Ten full-service bars and food trucks are located inside the venue. A complete line-up of artists, venue rules, and other summer events taking place at Pershing Square can be found on the venue website: laparks.org/pershingsquare

Every eventbrite pass ensures access into the venue. Once the pass is downloaded, the patron is subject to all venue rules and regulations. Please keep in mind that at the request of the artist/performer, flash photography, professional camera or recording equipment (including cameras with detachable lenses and any form of camera stand) and laser pointers are prohibited at Pershing Square's Downtown Stage Saturday concerts. This policy will be strictly enforced due to a contractual agreement. Please be advised Pershing Square Downtown Stage is a 21 and over event with ID.
FAQs
Are there ID or minimum age requirements to enter the event?
YES the Pershing Square Downtown Stage is a 21 and over event with ID . If you wish to drink alcohol you must be 21 or over with a valid ID.

What are my transportation/parking options for getting to and from the event?
Pershing Square has an underground garage that has a weekend parking fee of $9. Pershing Square is located across the street from the Metro Red line on the corner of 5th and Hill.
What can I bring into the event?
Guests are welcome to bring low back soft beach chairs or blankets. All bags are subject to security check. No outside food, drinks, or containers of any kind may be brought into the Pershing Square venue. The less you bring, the quicker you enter the venue. A complete list of venue rules for Pershing Square can be found on the venue website: laparks.org/pershingsquare/summer-concert-rules-policies

Do I have to bring my printed ticket to the event?
Yes. Each printed or digital Eventbrite pass ensures access into the venue. Once the pass is downloaded, the patron is subject to all venue rules and regulations. Please remember to bring 21 and over proof of ID.
Can I update my registration information?
Yes, Go to Eventbrite confirmation and cancel a ticket and or transfer it to someone else.
Where is the main entrance located?
The Main Entrances to the venue are located on the corners of 6th and Olive.
ADA Accessible Entrance to the venue is up the east side escalator or elevator and through the east side breeze way, "Hill Street side".
Will I need a pass for each show I want to go to?
Yes, a ticket is required for each Saturday night concert. Pershing Square Downtown Stage is a 21 and over concert event with ID only.
What time should I arrive at the venue?
Although each Eventbrite pass ensures access into the venue, your place in line is on a first come, first serve basis. Doors open at 7:00pm.
What is the re-entry policy?
Pershing Square has a "Re-Entry" policy for all events. Guest who leaves the venue for any reason may re-enter on the corner of 6th and Olive and go through the check-in procedure. Once capacity has been met there will be no re-entry into the venue. It is strongly suggested to stay until the end of the show.
Can I bring outside Food and Drinks ?
No outside food, drinks of any kind may be brought into the Pershing Square venue. Eight full-service bars and food trucks are located inside the venue for food and drink purchase. A complete list of venue rules for Pershing Square can be found on the venue website: laparks.org/pershingsquare/summer-concert-rules-policies