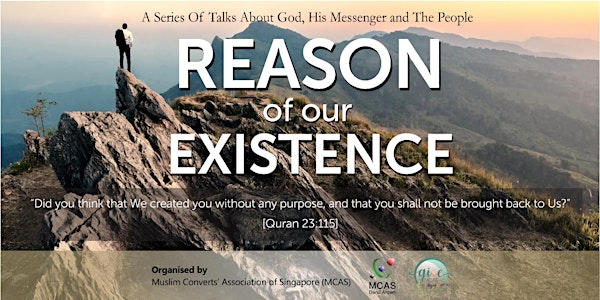 The Reason of Our Existence
Speaker: Dr. Daud Batchelor
When and where
Location
Concorde Ballroom 1, Level 3 (Lobby level), Concorde Hotel Singapore 100 Orchard Road Singapore, 238840 Singapore
About this event
Human beings are in constant search for the meaning of life. What is the nature of our existence? Why are we here? What purpose do we serve? Islam helps us resolve and unravel intricacies of life's purpose and God's purposeful creations and the Quran reminds humanity on the quest for meaning of life and existence.
"Did you think that We created you without any purpose, and that you shall not be brought back to Us?" [Quraan 23:115]
Join our speaker and let us uncover the higher purpose of our existence.
✓ Free for all. Come as you are.
(Limited seats available)
✓ Prayer spaces are available
✓ Sign language interpreter available
✓ Book by Dr. Daud Batchelor titled "Muhammad The Ultimate Leader: From Western Business Perspective" will be available for purchase onsite.
Profile of Speaker:
Dr Daud Batchelor is an Adjunct Fellow with a multidisciplinary background in Science, Engineering Science and Islamic Sciences at the International Institute of Advanced Islamic Studies (IAIS) Malaysia.
He is also a designated "Champion" for Better Futures Australia, part of global action by the Climate Action Network Australia, and the Co-Founder of the Islamic College of Brisbane.
Amongst his remarkable works, Dr. Daud authoured of "Muhammad (PBUH) The Ultimate Leader", he co-edited the Springer book, "Islamic Perspectives on Science and Technology" and he is a Columnist for the Australasian Muslim Times.