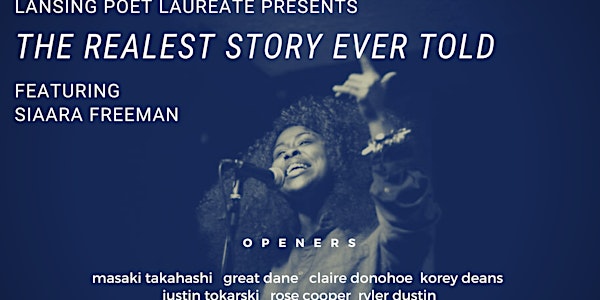 The Realest Story Ever Told featuring Siaara Freeman
Poetry showcase featuring Siaara Freeman.
When and where
Location
The Robin Theatre 1105 South Washington Avenue Lansing, MI 48910
About this event
FREE event. Registration will drop 9/29 so please be on the lookout.
Siaara Freeman is featuring and opening for her is:
Masaki Takahashi, Rose Cooper, Justin Tokarski, Korey Deans, Claire Donohoe, Ryler Dustin & Great Dane
Siaara Freeman is from Cleveland Ohio, where she is the current Lake Erie Siren & a teaching artist for Center For Arts Inspired Learning and The Sisterhood Project in conjunction with the Anisfieldwolf Foundation. She is a 2021 Premier Playwright fellow recipient with Cleveland Public theater. She is a 2020 WateringHole Manuscript fellow, a 2018 winter tangerine chapbook fellow and a 2018 Poetry Foundation incubator fellow. Her work appears in, The Offing, BOAAT, Tinderbox, Josephine Quarterly and elsewhere. She has toured both nationally and internationally. She is the co-founder of Outsiders Queer Midwest Writers Retreat. Chances are she's by a lake, thinking about Toni Morrison and talking to ghosts. In her spare time she is growing her afro so tall God can use it for a microphone and speak through her.
The Lansing Poet Laureate is brought to you by RCAH Center For Poetry at Michigan State University, Lansing Poetry Club, The Poetry Room & LEAP
This event was made possible by grant from:
MCACA
Reo Town Association
Additional sponsorship was provided by:
Loomis Law
LEAP