Location
Gold Bar
227 9th Ave
Seattle, WA 98109
Ready to network with like-minded influencers, people in media, and business owners? Pull up to the Real Media Mixer.
About this event
We all know the "Seattle Freeze" can be pretty chilly and even lonely at times. However, the "Real Media Mixer" is meant to bring together media professionals for a night of networking, creating new bonds and future collaborations.
Who comes to the Real Media Mixer?
Business owners, TV hosts, radio host, DJs, podcasters, media experts, journalists, Recording Academy members, photographers, tech workers, actors, make-up artists, authors, nationally known dance choreographers, fashion designers, community leaders, realtors, and fitness trainers.
When is the next Real Media Mixer?
When: Tuesday, June 21st
Where: Gold Bar Seattle
Time: 8:00 pm - 11:11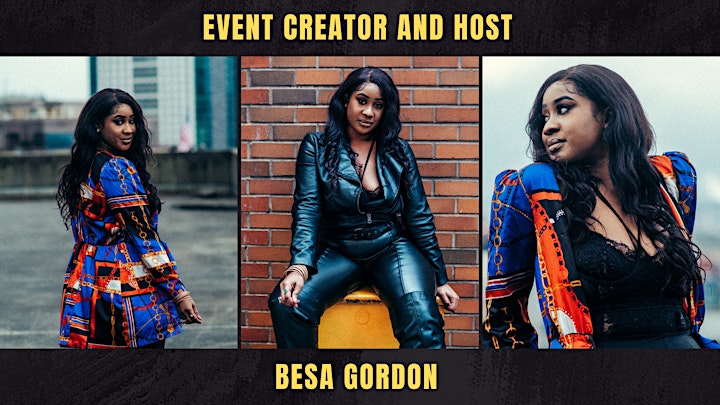 Besa Gordon is a Seattle-born and raised influencer/on-air radio personality at iHeart Radio. She got her start in radio back in 2018 on KUBE 93.3 in Seattle, Washington as an overnight jock. Three years later, she took over the midday slot on KUBE 93.3, and can now be heard on HITS 106.1 in Seattle, JAM'N 107.5 in Portland, B95 in Fresno California, V101 in Sacramento California, and 102.3 The Beat in Austin Texas.
When Besa isn't on the radio she's being a voice for Pacific Northwest artists as she is now on the Governor's board for the PNW Chapter of the Recording Academy. Besa also hosts a weekly pop-culture show on Converge Media called the Rewind with Besa in which Besa discusses the biggest issues of the day in music, local events, fashion, and lifestyle while also uplifting and interviewing recording artists from the Pacific Northwest.
With the current influence within the community Besa has gained over the years, her goal is to create new and fresh energy that everyone within the PNW music and entertainment community can enjoy. From her media mixers where she connects local influencers, people in the entertainment industry, and business owners together in a way that not only allows them to network, but learn about marketing, moving in the industry, gaining sponsorships, and more from her diverse panels that occur during the mixers. To her brunches, day parties, and soon-to-come concerts/festivals, it's safe to say Besa is just getting started when it comes to leaving her footprint here in the Pacific Northwest.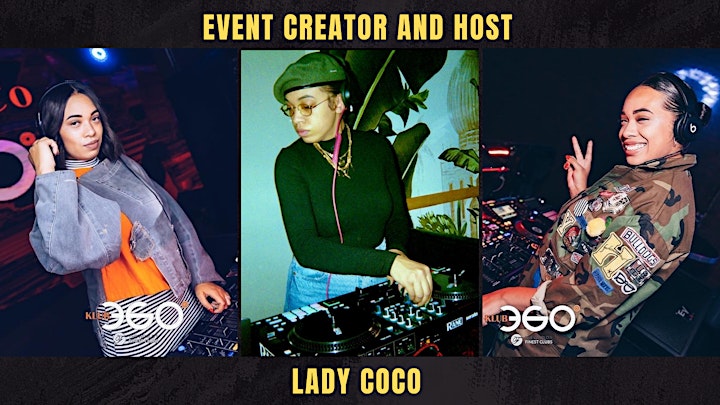 Internationally known for her innate ability to choose the right song for the right moment and her crowd-pleasing eclectic ear; Lady CoCo an experienced and well-seasoned DJ, with a true passion for her craft, has played crowds from continent to continent. Originally from Seattle, WA, Lady CoCo began her DJ career under the guidance of local and internationally known veteran DJ, Supreme La Rock. Spinning only vinyl in her beginning years helped her in developing a truly unique skill set and appreciation for music, providing the foundation for her later successes. In 2017, Lady CoCo kicked off her international career with a New Year's Eve performance in The Kingdom of Bahrain at Cavallo Club. At the start of 2018, she moved to Bahrain as a resident DJ, holding residencies at several local high known establishments. In 2019, she worked as a resident DJ and music curator in Qatar before her residencies in the Maldives in 2020 and 2021.
Having opened for well-known artists such as Kid Ink, Tyga, O.T Genisis, Youth Thug, Keri Hilson, and more; Lady CoCo truly defines versatility and the open format concept with her ability to mix between a multitude of genres, some being: Disco, Funk, Boogie, Jazz, Pop, R&B, Hip-Hop, Rap, Afrobeat, Reggae and House.
Through continued growth and creative expression, Lady CoCo continues to apply her worldly music knowledge to her craft on an international level, striving to create a memorable listening experience.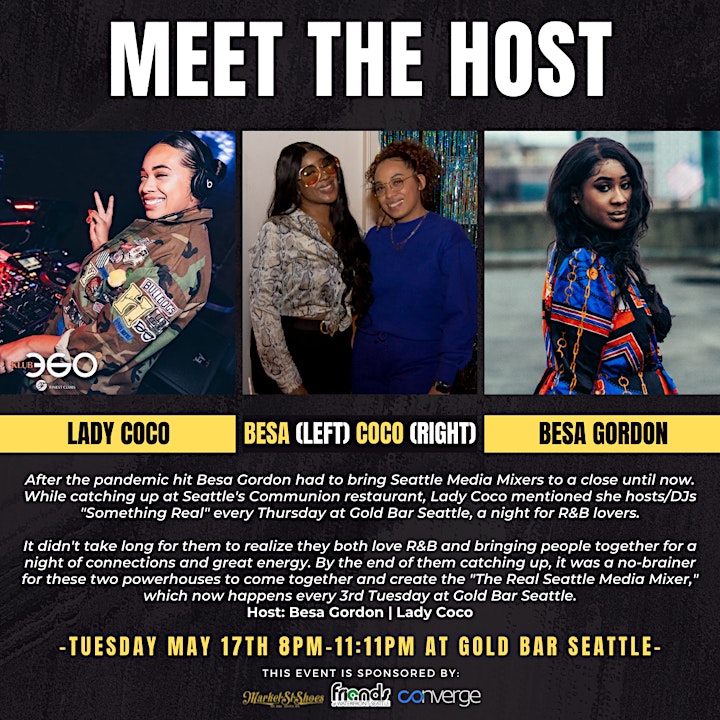 Bringing two women-led events together:
After the pandemic hit Besa Gordon had to bring Seattle Media Mixers to a close until now. While catching up at Seattle's Communion restaurant, Lady Coco mentioned she hosts/DJs "Something Real" every Thursday at Gold Bar Seattle, a night for R&B lovers.
It didn't take long for them to realize they both love R&B and bringing people together for a night of connections and great energy. By the end of them catching up, it was a no-brainer for these two powerhouses to come together and create the "The Real Seattle Media Mixer," which now happens every 3rd Tuesday at Gold Bar Seattle.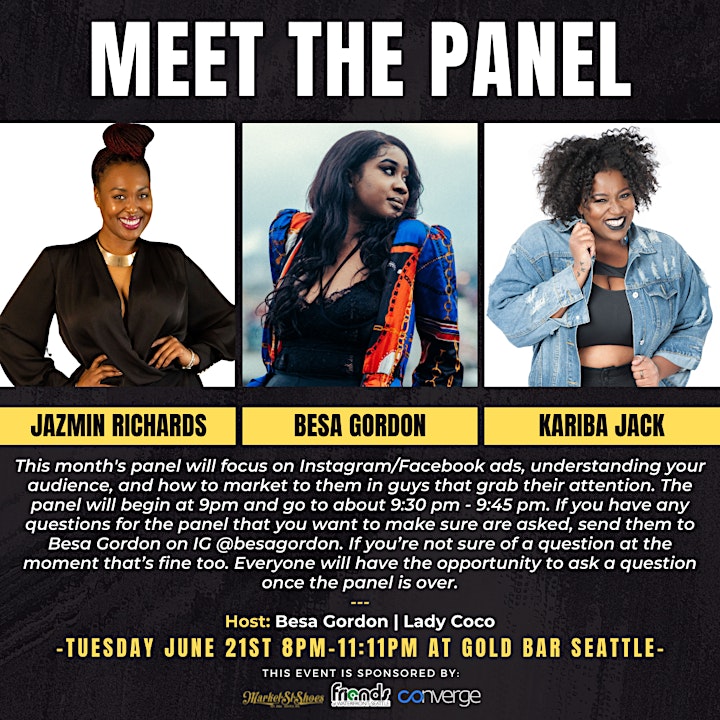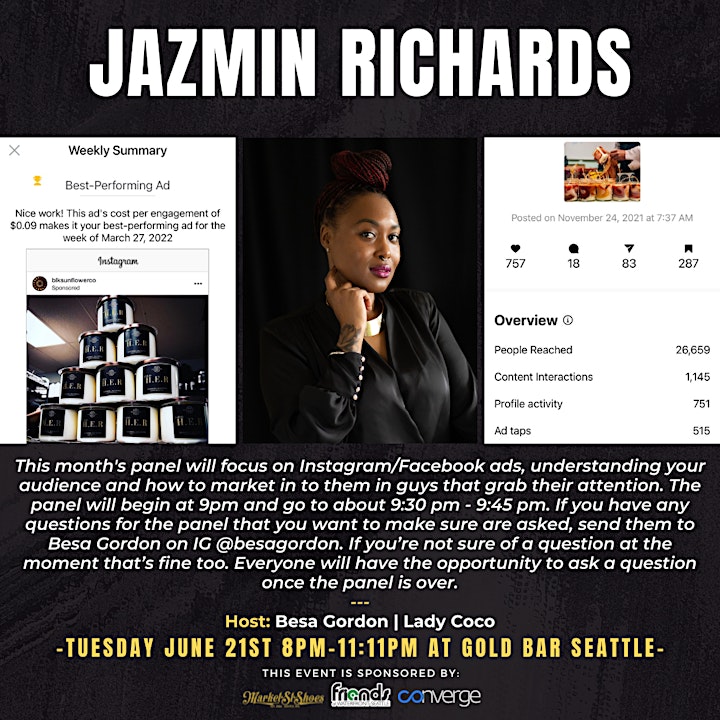 JAZMIN RICHARDS
IG: @blksunflowerco
BIO: Blk Sunflower is a Black-Woman-owned business founded in April 2020. In this short time, we have become a fierce competitor in the sensory market. With over 15k candles sold in a little over a year, we credit our fast growth to our creative branding, marketing, and our commitment to providing high quality products using the best ingredients from sustainable sources.
We specialize in custom orders and corporate gifting. Let us bring your vision to life and create a Luxury Sensory experience for your company.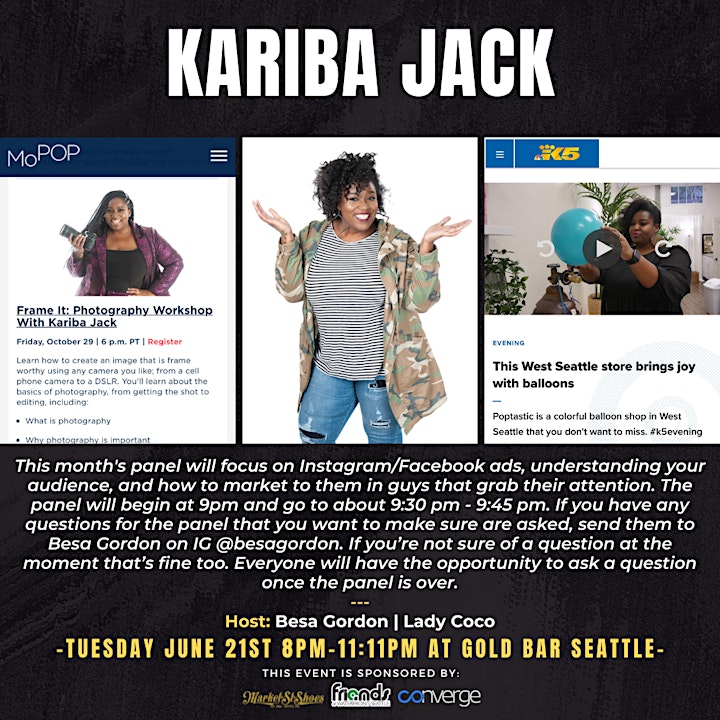 KARIBA JACK
IG: @karibajack
BIO: Hello and welcome to my corner of the internet. My name is Kariba Jack and I've been coined as a 'Jack of All Trades'. I'm a Nigerian - American rockstar and I started my entrepreneur journey back in 2007 while attending Washington State University. Fast forward a few years nestled in the beautiful Pacific Northwest, Seattle to be exact I launched my first official business. The name of my business came to me in a dream - Creative Events & Design was soon born. I'd like to add in, it certainly has been a dream and journey since the beginning. My love for the Arts has shaped every aspect of my multi-talented life and I'm always creating something new and unique. From event management, photography, makeup, music, design work, consulting, philanthropy all the way to my Youtube channel. I stay quite busy. Let's toss some sprinkles on top of the mix, I absolutely love to travel to new places and see the world. I've been here, there and some cool places in between. Adding more stamps to my passport as often as I can!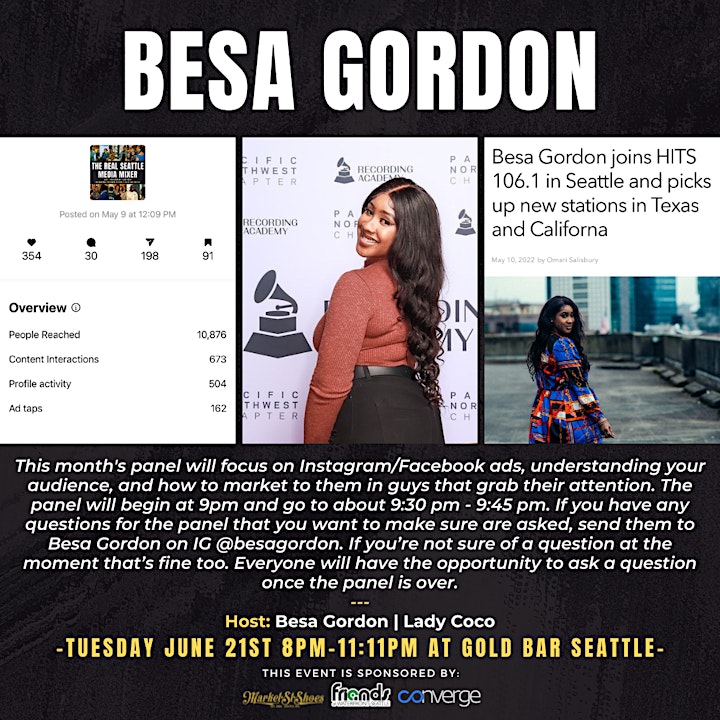 BESA GORDON
IG/Tiktok: @besagordon
Have you ever wondered how Besa gets people to pull up to her events? Or how her ads pop up on your IG/Facebook? Find out this month at the Real Seattle Media Mixer!
Maybe you're looking for someone to collaborate with on a future project or to link with like-minded people in media. No matter what you're looking for you'll find it at the "Real Media Mixer" happening on June 21, 2022, at Gold Bar Seattle.
Did we mention it will be R&B night? Every Thursday at Gold Bar is R&B night with DJ Lady Coco, and if you haven't made it to one, you've been missing out!
The mixer is from 8:00 pm - 11:11 pm to allow us all to make a wish at 11:11 pm before heading out.
This month's panel will focus on Instagram/Facebook ads, understanding your audience, and how to market to them in guys that grab their attention. The panel will begin at 9pm and go to about 9:30 pm - 9:45 pm. If you have any questions for the panel that you want to make sure are asked, send them to Besa Gordon on IG @besagordon. If you're not sure of a question at the moment that's fine too. Everyone will have the opportunity to ask a question once the panel is over.
21+ event (you will need your I.D. to enter)
Food and drinks are available for purchase
Time: 8:00pm - 11:11pm
Location: Gold Bar: 227 9th Ave, Seattle, WA 98109
Space is limited, click here to RSVP today and save your seat!
*Proof of a negative COVID-19 test from the past 72 hours of that visit or proof of full COVID-19 vaccination will be required for entry.*
(also, you do not have to be in media to come, you just need good energy, and the desire to make new connections)
See you June 21st!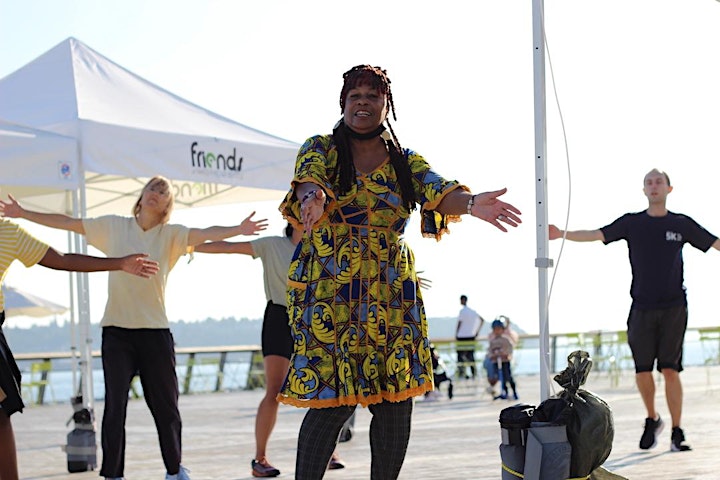 This month's Real Seattle Media is sponsored by Friends of Waterfront Seattle and Converge Media. Learn more about each of these amazing Seattle companies below:
About Friends of Waterfront Seattle:
The future Waterfront Park will span 20 acres along Seattle's downtown shoreline. A constellation of lush, open public spaces linked together by a pedestrian-oriented promenade, Waterfront Park welcomes and encourages the public to come together.
From dynamic open spaces with free, rotating activities and events, to coastline habitats for learning and exploration, to peaceful landscaped seating areas for a natural respite from the urban hustle and bustle, Waterfront Park has something for everyone. Stretching from Pioneer Square to Belltown neighborhoods, Waterfront Park reactivates Seattle's exceptional urban shoreline, creating a new public place that reconnects the city to its surrounding natural environment.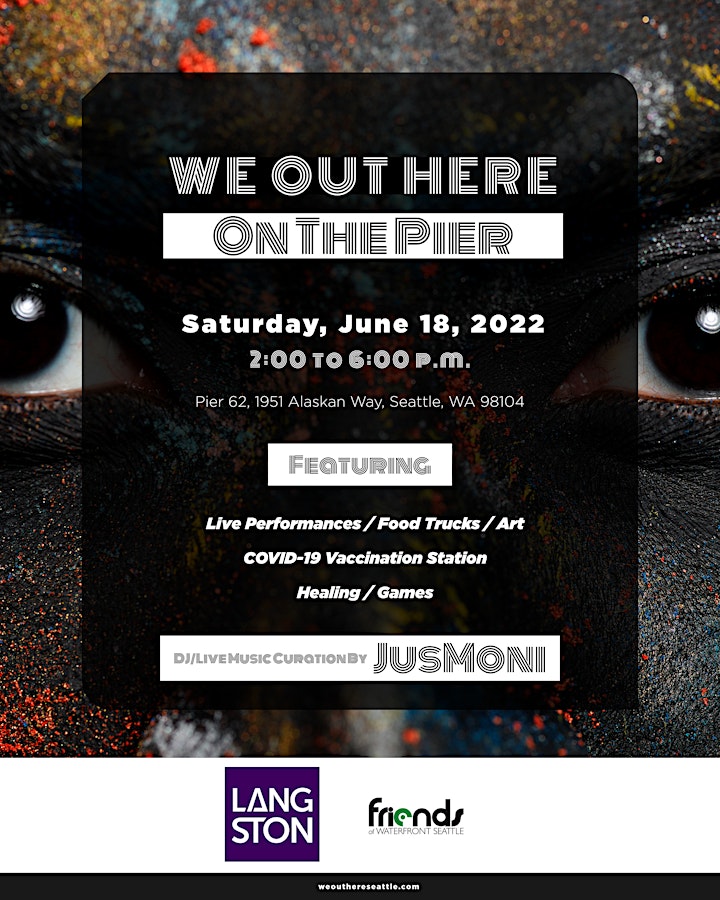 Friends of Waterfront Seattle's upcoming events you should know about:
We Out Here on the Pier Juneteenth Celebration:
In commemoration of Juneteenth, LANGSTON is taking our "We Out Here" festival to Pier 62 for a free, community-wide celebration. Otherwise known as Emancipation Day, Jubilee Day, or Black Independence Day, Juneteenth commemorates the day that enslaved peoples in Texas were emancipated.
We Out Here on the Pier Juneteenth Celebration:
In commemoration of Juneteenth, LANGSTON is taking our "We Out Here" festival to Pier 62 for a free, community-wide celebration. Otherwise known as Emancipation Day, Jubilee Day, or Black Independence Day, Juneteenth commemorates the day that enslaved peoples in Texas were emancipated.
The event will feature music and performances by JusMoni, Stas Thee Boss, TAQUEET$, Larry Mizell Jr., and The Mahogany Project, as well as a pop-up art gallery featuring works from local artists and a Black business and resource spotlight.
Dat Creole Soul, Paprepas, All City Ice Cream, and The Donut Mama food trucks will be on-site, as well as a COVID-19 vaccination booth available for walk-up vaccinations and boosters.
Learn more about this event by clicking here!
LANGSTON:
https://www.langstonseattle.org/
Friends of Waterfront Seattle event page:
https://waterfrontparkseattle.org/event/juneteenth