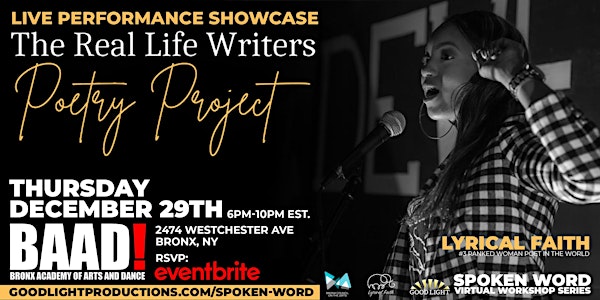 The Real Life Writers Poetry Project Showcase
The Real Life Writers Poetry Project Showcase
When and where
Location
BAAD! Bronx Academy of Arts and Dance 2474 Westchester Avenue The Bronx, NY 10461
About this event
The Real Life Writers Poetry Project Showcase
Thursday, December 29th, 2022
7pm-9pm EST
This is a free public event, open to all Bronx residents and beyond to attend, learn, interact, and experience the participants as well as featured guest artists share their work.
Hosted by Lyrical Faith
Featured Poets:
RADI
Gabriel Ramirez
Workshop Poets:
Cee Santos
Phoenix
Arieyon Woody
Isha Serrano
Nadia Sims
Dara Kalima
Nicco Diaz
Maria Hayes
goodlightproductions.com/spoken-word
BAAD! Bronx Academy of Arts and Dance
2474 Westchester Ave, The Bronx, NY 10461
(718) 918-2110
Note: BAAD! All attendees must provide full proof of vaccination (2 doses of Pfizer/Moderna, or 1 dose of Johnson & Johnson) before entry.
Currently The Bronx Academy of Arts and Dance requires masks for event attendees.
They are monitoring best practices to ensure that they are doing their due diligence to protect our communities.
Sponsored and curated by:
Bronx Council on the Arts
https://www.bronxarts.org/
Good Light Productions
https://www.goodlightproductions.com/
Lyrical Faith Poetry
https://www.instagram.com/lyricalfaithpoetry/?hl=en
The Bronx Academy of Arts and Dance
http://www.baadbronx.org/
IFTNetwork
https://iftnetwork.com/