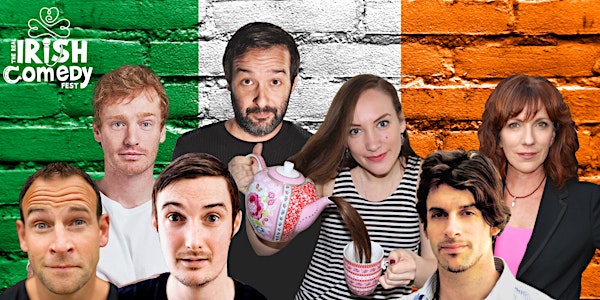 The Real Irish Comedy Fest: Santa Cruz
When and where
Location
Kuumbwa Jazz Club, 320-2 Cedar St Santa Cruz, CA 95060
Description
Not only Irish eyes will be smiling this St. Patrick's Day. Come get a blast of blarney and Irish laughter just in time for the big day. The Real Irish Comedy Fest showcases the best blend of Irish Comedic talent, accents included and is coming to Santa Cruz for one night only!
Lineup:
Sean Finnerty is based in NYC and originally from Longford. Sean was selected for Comedy Central's Up Next competition and as a semi-finalist in both the 2014 Florida's Funniest Comedian Competition and the 2014 Charleston Comedy Festival. Sean has also been on the Tonight show with Jimmy Fallon and has worked alongside touring headliners such as Dan Cummins, Mick Foley, Tommy Johnagin, Shane Mauss, Sean Patton, Rich Vos, Bobby Slayton, Mark Normand, Joe List, Maronzio Vance, Ben Kronberg, and Dustin Diamond. Watch here on The Tonight Show.
Ger Staunton quickly became a regular headline act on the Irish Comedy circuit and has already been described by the International Comedy Club in Dublin as "One of the best comedy writers in Ireland." His material is meticulously crafted and delivered in the kind of playful, tongue-in-cheek style that endears him to audiences of all ages and demographics. Staunton has been performing all over Ireland and the UK as well as just finishing a 7-city European tour and is currently working towards his 3rd Edinburgh Fringe Festival show.
"Incredibly funny" – The Examiner. "One of the best comedy writers in Ireland. An absolute stand out." – The International Comedy Club
Dave Nihill: Based in California and originally from Dublin, Dave is an an NPR featured storyteller, bestselling author, winner of the 43rd annual San Francisco Comedy Competition, and runner up in the Moth's largest US Grandslam storytelling competition. His work has been featured in Inc, The Huffington Post, Forbes, The Irish Times, The Irish Independent, Today FM, and on TV3.
Katie Boyle, based and originally from Co. Kildare Katie is a regular at The Stand, New York Comedy Club, Broadway, Greenwich, Creek and the Cave and refuses to say 'third' on stage. She has toured multiple states and was featured in the Hartford and Albany Funnybones. Generally she talks extensively about her journey through American culture and her insane murderous family! A festival favourite she was in The Women in Comedy Festival, the Cinderblock festival, Brooklyn Comedy Festival, Cape Fear Festival, Asheville Comedy Festival and the Kansas City Irish Festival.
Mark Hayes has been dubbed "Ireland's craziest and wittiest comedian and writer, a poet at times." Saying that he has also been called the "runt of Irish literature" so take your pick. He is the author of three books including RanDumb: The Adventures of an Irish Guy in LA which was number one on Amazon Humour, he also writes a weekly column about life in LA for the Irish Examiner. Mark runs his own weekly show every Friday night at the Laugh Factory and can be found performing all over LA and around the country opening for Chris D'Elia.
Event is 18+