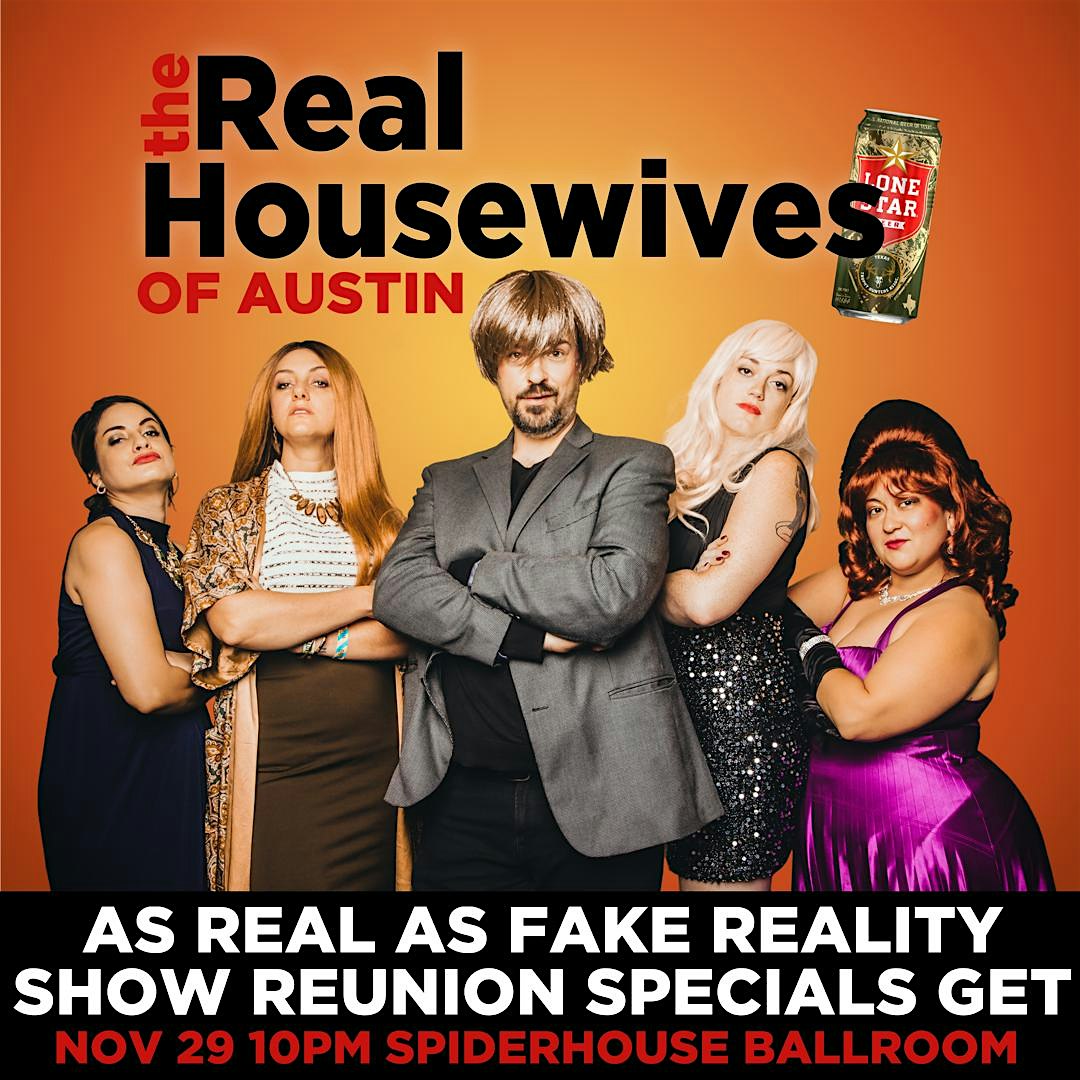 About this event
This month Waterbed Comedy Party presents the live reunion special for the Real Housewives of Austin. It's been a crazy season for the RHoAustin so join us at the Spiderhouse Ballroom as we roll some clips, spill that tea and throw that wine.
Plus a free pre-show photobooth by An Indoor Lady
Starring:
Rahnia (Kim Lowery)
Lexi (Ximena Blake)
Ava (Lisa Friedrich)
Elltyn (Ralphie Hardesty)
Valeria (Roxy Castillo)
Clarissa (Christina Parrish)
Featuring Nick Saverino and hosted by Mac Blake
Doors & photobooth at 9:30 PM. Show at 10 PM.
Waterbed is produced by Mac Blake (Funniest Person in Austin winner 2013, soda lover).
Organizer of The Real Housewives of Austin Reunion Special LIVE @ Spider House Ballroom
One of Austin's legendary hotspots since 1995, Spider House bar & Ballroom  offers a laid back environment for live entertainment and to meet friends over delicious specialty juiceland cocktails, 20 draft beers, espresso, teas and wine. We have 5 food trucks to pick from, Arlos Burgers, Cool Beans Mexican Food,  Milkyway Shakes , Always Hungry, Kitchen for the Soul. The premises includes our famous event space called the Ballroom, with 2  stages, of Nightly Entertainment, from Comedy, Theater, Film Screening, Fundraisers, etc. We can also host private parties, Weddings. Large parking lot and plenty of free safe well lighted street park parking surrounds Spider House. 
Welcome to Spider House Cafe & Ballroom