Sales Have Ended
Registrations are closed
Looking to register for the replay? Visit AdventureClub.com > Virtual Events > Active Replays to browse our active replays, which expire one week after the program's original air date.
Sales Have Ended
Registrations are closed
Looking to register for the replay? Visit AdventureClub.com > Virtual Events > Active Replays to browse our active replays, which expire one week after the program's original air date.
Can't make it live? Register and get access to the full replay for one week! New York Adventure Club | www.AdventureClub.com
About this event
Spoiler alert: contrary to popular belief, Victorian mogul Thomas Crapper did not invent the modern flush toilet...but if he didn't, then who did? It's time to explore the real history of this ubiquitous bathroom necessity, and how it evolved into the porcelain flushers we all know and love today.
Join New York Adventure Club as we explore the long and fascinating history of toilets, from rudimentary systems used by close-knit communities in ancient Mesopotamia to today's high-tech plastic or porcelain thrones.
Led by water and sanitation expert Kimberly Worsham, our virtual experience into this mysterious machine we use every day will include:
The history of ancient toilets and how they developed into the modern flush toilets we find today in our homes
What toilets have to do with Queen Elizabeth I (and why we should be grateful)
Why toilets are not as common as we often think they are — from Cambodia to New York City — and what is being done about it
A discussion around how you can better your toilet experience in your own home and on the road
Afterward, we'll have a Q&A with Kim — any and all questions about toilets are welcomed and encouraged!
Can't make it live? Don't worry, you'll have access to the full replay for one week!
See you there, virtually!
*Immediately upon registering, you will receive a separate, automated email containing the link to join this webinar
**For the best possible viewing experience, please ensure you're using the latest version of your internet browser — Google Chrome is the most compatible. Exact technical requirements and a webinar user guide will be shared in the automated confirmation email upon registration.
***A full replay of the experience will be available to all registered guests for up to a week
About Kim
Kimberly Worsham, MPA, MIWM is a water and sanitation specialist with over a decade of experience. She discovered a passion for toilets early as a child, where her curiosity led her to inspect the facilities of every restaurant she entered. Years later, she was reminded of that love while consulting in India and continued to follow her passion by working in Australia, Kenya, Ghana, and Cambodia. Has also worked for international NGOs focused on providing safe drinking water. She was also a founding board member of a local water organization, NYC H2O.
In different lives, she has worked in local government, corporate marketing, and even taught math in Rwanda. She received her MPA and BSc in business at NYU, and a Masters in Integrated Water Management from the University of Queensland as an International WaterCentre Scholar.
Kim maintains a strong professional network across sectors and geographies, including a pool of qualified consultants for FLUSH projects.
Testimonials
"I loved this! Such an interesting topic. Kim is an excellent presenter. Her knowledge and enthusiasm about her topic shines through." -Lindsay S.
"Such a fascinating topic, and presented with so much wit and humor! By far the best webinar I have ever seen (this is no exaggeration, I watch a lot of webinars and they generally range from mediocre to very good). I look forward to rewatching it, and would happily attend any future events by Kim." -Carol
"I loved all the stories about this item we use daily through time and in other places." -Diana
"She was so knowledgeable about the subject and presented it in a clear manner. I feel like I learned a lot from it." -Nancy
"Speaker is terrific, knowledgeable and engaging." -Luca
"Extremely informative and moved it at a fast rate. The presenter was very knowledgeable." -Laura
"Kim was knowledgeable and her presentation was really well organized. Please convince her to do more webinars." -Ruth
"Some group leaders are knowledgeable, some are talented presenters. Kim is both!" -Norman
"I thought the speaker was outstanding! She knew her topic, she was articulate, she had a sense of humor." -Joan
"Kim was sooo interesting to listen to. World of knowledge and she was so cool." -Ricki
"Kim is an excellent instructor - she made toilets interesting." -Lindsay C.
"Engaging and well presented. Learned a lot and loved the way the presentation was structured." -Rachel
"Style as well as content. It's a joy to spend a couple of hours with people, like Kim, who thoroughly enjoy the topic and they present and do so with creativity, substance, and wit." -Christopher
"Extensive, intensive, and entertaining" -Mary
"Low key, but packed full of knowledge nuggets and a great sense of humor." -Joan
"Fun! Eccentric! Informative!" -Diane
"Lots of interesting informations and well organized." -Kumiko
"Fast paced, well organized, good overview." -Judy
"Great presenter with good visual engagement and knowledge" -Karen
"Masters Degree in toilets how can you get a better expert than that" -Michael
"The topic was interesting and different. The presenter was very knowledgable." -Nadine
"Kim was awesome! She was engaging, fun, and clearly knowledgeable about the topic. The presentation was well organized and fun to participate in." -Jack
"Lively, knowledgeable presenter. The seriousness of the international problems of inadequate toilets and sewers was made clear without becoming too technical. A good balance between humor and seriousness." -Jacqueline
"Kim is extremely knowledgeable and passionate about the topic. I enjoyed how she connected such a niche topic to real-world practical applications and activism." -Stella
"Very comprehensive history in a short period of time." -Paul
"She spoke with authority and confidence about a topic I had no idea was so interesting. I love history and thought this was going to be about the history of the object, the porcelain toilet but it was so much more. Thank you!" -Jo
Disclaimer
By attending a New York Adventure Club experience, you accept our terms of service.
Categories: Virtual, Moments in History
Photo Credit: Outhouse - Amy Reed
Organizer of 'The Real History of Toilets' Webinar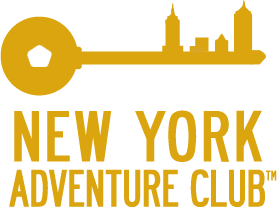 NEW YORK ADVENTURE CLUB
Unlock Your City
We give you insider access to the city's best-kept secrets. But we're so much more than a tour company.
WHO WE ARE

We are a community-driven club that curates the most unique experiences in town, with a focus on history and storytelling. We show you a city you never knew existed, and offer a community you can't live without.
You won't find our special-access tours and exclusive events anywhere else. Think after-hours tours of New York City's most celebrated spaces, themed parties in unexpected locations, and weekend excursions to incredible destinations. All of our events end with social hangouts so you can meet people who love exploring as much as you do.
THE 'CLUB' IN NEW YORK ADVENTURE CLUB

Our current community is more than 23,000 members strong and includes everyone from recent NYC transplants to lifelong residents. Whatever borough you're from (or city or country, for that matter), we'll make it easy for you to take full advantage of the unique places and great people this city has to offer.  
WHERE WE GO
To ensure a one-of-a-kind experience each and every time, we handpick events and outings specifically for the New York Adventure Club community. Recent events include:
* An after-hours tour of New York City Hall
* Special access into some of New York's most coveted private social clubs, including the Explorers Club and National Arts Club
* Petting baby kangaroos, holding sloths, and feeding leopards at Staten Island Zoo

* An NYPD Precinct tour, including a meet-and-greet with detectives and Emergency Service Unit crew members
* A tour of the Polish Consulate led by the Consul General and Vice Consul General of Poland

* A special-access tour of Brookhaven National Laboratory and its Relativistic Heavy Ion Collider (RHIC)
* A Halloween party in a historic gothic crypt, complete with a five-piece brass band
Subscribe with our newsletter to get the inside scoop on the city's most interesting events: http://eepurl.com/1cnVH
Unlock Your City with New York Adventure Club