Description
The Arizona American Choral Directors Association
& Marcos de Niza High School

The Real Group is a professional a cappella ensemble from Sweden, in constant development since the formation 28 years ago. TRG is one of the leading forces in the world of vocal music today.
Through the years, the members have been engaged in a variety of activities - concert performances, events, CD/DVD-recordings, song-writing, arranging, score publishing, CD-production for other artists, master-classes/workshops, seminars, etcetera.
The Real Group has been groundbreaking in the vocal group genre. Early in the group's 25-year history an own style was developed, with compositions and arrangements by the group members.
TRG has procuced a large number of records, dvd's, concert tours, TV programs, and has been (and are) artistic directors of two vocal group festivals: The Real A Cappella Festival in Sweden (2008), and Amazing Voice in South Korea (2007, 2008).
The repertoire consists of a mix of jazzy vocal music, that sometimes leans towards folk music, and sometimes towards pop.
Through the years the list of collaborations have been many. For example: Roland Pöntinen, Barbara Hendricks, Povel Ramel, Eric Ericson, Toots Thielemans, Esbjörn Svensson, Lisa Nilsson, Lill Lindfors, Titiyo.
The members are: Emma Nilsdotter, Katarina Henryson, Anders Edenroth, Morten Vinther, Anders Jalkéus.
The concert will also feature the Marcos de Niza HS Choir (Darin Shryock, director) and Oasis Vocal Jazz (Dr. Craig Peterson, director).
---
SEATING MAP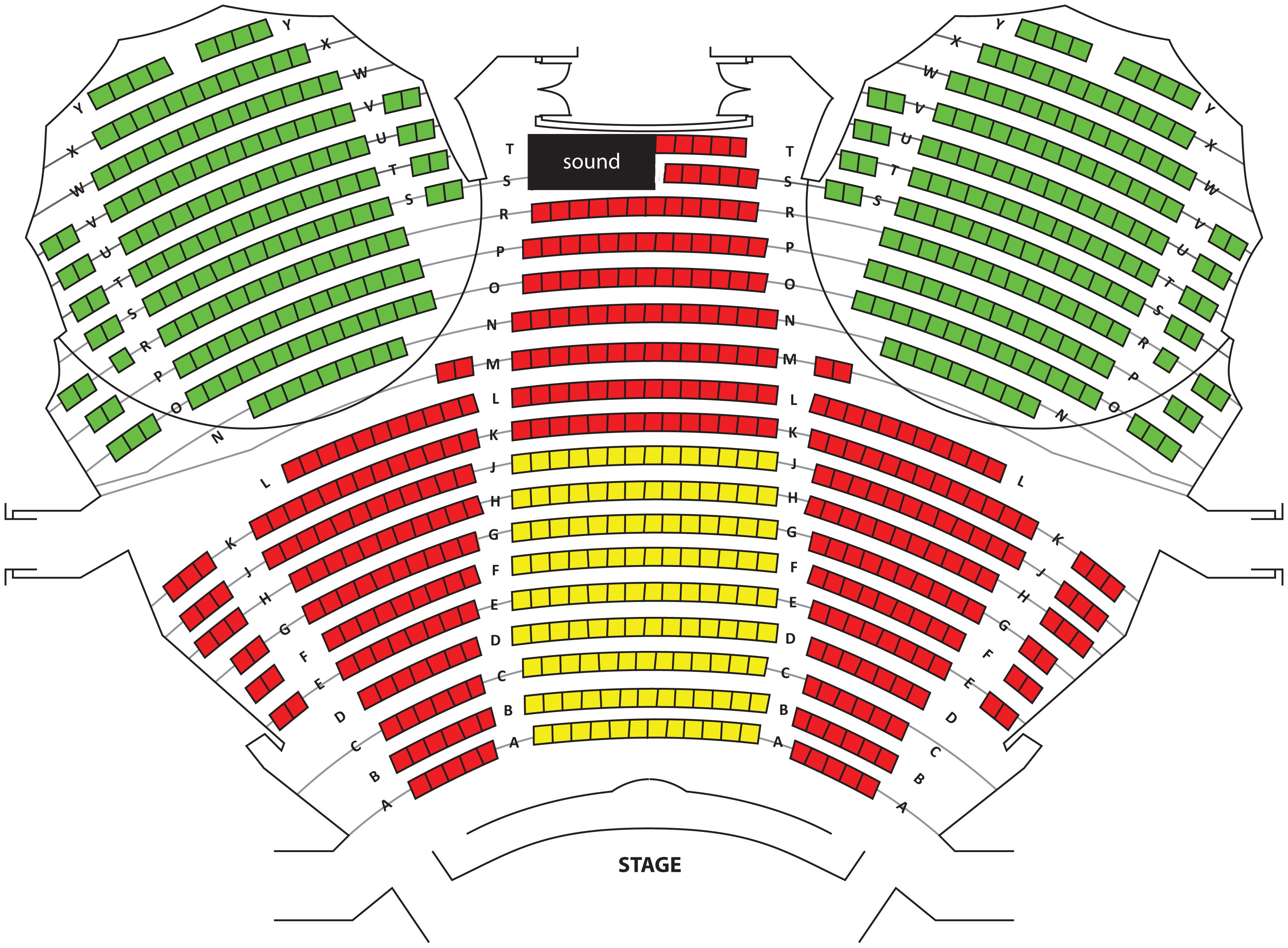 Yellow = Premium • Red = General Admission • Green = Upper Level
PLEASE NOTE THAT THE MAP IS SUBJECT TO CHANGE BASED ON THE AVAILABILITY OF PREMIUM SEATS
FAQ's
Is there a phone number or email where I can contact the organizer with any questions?
Please feel free to call Ryan Holder at 928-637-6030 or email him at ryan.holder@nau.edu.
I want to purchase reserved seats, how will I know where I will be sitting?
Seats are assigned on a first come, first served basis. You may click here to visit a seating map for the reserved section. If you would like to request specific seats, please email the event organizer at ryan.holder@nau.edu.
I want to bring a group of singers, is there a way to ensure that they sit together?
Block seating for groups of 10 or more can be arranged. Please feel free to call Ryan Holder at 928-637-6030 or email him at ryan.holder@nau.edu.
What is your refund policy?
No refunds will be given after February 5th
Are there ID requirements or an age limit to enter the event?
No
Do I need to print out and bring a ticket to get in?
You will need either an e-ticket or a printed ticket.
Will you be selling tickets at the door?
Yes, unless the event is sold out prior to one hour before the concert
Is there parking at the event? If not, is there a nearby facility in which to park?
Free parking is available at Marcos de Niza HS in the student lot on the NW corner of E. Guadalupe Road and S. Lakeshore Drive.
Is there public transportation to the event? Is there bicycle parking?
There is a Tempe Bus Stop on the NW corner of E. Guadalupe Road and S. Lakeshore Drive. Bicycle parking is not available for this event.
Is the venue handicap accessible?
Yes, limited handicap accessible seating is available. Please contact the event organizer if you require handicap accessible seating.
How do I get there?
Marcos de Niza High School is located at 6000 S. Lakeshore Drive, on the NW corner of Guadalupe and Lakeshore Drive. Access to parking is available only from the East entrance on Lakeshore Drive. From US-60, exit at S. Rural Road south to Guadalupe Road. East on Guadalupe Road to S. Lakeshore Drive. North on S. Lakeshore Drive to parking lot entrance.