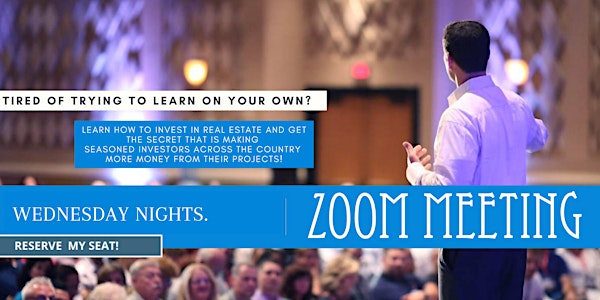 Multiple dates
The Real Estate Investing Training You've Been Looking For - Live Webinar
Want to Invest In Real Estate Without your own money or the banks? Learn How at Our Free Online Info Session!
By Northstar Investment Properties
Date and time
January 25 · 5pm - January 17, 2024 · 6:30pm PST
About this event
Free Resources If you're not currently investing in real estate, you're missing out on a huge opportunity to create wealth, time freedom, lifestyle freedom, and financial freedom.
But I know that you're probably thinking, "I don't know the first thing about real estate investing." But let me tell you, that's okay. Because this training program is specifically designed to teach you everything you need to know to become a successful real estate investor.
In this free session, you'll learn the areas the program covers: business, finance, and real estate investing. There are 90 courses and 38 industry expert instructors. Plus, they offer free updates to all their courses, so you're always getting the latest and greatest information. The nationwide community will show you how to overcome the doubts and fears that are holding you back, through their examples and testimonials, and the industry expert instructors teach you the strategies and tactics that they've used to build their own real estate empire.
Imagine, just for a moment, the feeling of financial security and independence that comes with owning multiple rental properties, flipping houses for profit, or even building a real estate empire. Imagine how it feels to thrive even during a recession and you can help the ones you love financially.
Can you see yourself being able to afford the lifestyle you've always dreamed of? Traveling the world, buying your dream home, and living life on YOUR terms?
Now, I want you to take a moment and think about the future. Imagine yourself a year from now, with a portfolio of successful real estate investments, generating passive income and finally achieving financial freedom. You'll be able to quit your day job, spend more time with your loved ones and achieve the life you've always wanted.
Don't waste another moment. Sign up for the Free Information Session to learn all the details about this real estate investing training program today and make it happen. Remember, success is your duty, obligation, and responsibility."
Who this is for:
Those who are DONE trying to figure it out alone,
Those who see value in investing in themselves,
Those who have ability to invest in themselves,
See value in buying quality training by professionals,
See value in coaching / mentoring,
See value in local and national community support,
If that doesn't describe you, then this is NOT for you. don't bother continuing with this event.
If you ARE looking to learn about a training program and potentially buy it, if you like what you see, then continue.
Register here:
Investing in real estate does not have to be complicated. With the correct knowledge, system, tools and support you can save yourself time and money and accelerate your success as a Real Estate Investor. Learn how you can plug into the same training program we use.
REGISTER TODAY Click the link above if you want to learn the simple and fast way to take your income to the next level with real estate investing.
We look forward to seeing you.
PS - If you re not serious, and won't attend, let alone answer emails, or calls, then don't waste our time.
PSS,
This is a program focused on 4 areas: Mindset, Business, Finances, investing in real estate that, *when applied, allows you to start experiencing more life, more fun, being part of a winning team, spending more time with family, using a system of learning that fits your schedule, rewards your efforts with recognition from your peers, and ultimately provides financial security so you can take back control of your finances and your time.
There are 6 Program options you can purchase:
Ala-carte - $1,250 *12 month access to a course
Option 1 - $2,497 *Lifetime access, free updates, free classes as they're added
Option 2 - $3,747 *Lifetime access, free updates, free classes as they're added
Option 3 - $7,497 *12 month access to 2 advanced courses
Option 4 - $22,497 *Lifetime access, free updates, free classes as they're added
Option 5 - $24,994 *Lifetime access, free updates, free classes as they're added
Option 6 - $28,741 *Lifetime access, free updates, free classes as they're added
There is a guaranteed funding option and pay in full discounts for those who are serious.
There is a LOT more value involved in what is offered. For those who are serious about learning what is offered at each option, then attend the meeting and make an informed decision that this is a good fit for you and how to move forward.
I look forward to seeing you.
I have limited space and time, reserved for those who are committed to get the info and take action. If you re not serious, and won't show up, won't answer emails, or calls, don't waste our time.
Before our meeting, check out some free short videos with strategies: https://shorter.app/richardsaling