The Real Estate Alliance Presents...... The Happy Hour After Work Mixer for...
Description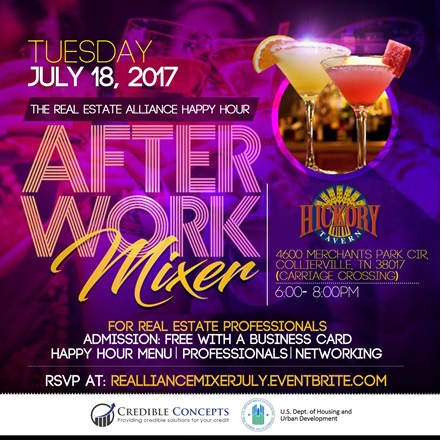 The mission of The Real Estate Alliance is to facilitate leadership and collaboration while forming the right alliances in the real estate industry. This happy hour is the BIGGEST night for Real Estate Professionals in the Memphis area and allows people to connect, network, and build together in a fun social environment. When professionals come together for the purpose of evolving this industry, it makes for a more conducive environment for the success of real estate professionals regardless of their role in it.
Who is this event for? Professionals who are in the real estate industry and are ready to connect with other like-minded professionals. People who understand that their success in this industry depends on their unique contribution to it. People who are ready to lead and promote positive growth of the industry. People who view the success of another as a testament for what is possible when you discover and focus on your uniques gifts and contribution to the real estate industry.
What will take place at the event? NETWORKING, FUN, & DRINKS! The event starts promptly at 6pm, so it's important that you are on time to hear from the founder and sponsors who will be giving valuable information on the organization and how we can all work together to continue to level up our businesses. Lenders, investors, wholesalers, agents, brokers, property insurance brokers, stagers, title company agents, mortgage lenders, attorneys, inspection companies, appraisers, developers, property managers, and etc. will be in attendance. So regardless of the contacts you hope to make, there will be ample opportunity to make key connections.
If you are new to this industry, this should definitely be your first stop! Once you align yourself with this organization you wil be off to a great start to all of your real estate endeavors. If you are seasoned and looking to expand your team, partner, or collaborate in any way, this is the place to be! Professionals at all levels in every role in real estate will be there and what better place to connect with them other than a fun night out on the town in the beautiful Collierville area!
MUST DO's!!! Have FUN, be yourself, be social, connect with EVERYONE THERE, pass out ALL of your business cards, and be willing to give as much as you request, and this night will be one to remember!
Sponsored by: Credible Concepts, Inc. and the U.S. Housing & Urban Development Department (Memphis)