Description
We know trying to start a family can be overwhelming, and as time goes on, the questions may start piling up: Is it time to see a fertility specialist? When should I move on from IUI? How much is this going to cost me? Don't worry, we can help.
Join Glow in Walnut Creek on Wednesday, November 7 at 6:30 PM.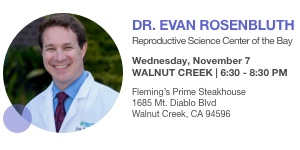 Meet with Dr. Evan Rosenbluth from Reproductive Science Center of the Bay, to have a candid discussion about fertility. He will chat about it all — from the causes of infertility to the different treatment paths available as you plan the family of your dreams.

You'll also learn how the Glow Fertility Program can help you save on treatments and medications while also providing a community of support during your journey.
This event is free and open to the public with light refreshments.
Partners and friends are welcome, but space is limited, so register today!