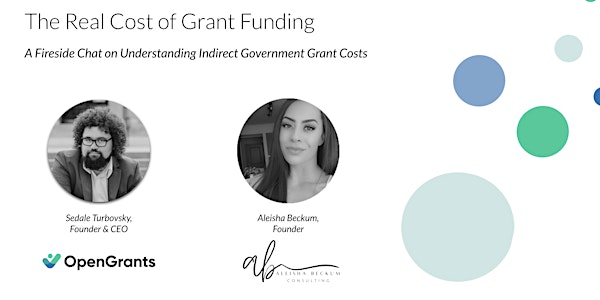 The Real Cost of Grant Funding
Join us for a fireside chat on optimizing your indirect cost rates to ensure that you are covering the real cost of receiving funding.
About this event
OpenGrants CEO, Sedale Turbovsky, and expert consultant, Aleisha Beckum, will dive into the details of indirect grant costs. These refer to expenses that may not be readily identified with a grant but are still associated with the activities necessary to achieve the goals of the grant.
This webinar is perfect for any private or public organization that is interested or has received government grant funding. The conversation will cover -
Understanding possible indirect grant costs & examples
Predicting indirect grant costs
Indirect Cost Recovery Funds
Overhead Reimbursement
Optimizing indirect cost rates
Speaker Information
Sedale Turbovsky, CEO & Co-Founder, OpenGrants
Sedale Turbovsky is the CEO and co-founder of OpenGrants, a venture-backed startup focused on building modern infrastructure for funding. He has been an entrepreneur since childhood. After honing his leadership skills as an outdoor guide in his younger years, he started his professional career as an independent consultant focused on delivering data products and digital strategies to enterprise clients in South America.
He is experienced in independent grant writing and public/private partnerships at the highest level, having worked directly with OpenGrants' current strategic partner, Momentum.
Aleisha Beckum, Founder, Aleisha Beckum Consulting
Aleisha Beckum is the Owner/Founder of Aleisha Beckum Consulting. She has her Masters in Business Administration and was previously a State of California Auditor turned Consultant as a Subject Matter Expert. She has seen it all...the good, the bad, and the ugly.
She is here to help you see into the future. To develop strategies that create a future of financial longevity for generations to come. Through her many years of experience working with all types of organizations such as; state/local government, tribes, nonprofits, hospitals, and for profit companies, she has had the pleasure of providing valuable services like accounting, full lifecycle grants management, development of hundreds of cost allocation plans and indirect cost rate proposals, recovered hundreds of millions of grant funds left on the table, and lastly creating compliance programs for organizations to ensure they adhere to the state/federal regulations while maximizing the benefits that exist.
Aleisha helps organizations become HEROES of their communities and those they serve while performing with integrity every step of the way.