The Reading Line: Books, Bikes & Food Along the Green Line

Saturday, October 4, 2014 from 9:30 AM to 1:30 PM (EDT)
Event Details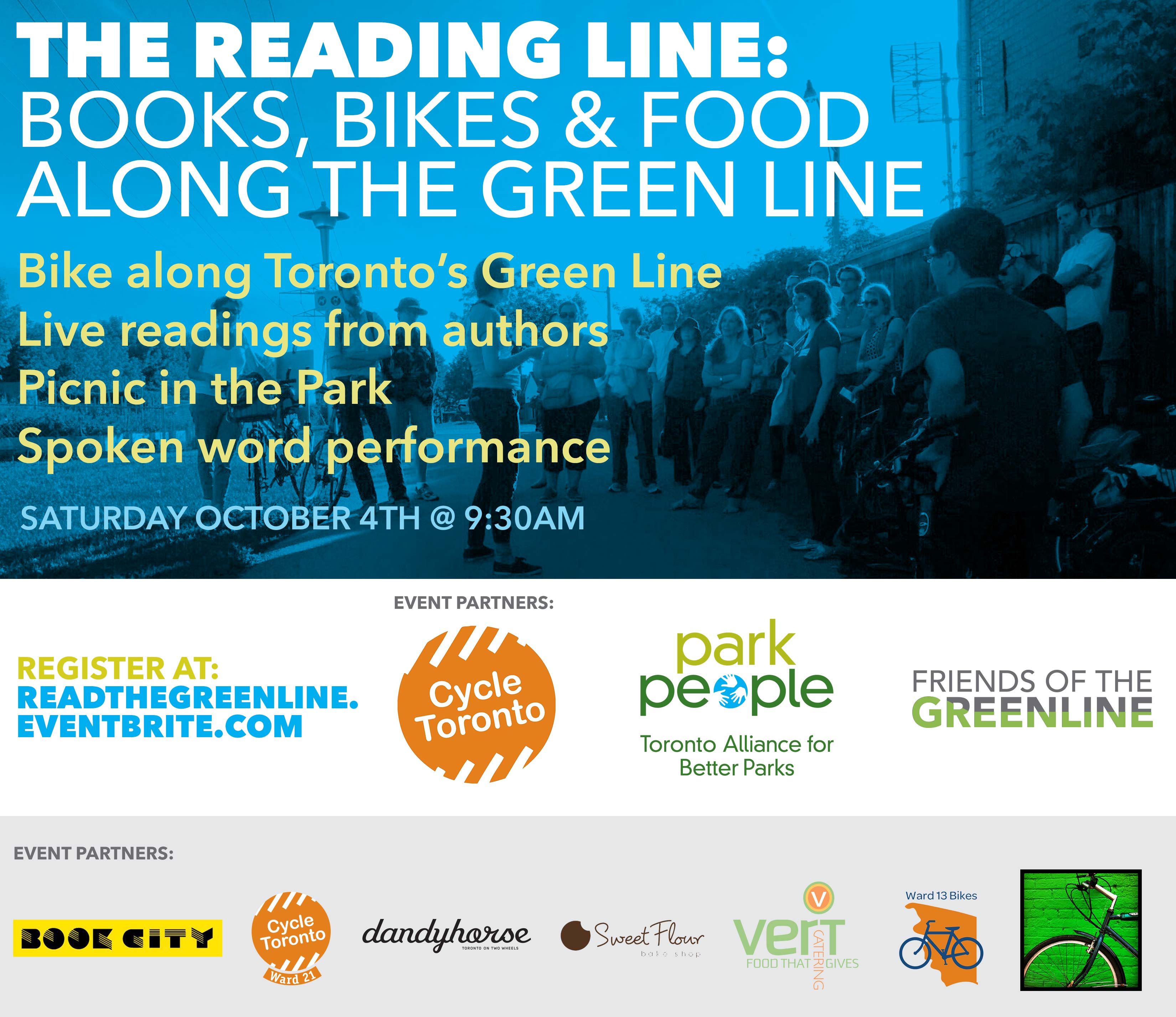 Come read the Green Line with Cycle Toronto, Toronto Park People & Friends of the Green Line.
Join a family-friendly bike ride along the Green Line and hear readings and talks from local authors on food, cycling, and urban issues. We will wrap with a picnic and spoken word beside the community garden in Frankel Lambert Park. Watch for the schedule and lineup of authors to be revealed!
We'll meet at Book City in Bloor West Village at 9:30 am, where participants will enjoy a complimentary Jump Start Cookie (Sweet Flour Bake Shop) and have a chance to buy books by featured authors, with a special Book City loyalty card (10% off). We'll then ride to the Green Line, meeting our first author at Geary and Dovercourt at 11 am. Books by the featured authors will be for sale along the Green Line as well, also at 10% off!

We'll close with a picnic at Frankel Lambert Community Garden. Please bring your own blanket or chair, and bring your own lunch. 
More details and event partners to come. We can't wait to bike the Green Line with you!
Schedule & Speakers:
9:30am  |  BookCity Bloor West Village  |  Catherine Bush
11:00  |  Geary/Dovercourt West Side Meadow  |  Shawn Micallef
11:20  |  Geary/Ossington Geary Ave Parkette  |  Kathryn Kuitenbrouwer
11:40  |  Geary/Shaw Garrison Park east end  |  Amy Lavender Harris
12:00  |  Frankel Lambert Community Garden/Christie north of Dupont  |  Christina Palassio
12:20  |  Picnic at Frankel Lambert Community Garden/Christie north of Dupont  |  Tanya Neumeyer (spoken word)
Catherine Bush is the author of four novels, Accusation, a NOW magazine and Amazon.ca Best Book, the Trillium Award-shortlisted Claire's Head, The Rules of Engagement, chosen as a New York Times Notable Book, and Minus Time. Her non-fiction has appeared in the anthology The Heart Does Break and elsewhere. She coordinates the University of Guelph Creative Writing MFA. 
Shawn Micallef (@shawnmicallef) is the author of The Trouble with Brunch: Work, Class and the Pursuit of Leisure, Stroll: Psychogeographic Walking Tours of Toronto and Full Frontal T.O., a weekly columnist at the Toronto Star, and a senior editor and co-owner of the independent, Jane Jacobs Prize–winning magazine Spacing. Shawn teaches at the University of Toronto and was a 2011–2012 Canadian journalism Fellow at University of Toronto's Massey College.
Kathryn Kuitenbrouwer has been exploring story and Toronto's geography for several years. Her short fiction has appeared in Granta magazine, The Walrus and Storyville. She is the author of the novel All the Broken Things, set in the Junction, and following a year in the life of a bear wrestler named Bo.
Amy Lavender Harris is the author of Imagining Toronto (Mansfield Press), which was shortlisted for the Gabrielle Roy Prize in Canadian literary criticism and won the 2011 Heritage Toronto Award of Merit. She is a contributing editor with Spacing Magazine, for which she writes a regular column about urban culture and identity. Her next book, Wild City, explores intersections of nature and culture in the contemporary city. 
Christina Palassio is a writer and editor with a passion for getting new ideas off the ground. She is the Director of Communications at Community Food Centres Canada, which is working with partners to build Community Food Centres like Toronto's The Stop in communities across Canada. She is also the co-editor of several books in Coach House Books's city-building uTOpia series, including The Edible City: Toronto's Food from Farm to Fork and Local Motion: The Art of Civic Engagement. Christina recently completed a solo bike tour of Québec's Gaspé peninsula accompanied by eight great books, including Dan Barber's terrific The Third Plate. 
Tanya Neumeyer is a Toronto-based poet who facilitates spoken word workshops for youth and adults. Tanya is a member of the League of Canadian Poets, an Artist Educator with the Ontario Arts Council's Artist in Education program and a member of the Toronto Poetry Project, promoting spoken word throughout the GTA and beyond. Tanya was a member of the 2012 Toronto Poetry Slam team that competed at the US National Poetry Slam in Charlotte, NC and placed third in the Canadian Festival of Spoken Word in Saskatoon. Tanya's first book, Piecing It Together, was published in 2009 by The Hellbox Press, a printing press making innovative, hand-made books.
Books by the featured authors will be for sale along The Green Line on a BookCityOnWheels pop-up store pulled by Laurie Featherstone & her Two Wheels Green Delivery bike business.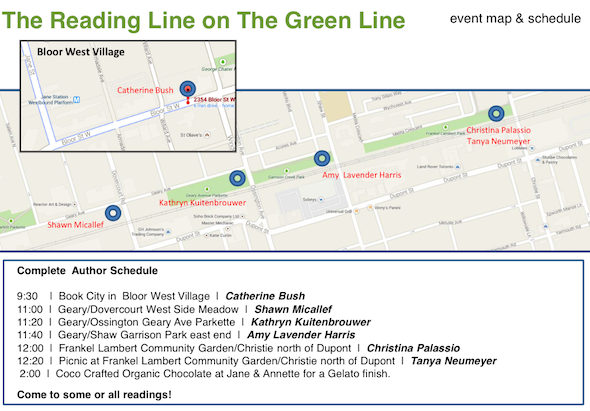 When & Where

Book City
2354 Bloor Street West
Toronto, ON M6S 1P3
Canada

Saturday, October 4, 2014 from 9:30 AM to 1:30 PM (EDT)
Add to my calendar
Organizer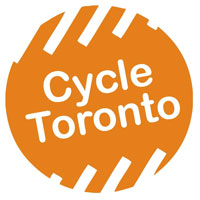 Cycle Toronto is a diverse member-supported organization that advocates for a healthy, safe, cycling-friendly city for all.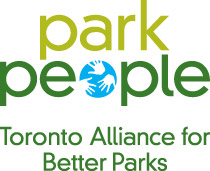 Toronto Park People works for better parks by:
Building partnerships between communities, the city and others to improve parks

Facilitating neighbourhood engagement in parks by supporting a network of over 100 Park Friends groups

Organizing activities and projects that enable residents of all ages, interest and backgrounds to make better use of our parks

Friends of the Green Line are a group gathered to consider the potential of the Green Line hydro corridor north of Dupont Street.