You get the book signing, see the book come to LIFE, but you get something more: the workshop to pimp your pain into profits & purpose.
About this event
What if the most hurtful, embarrassing or shameful thing you've ever experienced IS the key to your destiny?
And what if, in one inspiring and insightful day you could pimp slap that past, torch the bullshit, and live YOUR TRUTH out loud?
Your 3-part experience includes:
The Book Signing
The Workshop
The Solo Performance
Normally, my workshops start at $1997. Or a ticket to see a world premiere of a play, stand-up act or a music concert can range from $65 to $5,000. And these days tickets to see a broadway play, headlining stand-up act, or world premiere concert start at $200 and skyrocket up into the 1,000's.
Let's make this investment a "no brainer" for you…
Not only will you get the book, the signing and photo opt with me – you'll see me bring the book to LIFE right in front of your eyes. And here's the magic that's specifically waiting for you:
The Workshop
I'm including a wealth workshop so you can "pimp your own pain" into ANY form of wealth you want!
• Ready to become a multimillionaire? Attend this workshop.
• Hungry to heal the baggage you carry from you parents? Attend this workshop.
• Committed to fulfill your destiny? ATTEND THIS WORKSHOP!
I'm focusing on REVEALING proven principles BEHIND the pain that you can monetize or turn into a movement. It's EXACTLY how I, a nobody from birth, grossed $5,000,000 in the past six years. Don't you want to know how I did it so you can learn from my example?
So yes, I am providing you a book signing, photo opt and a LIVE experience that will inspire you beyond belief!
AND I am doing something more…
I'm giving you the keys out of YOUR personal hell of living your life (i.e., self-doubt, self-sacrifice, relationship drama, plateaued business, career success, happiness, fulfillment—you name it!) at the effect of the past.
AND I am pricing it in such a way it's a "no brainer." You don't have to think about this. Meaning you would have to be NUTS to let this deal pass you by!
There are two forms of access: to this one-of- a-kind book tour:
General Admission: $47
VIP Access: $197
Grab you seat before we sell out! We do so every time...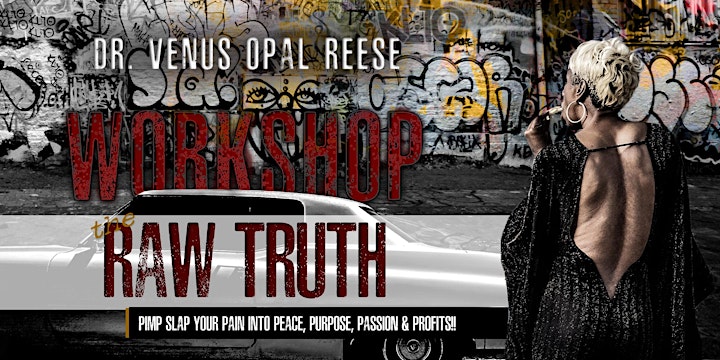 REFUND POLICY
This is an entertainment and learning experience. Your experience is completely subjective.
If you attend the entire day and decide you were not entertained, did not learn anything at all, were not inspired on any level, or did not receive any value whatsoever, I will refund your ticket. You must attend the ENTIRE day (the book signing, the wealth workshop, and the solo performance) to qualify for the refund and present the supporting documentation. And you must come being open to the experience. If you are a taker or a user, don't come. Save yourself the headache of documenting the process to apply for the refund.
The refund policy does not include if you get offended, you can't find parking, you come late, you don't "like" something, or you don't enjoy the delivery of the day. If it's not your cup of tea or doesn't meet your expectations, this is not grounds for a refund. This is not a "backdoor" policy to use if you don't like the way we do business. The refund policy ONLY applies to you being truthful about receiving value, being entertained, and/or learning something.
I have never had anyone attend any of my events and receive absolutely no value from it. But I want you to know I am willing to refund a person who participates FULLY and with an open heart and tells the truth. I want you to say, "Worth every penny!" by the end of the day. But only for people with integrity—not takers, complainers, or motherfuckers who are simply trying to get something for nothing.
A ticket can be transferred. Email support@defyimpossible.com to do so at least 48 hours before the event starts.
Date and time
Refund policy
Organizer of The Raw Truth™ Tour - Houston
Category of One™
Don't Be the Best. Be The Only.
Dr. Venus Opal Reese
Acclaimed Inspirational Speaker, Best-Selling Author, Award-Winning Performance Artist, Marketing Alchemist™ and Creator/CEO of Defy Impossible, Inc., Dr. Venus Opal Reese has been featured in Forbes, Essence, Ebony, Black Enterprise, Madame Noire, The Huffington Post, Glamour, Diversity Inc., The Network Journal, Modern Salon, and on The Donnie Simpson Show, Good Day DC, ABC 7's Let's Talk Live, Rolling Out, and Heart and Soul Magazine/TV as a reoccurring contributor.
Once upon a time, Dr. Venus was a walking statistic. She was living on the "mean" streets of Baltimore by the tender age of 16 amid violence, drugs, prostitution, and underground commerce. The predictable outcome was becoming the most lucrative female "God Father" in Baltimore's history. Amazingly, 14 years later she graduated with a second master's degree and a Ph.D. from Stanford University. Dr. Venus' business grossed over $5 million in revenue in less than 6 years by turning herself into a category of one in the market place. Her clients have generated millions in revenue using her PROVEN programs, systems, and strategies.
Dr. Venus has perfected the marketing alchemy required to become a category of one by being your most real and raw authentic self. She transforms successful, conscious CEOs, business owners, coaches, consultants, thought-leaders, entrepreneurs, experts, and executives from being the best to being the ONLY in their industry. When you are the only one in the world who can provide what life has prepared you for, not only do you fulfill your destiny in service of others, you naturally become the highest-paid leader in your industry, live a fulfilled life and leave an awe-inspiring legacy that transforms the WORLD!
Book Dr. Venus for your next motivational keynote, leadership training, or conference. Email support@defyimpossible.com