About this Event
The Raw Truth
A Pimp Daughter's Diary
Written & Performed By Dr. Venus Opal Reese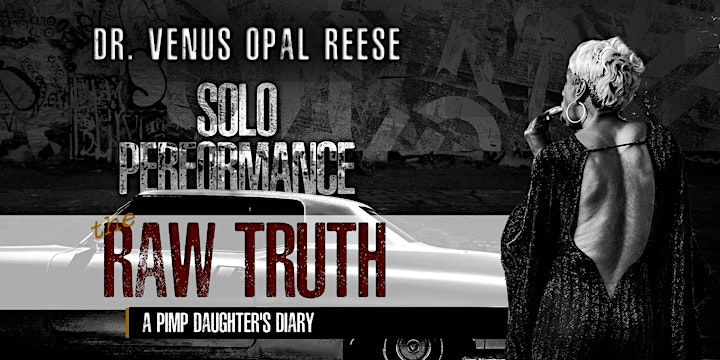 Get More BANG for Your Buck!
Join us for THE RAW TRUTH WORLD PREMIERE WEEKEND
For the Same Low Price as a Single One-Day Tour Stop!!
I think I have a thing for 3 for 1… (weird…)
When you join us for The Raw Truth World Premiere Weekend Jan 17, 18, & 19 in Santa Monica, CA you'll get EVERYTHING promised on all tour stops—but during our World Premiere Weekend, you get 3 shows + 3 events over 3 days!
Here's the breakdown of this once in a lifetime opportunity:
Fri Jan 17th—Show & Post Show Reception
Sat Jan 18th— Book Signing + Workshop + Show & Q&A
Sun Jan 19th— Show & "Share Your Truth" Open Mic
You get all these life-enhancing experiences and networking opportunities at the SAME VIP ACCESS RATE as a SINGLE DAY Tour stop!
Or you can invest $47 dollars and be a part of this history-in-the-making weekend.
This world premiere is going to be beyond special. For the same rate, you invest to attend a local tour stop near you, you'll get TRIPLE the special treats, surprises, and access when you choose to join us for The Raw Truth World Premiere Weekend, in Santa Monica, CA.
And here's the truth: each night of the World Premiere will have a different swag!
This weekend is going to be a blast! I don't drink (if I did, would get !@#$%Y up this weekend!) #realtalk.
We're going to CELEBRATE our asses off MLK weekend! Dr. King had a dream and this weekend I will be living mine! If I can, YOU can! So come along for the ride!! And let's live the dream together! (Pssst: You didn't hear it from me, but the press will be in attendance and "Hollywood Insiders" are being invited.) #justsayin #neverknowwhoyouwillmeet #getintheroom)
Pick your seat to live the dream with me. Do it now.
If you can't make the world premiere weekend, here are 6 other tour stops to choose from.
No, they will not be as special as the World Premiere [sad face emoji] but hell, you will get MORE value than you can shake a stick at! LOL, I promise!
Houston - 3/21/20
Atlanta - 4/18/20
Chicago - 5/16/20
New York - 6/13/20
Baltimore - 7/18/20
REFUND POLICY
This is an entertainment and learning experience. Your experience is completely subjective.
If you attend the entire day and decide you were not entertained, did not learn anything at all, were not inspired on any level, or did not receive any value whatsoever, I will refund your ticket. You must attend the ENTIRE day (the book signing, the wealth workshop, and the solo performance) to qualify for the refund and present the supporting documentation. And you must come being open to the experience. If you are a taker or a user, don't come. Save yourself the headache of documenting the process to apply for the refund.
The refund policy does not include if you get offended, you can't find parking, you come late, you don't "like" something, or you don't enjoy the delivery of the day. If it's not your cup of tea or doesn't meet your expectations, this is not grounds for a refund. This is not a "backdoor" policy to use if you don't like the way we do business. The refund policy ONLY applies to you being truthful about receiving value, being entertained, and/or learning something.
I have never had anyone attend any of my events and receive absolutely no value from it. But I want you to know I am willing to refund a person who participates FULLY and with an open heart and tells the truth. I want you to say, "Worth every penny!" by the end of the day. But only for people with integrity—not takers, complainers, or motherfuckers who are simply trying to get something for nothing.
A ticket can be transferred. Email support@defyimpossible.com to do so at least 48 hours before the event starts.