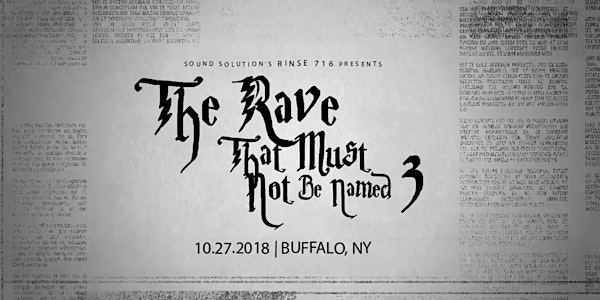 The Rave That Must Not Be Named Buffalo • Wizarding World Themed Halloween
Location
Dnipro Ukrainian Cultural Center
562 Genesee Street
Buffalo, NY 14204
Description
Buffalo's Annual, Late-Night Halloween Extravaganza
The Rave That Must Not Be Named 3: Escape From Azkaban

Saturday, October 27, 2018
@ Dnipro Ukrainian Cultural Center
562 Genesee Street, Buffalo, NY
18+ Event // 9pm-5am

You know what returns... The Annual Themed Halloween Extravaganza is back @ Dnipro Ukrainian Cultural Center for the third year on Saturday, October 27th! This year we 'ESCAPE FROM AZKABAN!'

The Rave That Must Not Be Named is a fully themed & decorated Halloween experience featuring multiple areas of DJs, producers, & bands, state-of-the-art sound, lighting, & production, live art installations, themed entertainers, vendors, food trucks, & much more!

Early Bird Tickets are available until Monday, September 3rd. Full details and General Admission tickets become available after.

For more information head to theravethatmustnotbenamed.com

Like and follow us on Facebook @TheRaveThatMustNotBeNamed


Full Details On Facebook: https://www.facebook.com/events/2011615772203403/
FAQs
Are printed Tickets required to enter the event?
Yes. To ensure there is no delay at the entranance it is required that you show your ticket and a valid form of ID to enter.

Is there onsite parking?
Yes. There is an onsite preferred parking lot. Please arrive early. Once the lot fills up, there is a overflow lot on the corner of Jefferson & Genesee. Several streetside spaces are available as well.
What time is the event?
The Rave That Must Not Be Named is a late night Halloween event. The event runs from 9:00pm to 5:00am.
What Genres will be heard at the event?
The Rave That Must Not Be Named is a multi-area, multi-genre event featuring a wide variety of sounds! Hear internationally reknown and high-profile local DJs and bands perform EDM, Dubstep, House, Techno, Electronic Rock, Trip Hop, Glitch Hop, Drum & Bass, Sound Track, Accoustic, & more
Are there any other activities other than music peformances?
Yes. The Rave That Must Not Be Named is home to a variety of entertaining acts! Aside from music, we will be providing vendors, food trucks, live fire performers, sideshows, art installations, and more!
Is there an age requirement for this event?
Yes. This is an 18+ event. Please make sure to bring valid photo ID to enter the event. No ID, No entry.
Event subject to change without notice. No refunds.