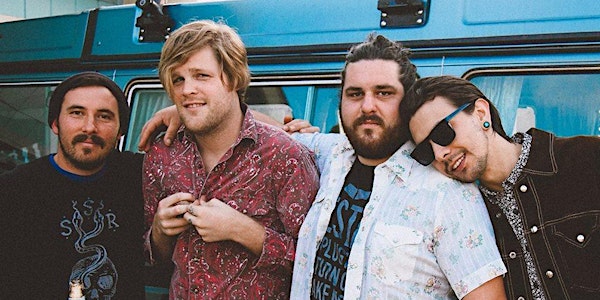 The Ragged Jubilee w/Stony Sugarskull
Ages 21+
Presented by the Siren Morro Bay
The Ragged Jubilee return for a night full of alt-rock tunes inspired by folks like The Stones, Black Keys, Black Neil Young & The Growlers
When and where
Location
The Siren 900 Main Street Morro Bay, CA 93442
Performers
Headliners
More Performers
About this event
The Ragged Jubilee is a Garage/Blues band based in San Luis Obispo, CA. They are influenced by various decades and genres of music - from Dick Dale to Black Sabbath or Bob Dylan, Neil Young, Led Zeppelin to Jimi Hendrix - you'll hear notes of one, and shades of another in each release. Yet each exploration is unique, as the band continues to evolve its own signature blend of grit and soul. The Ragged Jubilee currently have released 3 full length LPs (Pyramid Scheme, In The Valley, American Moan, as well as various EPs, (Self Titled, Alabama, & B-Sides) that have captured the diversity and breadth of their sound, as well as the attention of their fans.
Stony Sugarskull is the sonic project of Berlin/Los Angeles based, pioneering singer-songwriter, composer and multi-instrumentalist Dr (PhD) Monika Demmler. With her innovative style, her unique voice that calls to mind the music of Mazzy Star or Nico, coupled with her boundless creativity, she transcends borders by blending punk, shoe gaze, electronica and psych in a very unique and captivating way - her second album "Princess" to be released on 18th November 2022 with a special show at the Victorian historical monument HM157 Los Angeles (Tickets)
The most distinctive thing about Monika Demmler is her unique vocal style and transcendent delivery: a collage of dreamy, playful, innocent, ironic, clever, earnest, at times even spiritual psychedelia. Her artsy sound blends shades of the Velvet Underground, Sonic Youth, My Bloody Valentine, Marianne Faithful and Mazzy Star into its own new best. The music also functions in part to expand on aspects of her doctoral research in metaphysics and music philosophy: she has been credited as the first who combines the power of sound frequencies with rock 'n' roll music (Louder than War). Currently, Stony Sugarskull finished her second album "Princess" (funded by Initiative Musik) with Kristian Bell (The Wytches, UK), mastered by Luke Oldfield (Tilehouse Studios London). In 2020, her debut album "Lioness" (funded by Initiative Musik and Musicboard Berlin) was released on her label Sugarskull Records, mirroring the socio-political downfall in the 21st century. She has also received scholarships by Gema, GVL and Musikfonds Germany.