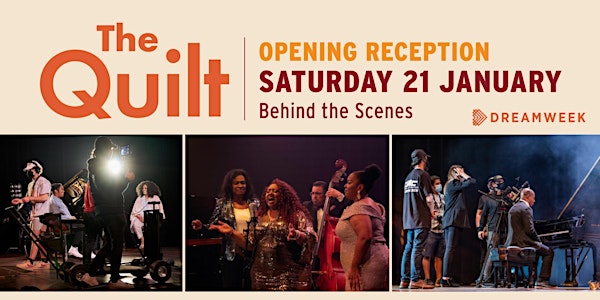 The Quilt: Behind the Scenes | MBAW Art Gallery Reception
Behind-the-scenes photos of cast, crew, musicians & production of the upcoming film, The Quilt: A Living History of African American Music!
When and where
Location
Musical Bridges Around the World Offices & Art Gallery 23705 Frontage Road Suite 101 San Antonio, TX 78257
Refund Policy
Contact the organizer to request a refund.
Eventbrite's fee is nonrefundable.
About this event
About the Exhibition & Opening Reception:
Join us for a behind-the-scenes look at the cast, crew, musicians and production process of the upcoming MBAW educational documentary, The Quilt: A Living History of African American Music, viewed through the lens of photographers Robert Michaelson, Sarah Jane, Manuel Alejandro Hernández Cardona of CMC Studios, and MBAW staff. The exhibition also features graphics from the film, beautifully designed by Coral Díaz and Noelle Artigue, masterfully printed by our friends at Digital Pro Lab. This Dreamweek exhibition is on view from 14 January - 31 March 2023 by appointment. Go to mbaw.org/art to book an appointment or purchase the works.
Merchandise will be available to purchase at the event, such as The Quilt tote bags and genre graphic thank you cards, stickers, posters, and more.
And be on the lookout for the film's premiere soon! "The Quilt" travels through the time periods and genres of music directly connected to African American history and culture, in an engaging format for both children and adults alike.
MBAW wants to highlight Quilt screenwriter, author and onscreen actress Cynthia Freeman Gibbs, our own Julya Jara, CFRE, who is the film's director, the fabulous performance and production talent, and the following sponsors and partners who have been a major part of the process: H-E-B, City Council Project Funds, Muriel F. Siebert Foundation, Plum Foundation, Faye L. & William L. Cowden Charitable Foundation, Dominic Anderson, CFP, Digital Pro Lab, Carver Community Cultural, Center, San Antonio African American Community Archive and Museum, and the African American Quilt Circle of San Antonio.
Ticket and Check-in Information:
Please have your ticket's QR code (app, email, or print) or your name(s) ready at the door for easy entry. Have any questions about tickets? Check out our FAQ (Frequently Asked Questions) below.
About the MBAW Art Gallery:
The Art Gallery at Musical Bridges Around the World presents professionally curated art exhibitions by emerging and established visual artists working in our community and beyond. Quarterly receptions, artist dialogues and other gallery events bring the community together and invite artists, collectors and visitors from all backgrounds to experience the connection between people, cultures and ideas through the expression of visual art.
Thank you to our Sponsors & Partners!
Kronkosky Charitable Foundation, Ford Foundation, Nancy Smith Hurd Foundation, City of San Antonio Department of Arts and Culture, Brown Foundation, San Antonio Area Foundation, Betty Stieren Kelso Foundation, Bexar County, National Endowment for the Arts, Joan and Herb Kelleher Charitable Foundation, The Spine Group, Texas Commission on the Arts, Minnie Stevens Piper Foundation, Terra Nova Violins, Hayward Gaude Fine Portraits, Muriel F. Siebert Foundation, Kaitlyn and Stewart Skloss Family Foundation, Digital Pro Lab, FASTSIGNS, Texas Public Radio, Visit San Antonio​
Frequently Asked Questions (FAQ):
- Are tickets required for entry to the gallery?
Yes, but they are free!
- How do I get a ticket?
Tickets are available here and on our event calendar listing on our website. 
- What do I show at the door?
To help our attendants, please have your ticket ready when you get there. Attendants will be ready to scan the QR code on your ticket (print, email, or app).
- What if I forget to get a ticket(s) or don't have one when I get there?
An attendant at the door can help you register and get in quickly and easily. If you have registered but have forgotten the ticket, an attendant can pull up your name and check you in manually.
- How do I get to the MBAW Art Gallery? Where do I park?
Location: https://goo.gl/maps/ixiaKNns8Yi7CENU6
If you are coming from the south-
If you are coming from the north-
Parking is free and overflow spots are available up the hill.