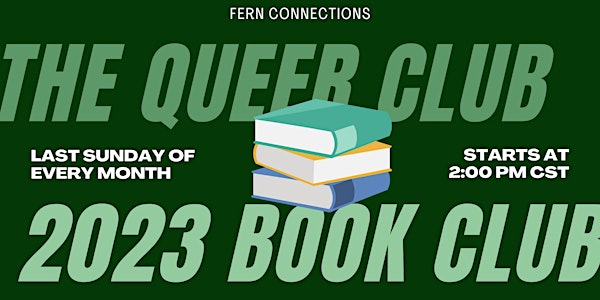 The Queer Club: 2023 Book Club
Looking to read more QBIPOC authors this year? Need an excuse to further ignore your TBR pile? Whatever your reason we've got you covered!
About this event
Introducing the Queer Club: A book club hosted by Fern Connections that will be focused on centering QBIPOC authors from across the globe, hosted on the last Sunday of every month.
The reading material will vary from Fiction, Non-Fiction, Memoirs, Essays you name it, we'll read it! The event will be happening online, and will be hosted by one (or more) of the Fern Connections' team members.
Whether you're joining to talk about the book of the month, or simply learn more about the chosen title to see if it pegs your interest, everyone and ANYONE is welcome to join. We can't wait to see you there!
Details:
Date & Time: Last Sunday of every month @ 2:00 pm CST
Location: Zoom
Book List*:
January - Latakia by JF Smith
February - All Boys Aren't Blue by George M. Johnson (TW: SA, Slurs, Homophobia, Racism)
March - All the Young Men by Ruth Coker Burks
April - TBD
May - The Verifiers by Jane Pek
June - All this could be different by Sarah Thankam Mathews
July - TBD
August - Something to talk about by Meryl Wilsner
September - TBD
October - The Reinvented Heart: Tales of Futuristic Relationships by Cat Ramo et al.
November - TBD
December - Fire Island: A Century in the Life of an American Paradise by Jack Parlett
*No reading materials will be provided by Fern Connections, however we urge you to support your local library by renting a hard copy, ebook, or audio version of the above novels (or your local bookstore!). If you don't have access to those facilities, we have added all of our book club books to our Amazon page.
**Fern Connections cannot confirm all of the TW for each book included in the reading list. We have proofed each publication to the best of our abilities; however, we advise participants look into the material as well.