This Event is to gather women of faith together in one place - to pray and be encouraged as daughters of the King. Come & get blessed.
About this event
You are born for such a time as this ladies.. to walk in boldness and faith & do what God has called you to do.
This transforming event will showcase powerful testimonies of God's miracle work by speakers Rebecca Johnson, Christina Williams, and Rachelle Casillas.
We will be reminded at the conference the story of Queen Esther - her courage, bravery and obedience to God's will that impacted saving thousands of lives.
You don't want to miss this conference!
Bring a friend/friends who needs encouragement with you!
Come with your hearts ready to receive messages of hope & encouragement that will draw you closer to the King of all Kings, Christ Jesus.
Conference Partners include: Arise Ministries, Flourish, A Church Alive, Girl Talk OC, FoReLiving Royal, Celebration Church Santa Ana, and Harbor Light Church Costa Mesa.
No Childcare provided at event. Teenagers are encouraged!
*PAYING AT THE DOOR?* - Cash or VenMo please - Kindly RSVP for head count - Rachellecasillasrc@gmail.com
$35 Ticket includes refreshments, food, snacks, swag bags & more.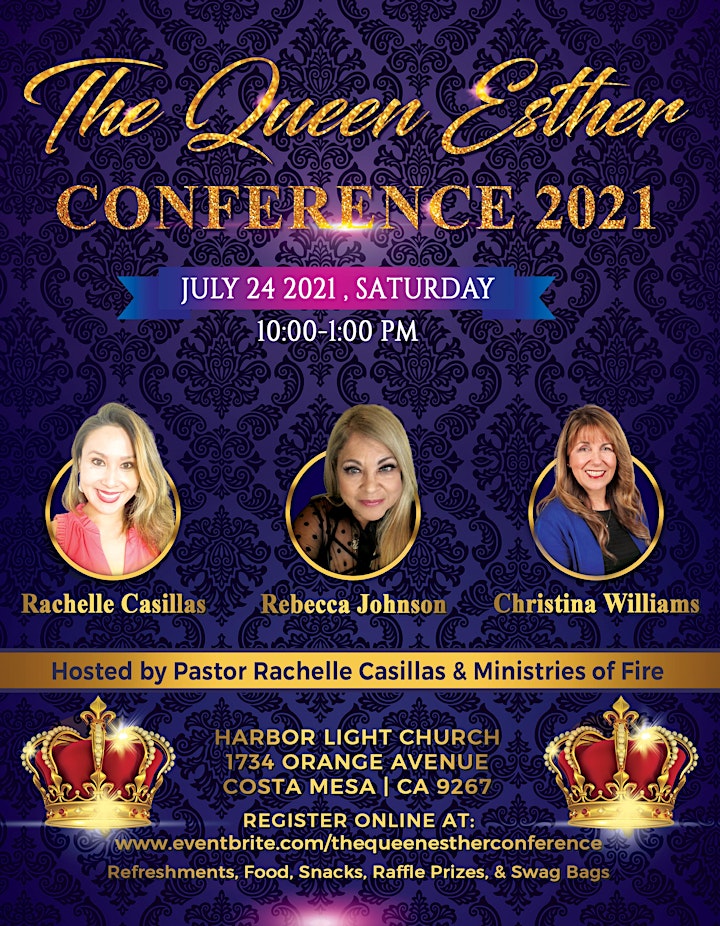 Organizer of The Queen Esther Conference
Organizer Rachelle Casillas is a Mom, Wife, Pastor, Business Leader & US Ambassador FoRe Community Family Restoration with the FoRe Living Royal Ambassador Program. This Event was given to her in a vision to bring women from all over the Region of Orange County and Southern California together in unity and encouragement. This Event will be life-changing for Women in the area who desire to walk in the fullness in the purpose and calling God has for them.