The Q4 & New Year Accelerator Programme

Wednesday, December 20, 2017 at 2:00 PM

-

Sunday, December 31, 2017 at 11:30 PM (CET)
Event Details
THE MARILYN DEVONISH Q4 TRANCEFORMATION™ ACCELERATOR PROGRAMME 
The NEW Q4 & New Year Accelerator
WHAT IS THE Q4 TRANCEFORMATION PROGRAMME?
I just had one of those "Oh my gosh, that would be so cool" ideas.
Probably spurred on by the number of #SoulPlan Readings that I've done recently, and by how much people love #TarotTuesday and #AngelTarot, and Huna, the idea is to combine all 4 modalities (the Quantum Leap 4) as we head into the final quarter of yet another year.
One of the first clients to go through the Programme said:
"Thank you so much and you need to charge more for these Sessions because the amount that goes into it is amazing.  It's an intensive.  Oh boy.  Thank you so much."
Another said partway through the Sessions:
"I wanted to say a huge thank you.  As Coaches we know the numerous techniques and what to do.  And yet we need guiding through it.  Our egos desperate drive to survive and our deep bedded limitations too.  I feel so different already.  Seriously, I absolutely appreciated the level of energy and time gifted already.  Thank you, thank you, you thank you."  Garry Jones, Garry Jones Coaching & Martial Arts, www.garryjonescoaching.com
The unique and bespoke and individually tailored Sessions offer a combination of some of my favourite and most transformational and powerful modalities.  The Quantum 4 Programme includes:
A Soul Plan Reading to get clarity on goals, life purpose, skills, and talents, and to identify and pinpoint the big blockages and limiting beliefs that stand in the way of achieving that and stepping into and living your Soul Destiny.
Angel Tarot Reading for confirmation and to do some past, present, and future work to be done.

A Future Life Progression to round things off and really bring it home in fine style.  The messages and insights from the future self are always beyond fascinating and enlightening. 

The Huna to help shift stuck energy, let go of the past, and provide further clarity. 
All of the Sessions can be done via telephone or Skype so there are no global restrictions for taking part.
It is quite labour intensive for me so as exciting as it sounds; I must admit that I kinda like the idea because they have are all very powerful modalities in isolation, so together I am sure they would be an absolute powerhouse, I am going to have to limit the number of Sessions available given the time that it would take to deliver them. 
Someone suggested that I train other people do it given the time it would take me to deliver the Sessions. I could do, although that would mean training them in Soul Plan Reading, Angel Tarot and Future Life Progression just to do the basics of what I had in mind, plus Huna, NLP, Access Consciousness, Time Line Therapy and a mix of quantum energy healing techniques for the other components that go into the mix.
The #Huna portion alone would require a 29 hour trip out then a 2 week stay in Hawaii. Twice.  So upon reflection that is an even more time consuming endeavour!   Just thinking about it also reminded me how much goes into these seemingly simple things to create the end result.  Having
HOW ARE THE SESSIONS DELIVERED?
The Sessions will be done via either telephone or Skype.  For those outside of the UK just let me know what time zone you are in so I can look up suitable times.
WHAT DO THE SESSIONS ENTAIL?
The Soul Plan Diagnostic
We will start with using the Soul Plan Reading as a Personal Diagnostic Tool because it highlights, your worldly and spiritual challenges, as well a specific limiting beliefs and also provides Soul Plan specific suggesting for self help methods, therapy and training modalities, and Bach Flower Remedies.  It also provides a Healing Affirmation for each of the 7 aspects of your Soul Plan. 
For example, for someone with a 3-3 Challenge in their Soul Plan:
SPIRITUAL CHALLENGES: (Same as physical Worldly) To come out of the shell and gain confidence to teach or communicate/express.  Poverty issues.  Sexual imbalance/blockages. Latent violent tendencies.
LIMITING BELIEFS:  Money is evil.  I am worthless.  People are judging me.  I am unworthy.  I am under attack.  I am being watched.  I am undeserving. 
THERAPIES: Life Coaching, Sound Healing, Psychic Art Therapy, Throat Chakra blockage clearing. Stage fright Hypnotherapy. 
HEALING AFFIRMATION: My channels of communication are open.  I express love and truth.
There are 22 different aspects of the Soul Plan which will show up in different combinations depending upon your birth name.  For further information about standalone Soul Plan Readings go to:  http://tranceformationstm.com/soulplan/
 We would be using the Soul Plan to highlight areas that it would be useful for you to focus on as you plan and think about your goals, and to identify what might stand in your way or stop or block your progress.
As one of the clients I read for last week put it: "
"Wow. That was phenomenal Marilyn. Wow. I am just so overcome. It was just phenomenal. Thank you."
"I feel reassured that I will get there because I have all the right things in place.  I'm on the right track.  I'm not going loopy!  The Soul Plan explains a lot."
The Angel Tarot Card Reading
As those of you who have taken part in my Tarot Tuesday Sessions for my Facebook Membership Group, or have joined my monthly Angel Tarot & Huna Big Clearing Call, you will know that the Angel Tarot isn't about predicting your future per se, but often act as a guide to highlight what you have been thinking, showing what is just coming into awareness, and more often than not validating and providing confirmation.  As one of my first professional Angel Tarot clients put it:
LISA HOWELLS, JOURNALIST AND FILM MAKER
"Having worked with Marilyn before, I know she is highly perceptive and intuitive, so trusted that the reading would be interesting to say the least! It isn't a case of the cards 'telling your fortune' it's all about them reflecting your current situation back at you, so you can clearly see what areas need to e worked on. Marilyn's interpretation of the cards is clear, concise and understandable, and she is adept at picking up the subtleties of your individual circumstances. I was reminded, as I often am, that when the angels want you to know something they create paths to it. Having the reading solidified my existing thoughts towards what I needed to be addressing and has given me the impetus I need to get back to it. Intuitive, charismatic and non judgmental, Marilyn made the experience wholly creditable and intelligent. Fabulous."
Lisa Howells
It can also provide insight into a number of areas of life, particularly where you are lacking clarity:
EVE MENEZES CUNNINGHAM, OWNER AT FEEL BETTER EVERY DAY CONSULTANCY
"Thanks so much! That was gorgeous - I wasn't sure how clear I was (in terms of asking the questions) and yet what you came up with made so much sense on both business, love life and another personal issue levels. Love it :) And, by the way, even though today's the first time we've actually spoken, since I've got to know you a bit on Facebook with your gorgeous mix of energy work and more corporate stuff, you've inspired me to bring more of myself into all I do. Thanks again!"
Eve Menezes Cunningham
Website: www.feelbettereveryday.co.uk
For further information about standalone Angel Tarot Sessions go to: http://tranceformationstm.com/angeltarotcardreadings/
The Future Life Progression Session
I have had some jaw dropping things happen with my clients as a result of this Process.  And I mean jaw dropping and into the realm of science fiction in terms of seeing something in great amounts of detail and then having it happen just as described.  For some clients things showed up in a matter of days, other a few weeks, and one that I've had most recently, a year to the day following our Session.
It can be as specific as seeing your house being sold:
I remember the flp session you did for me over Skype. I saw a couple buying the house and said I'd 'know' they were right by their energy. I made a prediction to a friend that they'd put a lower offer in. Which they did and then they increased it. So now it's all looking like it's going to plan.
Right down to seeing your new house in detail during the FLP Session several months before actually seeing it as was the case for the Session that I did with Lisa Turner:
Lisa reminded me of a Future Life Progression Session that we did a year or so ago.
During that session Lisa's future self-travelled out and saw her future house. She said of the future house in the FLP vision:
"I was in a house surrounded by a bunch of people that had come to see me. There was lots of white in the house and it was on a hill and I could tell the house was quite old. I was holding these gatherings for people and they were coming to see me here."
If you follow Lisa on Facebook you will know that she moved house a couple of weeks ago and is just in the process of unpacking boxes. She said of her new house:
"The house I'm in is pretty much on a hill. Part of it is 300 years old, and when I clear out all of these boxes there's a room big enough for holding gatherings, and there are 2 entrances so that people can come here and see me separately from the main house for work. Oh and there's lots of white."
And of course it's not just about houses, these just happen to be the examples I had to hand, however there have been some incredible business breakthroughs as well which were equally as stunning and accurate.
We will most likely also include a dash of Huna, Access Consciousness, EmoTrance, and some Quantum Energy Healing and Clearing work into the mix. 
The Huna Energy Clearing
It is slighly more challening to put this one into words because the reaction is usually just "WOW!"  We will be using the Huna Ho'opononopono Process to cut old links, ties and connections, and using the Huna symbols to assist with increasing both clarity and focus. 
The intention is that you get a clear diagnostic and road map for how best to close out this year and help you get more fully prepared for the year ahead.
Once I have run the first proof of concept Sessions with a few people from my eNewsletter list I will report back with the feedback and initial results.
Marilyn Devonish 
WHAT CAN YOU EXPECT FROM COMBINATION SESSIONS & PROGRAMMES?
Below is a quick summary of client experiences of some of my Programmes and Sessions. The first is a message to you from someone who completed the Live TranceFormation™ Programme where we combined elements of all of the Programmes being offered here for the first time, although not in as much depth with each of the Online Programmes:
"Love the write up Marilyn. 
I am cheshiring from ear to ear. 
I totally envy those new starters…what a fabulous journey they are about to go on and don't even know it."
We mentioned someone called Ammana in that video, and this is what she had to say upon watching it:
Ammana Shaka Hi Marilyn Devonish and Claudette I can certainly identify with the energy being expressed on this video . To onlookers who have not experienced the transformation all I can say is ...you change on a molecular level and your sense are heightened as Claudette vividly describes. Sending cyber hugs to you both...still transforming.... forever growing and inviting miracles into my life daily....and receiving just that!
 As one of the first participants in the Programme put it: 
"As for the TranceFormation Programme, it does what it says on the tin.  I am transformed!"


"I want my old self back.  I want to be the authentic me."
Another client who took part in the first live version of these combined processes said:
"I wanted to get back to my old self after a head injury and The TranceFormation Programme has been like a a tonic for me. Marilyn has picked me up, shaken me around and helped me to see a brighter future. Marilyn's energy, knowledge and the ability to challenge me to move forward has been the basis of my life changes. The mix of modalities has helped me to discover more about who I am, and how to be the best version of me both now and in the future. I recommend Marilyn as a personal coach and mentor."  Louise shares her experience in the video below:
CAN THIS REALLY WORK VIA TELEPHONE, EMAIL & SKYPE?
One of the first clients to embark upon the first live iternation of this telephone and Skype Coaching Programme said: 
"Marilyn was running it for a start, somebody who I met many many years ago and I followed her with interest.  I jumped at it without a second thought, in fact I did think that the price you were offering it at was really cheap but I wasn't going to look a gift horse in the mouth!
It's been brilliant, absolutely brilliant; Marilyn has been like the rocket to launch me into the stratosphere.  I thought I was flying but there is nothing like seeing things from a rocket point of view but now something now seems clear.  Even though I thought I was confident, I didn't really feel confident inside, everyone thought I was confident because that was the exterior that I gave them but after these sessions I know I am the dogs nuts!  
It is just about having the time to dedicate to yourself, to look at yourself and have that coach lead you to think about things, look at things, and give you alternative ways of looking at things because that gives the answers that you already have.  Sometimes it was revealing to me that I already knew the answers.
As for the TranceFormation Programme, it does what it does what says on the tin.  I am transformed. 
I know that life if a lot more exciting, I think there's something to learn every day, it is just absolutely fabulous, the links that are coming through, totally inspired.  It's just made me notice more and take on board the messages that you are sometimes receiving and probably before this I was just going through the motions and watching it and or listening to something, where now I hear and I see because things are a lot clearer.  It's like the scales have dropped off my eyes because I thought I was seeing but it's like getting a new pair of glasses and now life is like HD vision!"  SENIOR LOCAL AUTHORITY MANAGER  
DOWNLOAD THE AUDIO RECORDING & HEAR IT FOR YOURSELF!
I asked if they would like to say a few words about their experience of taking part, and 20 minutes later they still had plenty so say!  You can listen to a copy of the recording at: 
https://www.yousendit.com/download/ZUczS3dqMGM3N0M5TE1UQw
WHAT HAVE PEOPLE SAID ABOUT THIS GROUNDBREAKING SESSIONS & PROGRAMMES? 
"The magic continues and is growing more and more every day.  [Since starting the Online Magic & Gratitude Programme]  We are only 2 weeks in and there are 4 more weeks plus a lifetime of facebook interaction to go!" 
From a client who did my Money Breakthrough Programme: "I've opened 2 new accounts, both are in credit, and when these new contracts come in I'll be rolling in it."  They have since gone on to get paid to travel the world as an expert speaker and workshop facilitator, sharing the stage with the likes of Richard Branson. 
Another said when I launched the Money Breakthrough Programme last year: "Marilyn, wow, is this a new programme? Money is flowing in my direction since your money programme (thank you!)" 
From a client who watched my Online PhotoReading DVD Class: "I had a wonderful time this weekend feeling like a fly on the wall at your Photoreading workshop, I cant believe all of that happened on one day, wow! I loved the page 23 moment and cried during your huna session, I need some of that pod poc stuff please!"
WHAT OTHERS WHO EMBARKED ON THE TRANCEFORMATION JOURNEY HAVE ALSO SAID:
"When people want a full life, a joyous life, if they want focus and direction, you're the person Marilyn to help with that.  It's only been a couple of months really but I'm so different now, I'm lighter, I'm more accepting.  Whereas before I'd be getting huffy and fighting things, my life now is so much easier.  I hope somebody is looking after you in the same way that you as you are taking care of us."
"The TranceFormation™ Programme has been a tonic for me.  Marilyn has picked me up, shaken me around and helped me to see a brighter future.  Marilyn's energy, knowledge and the ability to challenge me to move forward has been the basis of my life changes.  The mix of modalities has helped me to discover more about who I am, and how to be the best version of me both now and in the future.  I recommend Marilyn as a personal coach and mentor."
"Marilyn thank you for the gift of being on this Programme."
"Marilyn you are so good it's scary."
"I've poo poo'd a lot of this stuff.  I've done NLP so how come this stuff hasn't cleared before?  That's interesting.  I'm back to my authentic me!!"
"Marilyn I am so pleased I signed up with you, so pleased.  I can't even believe that I had doubts about it, I suppose it was just a money thing, but thank you.  Oh I love this!"
"This is so exciting, perfect, and at the perfect time for where we're at because we want to up level everything."
"I speak to you Marilyn and you're like the obia woman because everything you say comes true within a couple of days or a week!  I'm continually having to say: Are you kidding me?  You're not gonna believe this!  Trust me, over the past few weeks that we've been working together I'm like: Really????"
"I like that way that the TranceFormation Programme is not absolutely set in stone.  It feels like a journey that can be done gradually with no restrictions.  The Soul Plan was the blueprint to start.  The Archetypes was a fascinating insight into the world.  We've done Skype, we've done phone, and you've not said 'right, you've got an hour or an hour and a half.'  It's like a journey with magic steps along the way, and a magic wand with more and more clarity along the way.  That's what makes it so special.  It took guts to say I need help from someone that I totally trust and I feel you're authentic.  I like the fact that it just flows, it's not regimented, it's just lovely."
"(On Access Consciousness) Every single thing you said I was thinking how does she know that?  You're frightening me, lol!  Some of the things you said I was like: Ah, yes, I wouldn't have thought of that.  If you could see me I was like a nodding dog.  I'm gonna put myself in a lead balloon so that you can't read my thoughts!"
"(On Past Life Regression and Future Life Progress) Wow.  Thank you for that Marilyn.  That was extraordinary!"
"I finally got my website set up after 2 years of procrastination, it's great!  (Procrastination was one of the issues we were working on)."
"Every single session whatever we have talked about has been linked to something that happens afterwards, it's like creating roots.  I am opening up to so many more things than I would ever have done.  Everything I ask for, it's just there, thank you.  Oh wow, it's fantastic."
Below is a message and post-Progrogramme update that I received from one of the TranceFormation Programme Participants who took the longer 12 month journey where things have been unfolding since we first began.  To say what unfolded has been jaw dropping and mind blowing would be an understatement!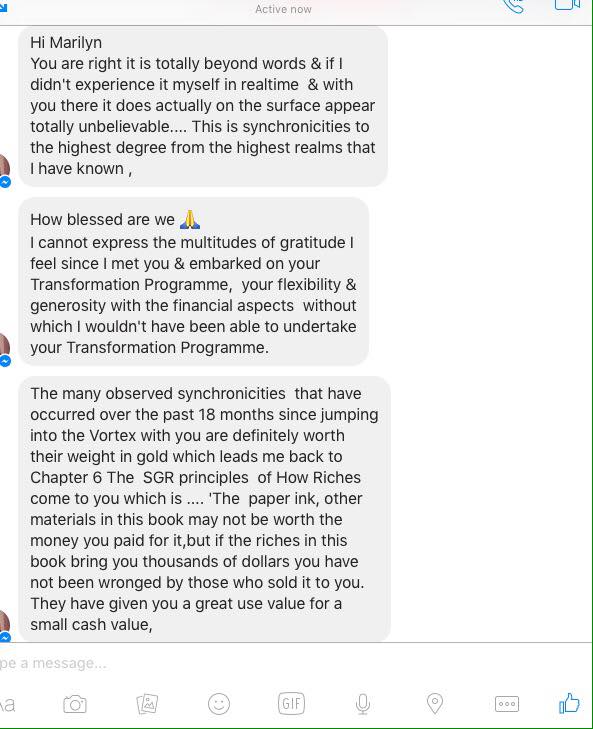 TO SCHEDULE YOUR FIRST SESSION
To schedule your telephone or Skype Session e-mail:  marilyn@tranceformationsTM.com  and put 'Magical Life Programme' in the subject line.  We can also arrange a free 20 minute consultation to see whether this approach and programme is right for you and discuss the qualification criteria.
IS THIS PROGRAMME FOR YOU?
The Q4 TranceFormation™ Programme is designed to be practical, outcome orientated, and dynamic, whilst leaving room for what I call the 'un-measurable' yet incredibly powerful ripple effect.  I discovered that people would do a 1-Day Breakthrough Session, go off back to their lives, and then notice as the weeks, months and years progressed that their entire lives had changed.  However, it was often only when I ran into them years later, and reminded them of their goals and outcomes that the full extent of those changes would come to light. 
With this TranceFormation™ Programme, rather than letting those wonderful changes go unnoticed into the ether, the plan is to record and document your outcomes so that, as per the examples above, you can go back throughout the year and track your progress and see what else showed up as a result of your initial focus.  They say that what gets measured gets done and what you focus on expands, so this is about achieving results and expanding those areas that you would like to change, transform, or improve.
WHAT ARE THE INDIVIDUAL PROGRAMMES AND MODULES?
For an overview of the individual Modules and Programmes go to: http://tranceformationstm.com/shop/ 
For individual Soul Plan Readings go to: http://tranceformationstm.com/soulplan/
For individual Angel Tarot Readings go to: http://tranceformationstm.com/angeltarotcardreadings/
If no openings are shown above please e-mail Marilyn Devonish to find out about availability for future slots.  Email:  marilyn@tranceformationsTM.com

 REFUND POLICY
Refunds are not available once the Programme and Sessions are underway. 
When & Where

Skype, Telephone, Online
From the comfort of your own home



Wednesday, December 20, 2017 at 2:00 PM

-

Sunday, December 31, 2017 at 11:30 PM (CET)
Add to my calendar
Organizer
Trance FormationsTM offers Training, Coaching, NLP Facilitation, PhotoReading and Accelerated Learning & Development courses to corporations and individuals.
A pioneer in cutting edge change technologies, and with over 20 years industry experience, Trance Formations offers Coaching and Events that enable people to tap into their own innate potential.
Contact Information:
For details of PhotoReading one to one coaching sessions and corporate training courses, you can contact Marilyn Devonish on: 
Tel: +44 1923 337282
E-mail: Marilyn@tranceformationstm.com  Web: www.tranceformationstm.com