Description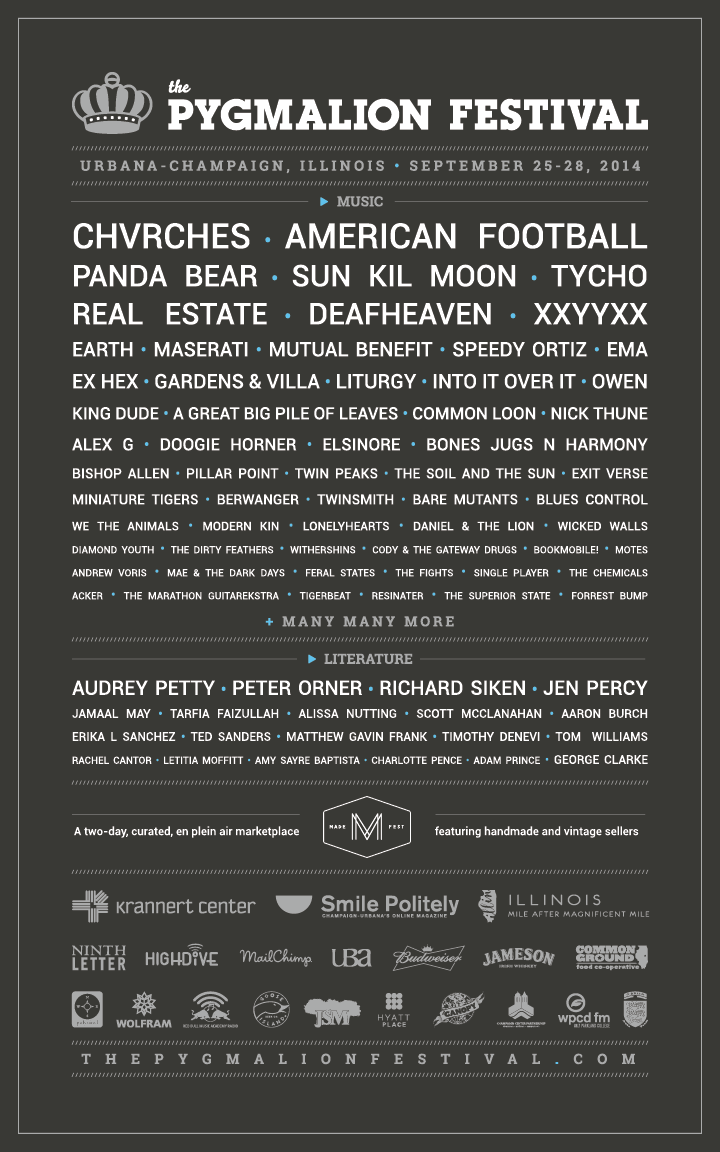 PLEASE READ BEFORE PURCHASING PYGMALION FESTIVAL PASSES OR SINGLE TICKETS

TICKETS ARE NON-REFUNDABLE UNDER ANY CIRCUMSTANCES.
YOU CAN EXCHANGE YOUR FESTIVAL PASS TICKET FOR A WRISTBAND AT THE FESTIVAL BOOTH STARTING AT 12 PM NOON EACH DAY.
THE FESTIVAL BOOTH IS LOCATED AT KRANNERT CENTER FOR THE PERFORMING ARTS ON SEPTEMBER 25–26 AND BEHIND THE HIGHDIVE ON SEPTEMBER 27-28. PLEASE SEE WWW.THEPYGMALIONFESTIVAL.COM FOR DETAILS.
SINGLE SHOW TICKETS ARE ONLY GOOD FOR THE PERFORMANCE YOU HAVE PURCHASED.
ALL WRISTBANDS MUST BE WORN THE ENTIRE FESTIVAL OR THE ENTIRE DAY. SORRY — NO EXCEPTIONS.
OUTDOOR SHOWS ARE RAIN OR SHINE
ALL SHOWS ARE SUBJECT TO CAPACITY LIMITATIONS — WE DO NOT OVERSELL ANY HEADLINING SHOWS HOWEVER.
YOUR SEAT AT KRANNERT CENTER WILL BE RE-SOLD IF YOU HAVE NOT ARRIVED BY ONE HOUR PAST DOOR TIME
YOUR IMAGE AND LIKENESS WILL BE SUBJECT TO VIDEO DOCUMENTATION AT ALL PERFORMANCES
ONCE YOU PURCHASE, YOU WILL RECEIVE AN ORDER CONFIRMATION EMAIL FROM EVENTBRITE ON BEHALF OF THE PYGMALION FESTIVAL. YOUR E-TICKET(S) WILL BE ATTACHED TO YOUR ORDER CONFIRMATION EMAIL. MAKE SURE TO PRINT THEM OUT AND BRING THEM TO THE EVENT. OR DOWNLOAD THE EVENTBRITE APP ON YOUR SMARTPHONE. IMPORTANT: IF YOU DO NOT SEE YOUR ORDER CONFIRMATION IN YOUR INBOX, MAKE SURE TO CHECK YOUR JUNK/SPAM FOLDER.
IF YOU DO NOT DO NOT SEE YOUR ORDER CONFIRMATION IN YOUR INBOX, CLICK HERE TO ACCESS THE EVENTBRITE HELP CENTER.
IF YOU ARE HAVING ANY OTHER TECHNICAL TICKETING-RELATED ISSUES WITH YOUR ORDER, CLICK HERE TO CONTACT EVENTBRITE.
NEED TO VIEW OR UPDATE THE INFORMATION ON YOUR ORDER? CLICK HERE FOR INSTRUCTIONS.
ALL OTHER FESTIVAL QUESTIONS DIRECTED HERE: INFO@THEPYGMALIONFESTIVAL.COM
THANK YOU AND HAVE A SAFE AND FUN TIME!