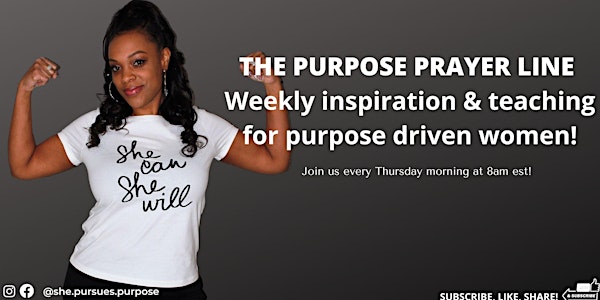 The Purpose Prayer Line: Weekly inspiration for purpose driven women!
This prayer line is a way for women to connect to build their faith & strengthen their prayer life as they pursue purpose as entrepreneurs.
About this event
I'm Arika Davenport CEO of She Pursues Purpose. I am a purpose coach & prayer strategist who believes that you cannot pursue your GOD GIVEN purpose without praying to the GOD who gave you the purpose. So I created this prayer line to help build your faith & strengthen your prayer life so that you live out your purpose with confidence, clarity and courage.
So every Thursday morning at 8:00am est, our purpose chasing nation meets on YouTube to receive a power packed word that you can apply to your life as you pursue.
Head over to www.purposeprayerline.com to join our community!
If this series bless you in any way, be sure to like, share, comment and subscribe!