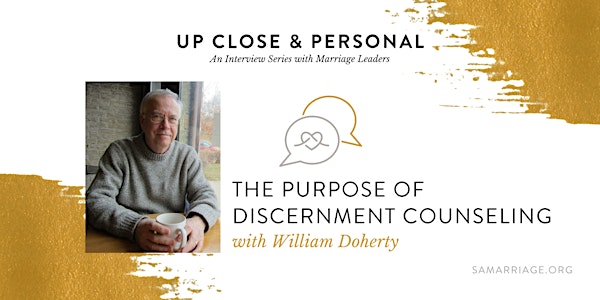 The Purpose of Discernment Counseling with William Doherty
Up Close and Personal Series with Marriage Experts
About this event
The Purpose of Discernment Counseling
In his career, Dr. William J. Doherty "has seen his share of unnecessary divorces, as well as those that were necessary to prevent further harm. He is committed to the idea of adults doing their best for their children, which sometimes means employing every available resource to restore a troubled marriage to health."
Dr. Doherty has dedicated his work to marriage and family flourishing. He created a protocol to help people make a decision to divorce, or consider reconciliation with more clarity – what he called discernment counseling. This counseling is more effective than traditional marriage counseling when one of the spouses was leaning out already and the other wants to save the marriage--what he termed a "mixed agenda" couple.
He'll explain what's different about Discernment Counseling, how even a friend or relative can learn to be a better resource and where the faith community can fit in. He will also talk about the training he created for those in the community identified as trusted confidants, to better be able to help their friends and relatives when marriages are struggling.
"We live in an individualistic culture," he said. "Marriage is about relationship, commitment and covenant," says Dr. Doherty.
So, we invite you to join in with us and learn new tools you may not be aware of, as you seek to minister to marriages and relationships that are struggling, in crisis, or headed for divorce.
Find out more about Dr. Doherty in our blog: Esteemed Psychologist and Research Professor, William Doherty, Dedicates Career to Marriage and Family
--------------------------------------------------------------------------
About William Doherty:
William J. Doherty,Ph.D., is a professor of Family Social Science at the University of Minnesota and has worked with couples since 1977. He's been the Director of both Minnesota's Couples on the Brink Project and the Citizen Professional Center since 2010. He has been a Fellow of the National Council of Family Relations since 2004 and was granted the Lifetime Achievement Award by the American Family Therapy Academy in 2017 as well as an Outstanding Community Service Award from the University of Minnesota in 2005. He's a licensed Marriage and Family Therapist, a licensed psychologist and a fellow and clinical member of the American Association for Marriage and Family Therapy. He's a member of the editorial board of many prestigious publications in the marriage and family field, including the 2022 The Ethical Lives of Clients: Beyond Self-interest in Psychotherapy with the American Psychological Association.
https://thedohertyapproach.com/
----------------------------------------------------------------------------
The vision of the San Antonio Marriage Initiative is the restoration of family, by strategically investing in marriage, for the strengthening of communities and the glorification of God. All of the information provided on our website should be interpreted as an effort to fulfill that vision. Opinions expressed by speakers and presenters at San Antonio Marriage Initiative events are not necessarily those of the San Antonio Marriage Initiative. Our events and communications are intended to be educational and informational in nature and are not to be considered professional counseling nor are they intended to replace the services provided by trained professional counselors and therapists. If a link takes you to a site other than samarriage.com (or any page found at that web address), then we are not responsible for the information or content at that linked site. By accessing our website, you agree that any disputes you have with San Antonio Marriage Initiative will be submitted to the conflict reconciliation procedures of Peacemaker Ministries. San Antonio Marriage Initiative is not affiliated with Peacemaker Ministries.