Description
An act of civil disobedience turns into a standoff with police when homeless people in Cincinnati take over the public library to seek shelter from the bitter cold.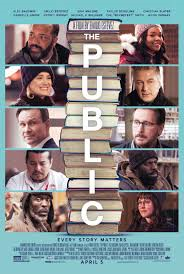 Writer & Director Emilio Estevez. Starring Alec Baldwin, Gabrielle Union, Emilio Estevez, Michael Kenneth Williams, Jeffrey Williams, Taylor Schilling, Christian Slater and more!
Official Website for The Public: http://www.cedarvalepictures.com/the-public
There will be discussion following the screening moderated by Silvia Moscariello from Liberty Community Services.
http://www.libertycs.org/
Refreshments will be served