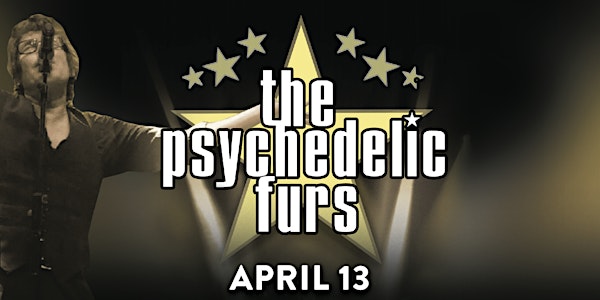 The Psychedelic Furs w/ Elettrodomestico
Event Information
Performers
The Psychedelic Furs
Elettrodomestico
Location
Key West Theater
512 Eaton St
Key West, FL 33040
The Psychedelic Furs w/ Elettrodomestico at The Key West Theater
About this event
All shows are 21+ unless otherwise specified. Any tickets suspected of being purchased for the sole purpose of reselling can be cancelled at the discretion of Rams Head/Eventbrite. All sales are final. Rams Head does not offer refunds. Refunds are only available for cancelled shows.
From its exhilarating opening bars, Made Of Rain the first Psychedelic Furs album in 29 years sounds like them and them alone. It's a joy to hear again, fresher than ever, that unique mesh of sounds and layers, that fusion of smooth and stark, of restraint and abandon, of melancholy and rage, of optimism and nihilism, of tough and tender. Their ageless charisma flows anew. "It's got that depth and weight of sound", says Richard Butler as 2020 begins. Talking about the first track, The Boy That Invented Rock Roll, he suggests, "It's saying rock roll was born out of feelings like these…" the ticking veins, this godless dark the druggy days, the pointless pain…a bag of tears where love is gone In a way it's about Elvis Presley and all those people, but not just any individuals it's the feelings which rock roll, for me, comes from. And of course rock roll has a great deal of sexuality involved too. The boy is…an idea: II'm not claiming that position for myself!"
The Psychedelic Furs may not have invented rock roll per se, but their influence since arriving on the post punk scorched earth landscape four decades ago has reverberated and resonated among all those who cherish the sweet and sour spot where rawness and romanticism meet. "II'm aware of the fact that people cite us an influence", says Richard, "though I don't often recognize it in their music. It's gratifying of course as it is that there's still an interested and enthusiastic audience for us. That's an honour."
As the Furs 'witty, poetic, pugnacious onslaughts seared out of punk then sashayed beyond New Wave, launching a fleet of durable hits, they evolved electrically and elegiacally until taking a studio hiatus from 1991. Yet since reconvening as an essential live act at the turn of the century, they've found the applause growing louder and louder. People realised how much they loved those songs from the 1980 debut T he Psychedelic Furs, 19811981's Talk Talk Talk, 19821982's Forever Now, 19841984's Mirror Moves, 19871987's Midnight To Midnight, 19891989's Book Of Days and 19911991's World Outside from early forays like Sister Europe and India through Pretty In Pink and President Gas to radio staples Love My Way, Heaven, The Ghost In You and Heartbreak Beat. And while The Furs lay latent (studio wise), Butler remained busy, releasing two Love Spit Love albums and a solo album, as well as painting exhibitions Yet the urge, the itch, came back and the skies opened to deliver Made Of Rain.
Given that the band were active touring, why hasn't there been a new album for so long?
"It's a fine balance", muses Richard. "When you've been around for a while, people want to hear certain songs at your shows. It was even like that back when we toured with the second album…we we'd do new ones like Pretty In Pink - y'know, pretty good songs and people just stood there not getting it, wanting to hear the "old" stuff! So at first that was fine, as we didn't d o that much touring. It was exciting to play those songs again after taking a break. But as we did more and more, eventually we started to feel like a jukebox. And you want to be CREATIVE. And that won out. It got to this point where we felt we HAD to make a new record, we needed new songs to get into. And now I hear this album and I'm very pleased we did…"
The six-piece line-up has gelled into a groove-some, guileful beast. With, of course, fellow founder Tim Butler (Richard's brother) on bass, it features Mars Williams on saxophone, Rich Good on guitar, Paul Garisto on drums and Amanda Kramer on keyboards. "Oh it's a good thing", nods Richard. "We're all friends, we're all family.
The album, released May 1st on Cooking Vinyl, is produced by Richard Fortus (with The Psychedelic Furs), a Love Spit Love alumnus who's also played guitar with Guns 'N Roses and Thin Lizzy. "His band had opened for The Furs once and I liked his playing and his personality. So when I wanted someone to write with after we first split up, I brought him to New York. His input on the songwriting (for Love Spit Love) was huge. So that's where I knew him from. We kind of co-produced on this, in terms of ideas, but he was inspirational, led the way". Mixing duties were handled by Tim Palmer (David Bowie, U2, Robert Plant). And while making the abundance of riches which form The Furs 'sound shine at its brightest might be considered a challenge, "They're all great players. Everyone found a place for themselves, quite naturally".
What crystallised the title Made Of Rain?
"There's…a lot of sorrow and darkness in it. A while ago I read the book-length poem The Man Made Of Rain by Brendan Kennelly. A person who was dying was visited by "a man made of rain" and I liked that idea; it fit. For some reason, when writing, I always seem to tend towards the melancholic. Or sometimes, also, anger. There have been very few "celebratory" songs…I suppose perhaps Love My Way, possibly Heaven. But for the most part it's safe to say the songs are tinged with melancholy."
And is it different writing in the modern world, much-changed since the last Furs songs?
"For me, not really, because most of my songs address an inner monologue. They're not "news-related". I've never sat down and said, "I want to write a song about THIS subject." The music comes first, then I'll come up with a melody, then that puts me in a certain frame of mind. Then the words come from that place, that frame of mind. It's not to do with "world events". It's interior."
In the way the impressionistic phrases spark off each other like juxtaposed images, there's a reminder that Butler's an exhibited artist. "It's painting a verbal picture of the feeling the music brings out in me. But one of my favourite lines here comes on Wrong Train. "A wife that hates me…so does her boyfriend". It makes me laugh! Sure there's a certain sorrow to it as well, but…it's dark comedy".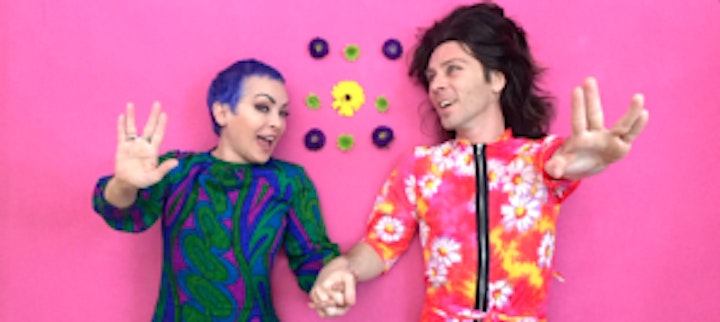 Elettrodomestico
Elettrodomestico (also know as ED) is a 2 piece band made up of songwriters Jane Wiedlin and Pietro Straccia.
Jane Wiedlin is best known as guitarist/songwriter of the all-female band The Go-Go's. Pietro Straccia (epiqe) is an italian multi-instrumentalist and songwriter.
Formed at the end of 2016, after an explosive long distance writing collaboration following the death of David Bowie, the duo independently released their first album, IF YOU'RE A BOY OR A GIRL.
While many of the lyrics explore alienation and despair, their sound is markedly upbeat, with layered guitars, intricate harmonies, and four-to-the-floor pop drumbeats. Their guitar-driven self proclaimed "candy-grunge", elettro/psychedelic/pop sound has been compared to bands Devo, The Buzzcocks, The Mamas & The Papas, Abba, Garbage, Flaming Lips and Oasis.
For their live performances, Elettrodomestico team up with Dawn Richardson (4 Non Blondes, Tracy Chapman) on drums and Joe Gore (Tom Waits, PJ Harvey) on bass.
"Halfway between the Buzzcocks and Bowie. Their album, If You're a Boy or a Girl, is a heaven-sent slice of colorful, psychedelic power pop". (ZT Amps)
"The Evil Mamas and Papas." Abby Travis (Go-Go's, Cher, Masters Of Reality)
"Psyche-ward Wilson Phillips." Big Gay Ice Cream)
Performers
The Psychedelic Furs
Elettrodomestico
Date and time
Location
Key West Theater
512 Eaton St
Key West, FL 33040
Refund policy