Sales Have Ended
Ticket sales have ended
Thank you. We look forward to celebrating with you. Please sit this one out if you're feeling sick. That way we can all have another Picnic next month, that you will definitely be attending! If you need a refund because you have tested positive for Covid-19, please contact margaret@prsvr.com.
Sales Have Ended
Ticket sales have ended
Thank you. We look forward to celebrating with you. Please sit this one out if you're feeling sick. That way we can all have another Picnic next month, that you will definitely be attending! If you need a refund because you have tested positive for Covid-19, please contact margaret@prsvr.com.
The PRSVR Picnic celebrates a Return to Retail - and a Juneteenth Celebration. Come celebrate perseverance with like minded people.
About this event
A JUNETEENTH CELEBRATION
As a Black American Brand and Business, it is important to highlight the resiliency and perseverance of the American spirit. This event is an appreciation, education, and celebration of the united American future - where we can recognize, apologize, and strategize together.
>> NOT your average Saturday Picnic! This Special Edition event combines Elevated Lifestyle Brand @PRSVR , Designer Brandon Williamson (@new.g.og) , and Experts on the African Diaspora for a one of a kind creative experience.
Join us for a day of education, elevation, and celebration for the whole family:
KID-Focused Hours (11a - 3p)
*Creativity Not Required, as the artists will be on hand to guide your through the process.*
Instead of painting on traditional canvases, we will be painting and customizing denim, hats, backs, and leather patches that can be used to embellish jackets, bags, jeans, backpacks, or anything else you can think of!
Ticket price includes your canvas, paint, supplies, and of course safety gear! You can always choose to upgrade your canvas to a pair of jeans, a bucket hat, a tee, or a tote on site!
Grab your friends, and DAD, and add some fun to your Saturday!! 
>> Due to the preparation involved in our events, we have a strict "no refunds" policy. We hope you understand the energy, and finances required for us to put these events together in expectation of you.
Thank you!
THE PRSVR PICNIC
Hello, I'm Margaret Williamson. Designer CEO of PRSVR, The Designer Brand, headquartered Burbank, California.
I want to invite you to a Celebration for "The Return to Shopping" - IN PERSON!
As we know, the past year kept us stationary and socially distant - but as restrictions roll back, and fears subside, we are ready for a return to retail, travel, and celebration. We have all done the hard work of quarantining and now the literal countdown has begun to a new normal.
So one Saturday a month, we are showing what happens when perseverance pays off with a series of "Return to Retail" events!
>>
The PRSVR Picnic - Paint in the Valley Edition, happening on Saturday June 19th, is a Full Sensory Celebration. It's part open bar, part brunch, part paint n sip, part dance party, part shopping spree - but ALL fun!
We understand that if we are asking our clients to come out of the house, then we need a "better than good" reason! So for six hours on the Saturday before Mother's Day, the Persevere Lifestyle will be on full display.
With Live Art, Music, Food, and Fashion - our guests will be able to immerse themselves in a truly Elevated Experience. (21+)
WHO'S COMING?
The guest list is short, but impactful - because safety is a priority, guest count will be limited. This will allow for a truly enjoyable and safer experience for everyone - We want to serve as the example of what the future of retail interaction will look like ... about much more than just clothes.
Guests will be a mix of entertainment industry professionals, working artists, models, and clients. Our events cater to an Upper Middle Class and Independently Wealthy Entrepreneurs and Entertainers, like PRSVR clients Kyle Kuzma, Teyana Taylor, Chris Brown, Zendaya, Ciara, and Charlemagne tha god.
THE MENU:
Curated and Prepared by Celebrity Chef D. Small - originally from Chicago and now serving the elite in Las Vegas - Chef Small strikes the perfect balance between comfort and the unknown. See some of his dishes and follow his cooking on instagram @celebchefsmall
"CHI RED" Red Velvet Chicken and Waffle Skewers with Cognac Sauce and Confectionary Mint Sugar Garnish
Caribbean Shrimp and Grit Shots
"The Valley" Signature Salad with Fresh Kale, Roasted Walnuts, Blueberries, Sliced Strawberries with a "Sunset" vinaigrette
"The HERO" Jerk Grilled Pineapple Shrimp with Rasta Pasta
"Flamingo Pink" Lemonade
SAFETY:
Making sure that all COVID protocols are kept, we will be providing Face Masks and Shields for all guests and staff, along with temperature checks and plenty of space to spread out. All Food and Beverage will be single serve.
The venue is the exclusive PRSVR Showroom right in the heart of the country's Media Capital - Burbank California. With Valet and Street Parking available, guests can zip right off the expressway or fly into the Bob Hope Airport, just down the street.
WHO IS PRSVR?
PRSVR has collaborated with brands including McDonald's, EMPIRE, the Recording Academy, Dusse, Courvoisier, the EMMY's, MONSTER headphones, and many more to create memorable events that elevate the future of American Heritage.
If you are ready to get back to having fun, together..then use this as an opportunity where we will do all the heavy lifting to ensure that you and your crew get the PRSVR treatment.
Reservations are limited, so share the info to your people because you will want to be in the pictures!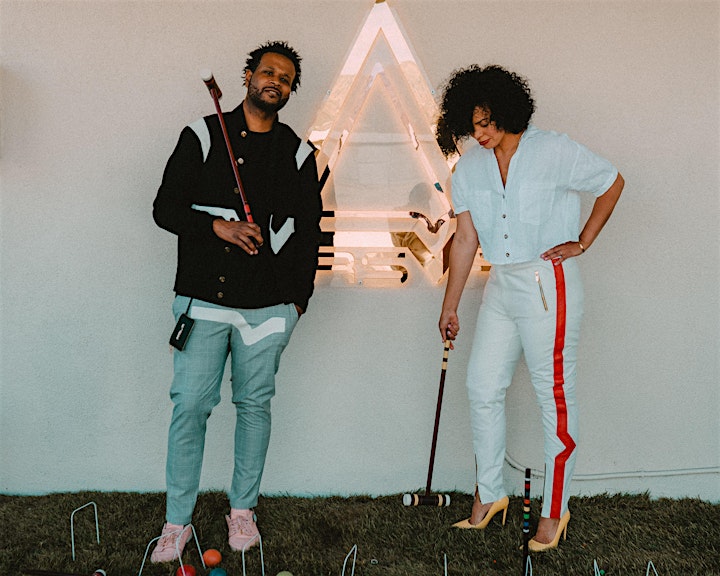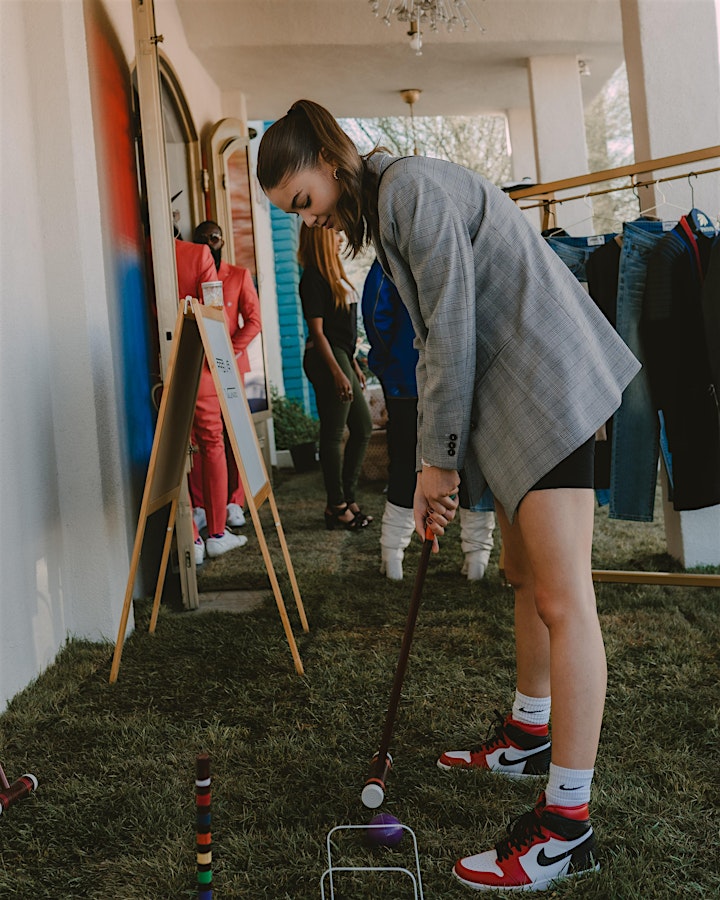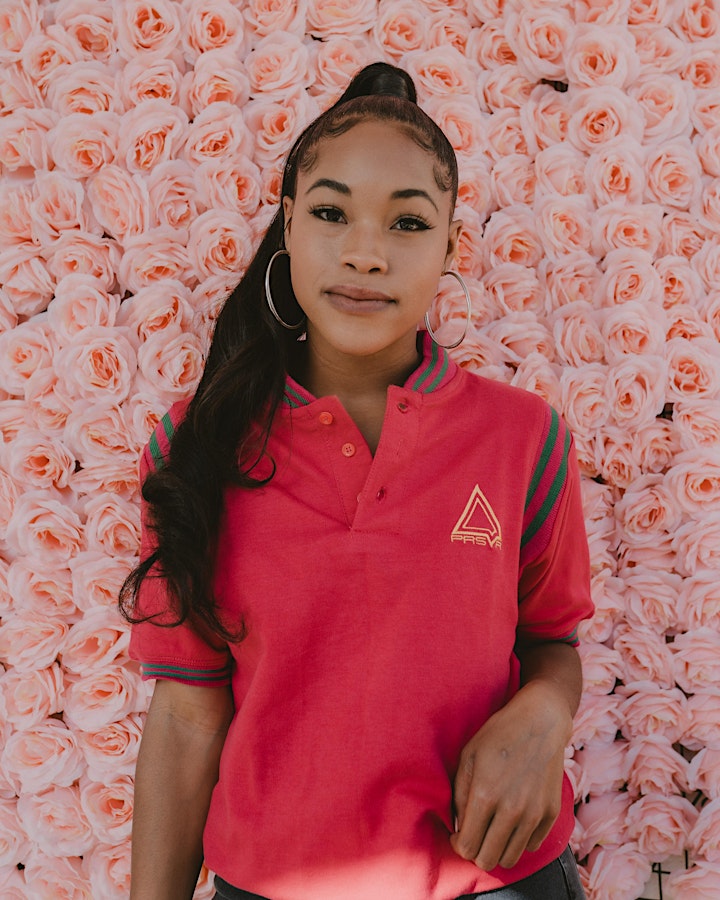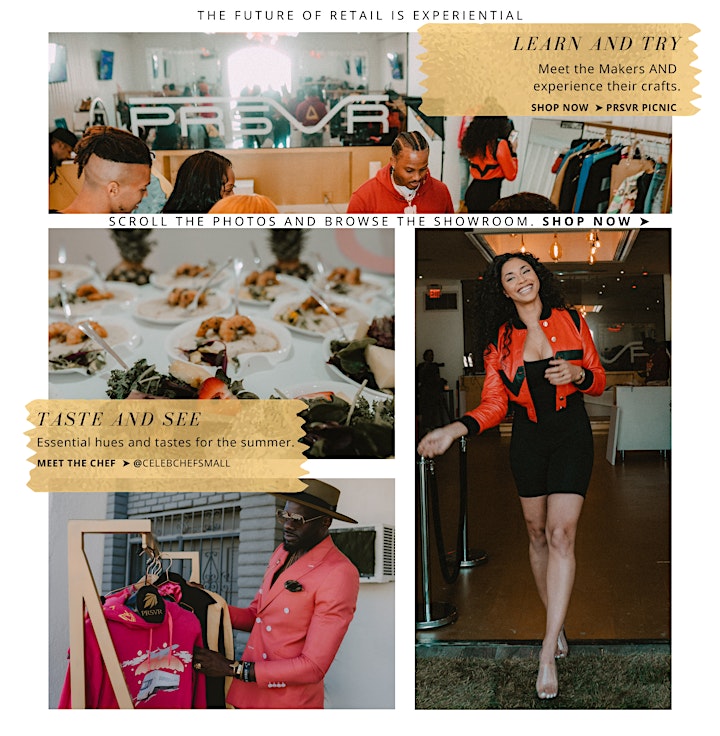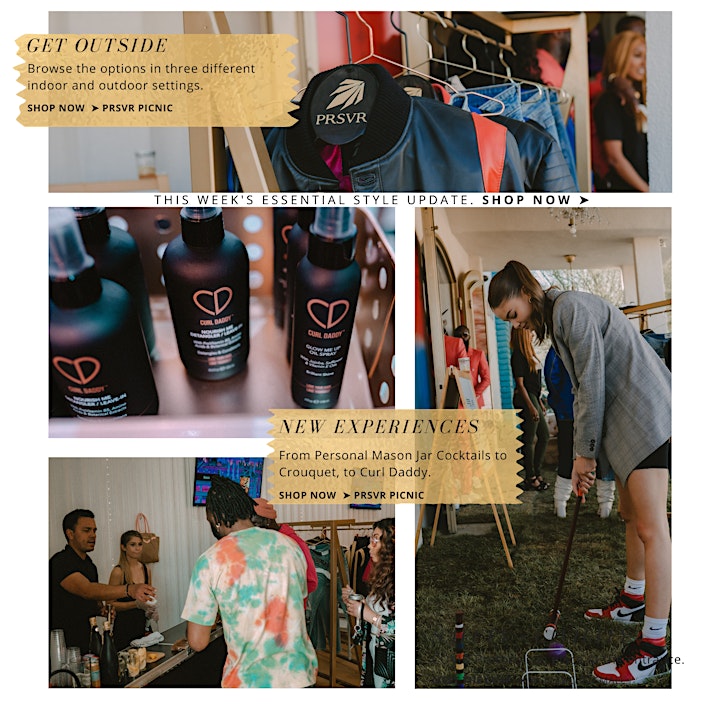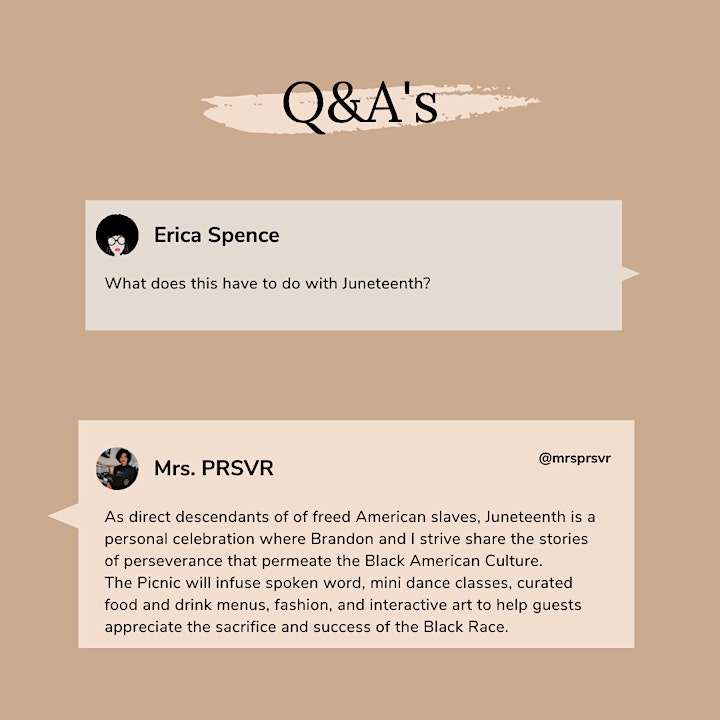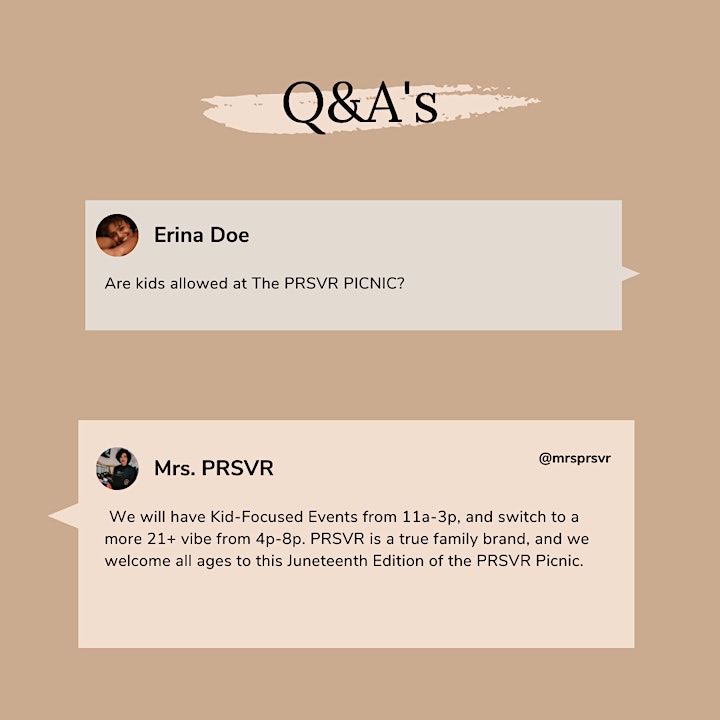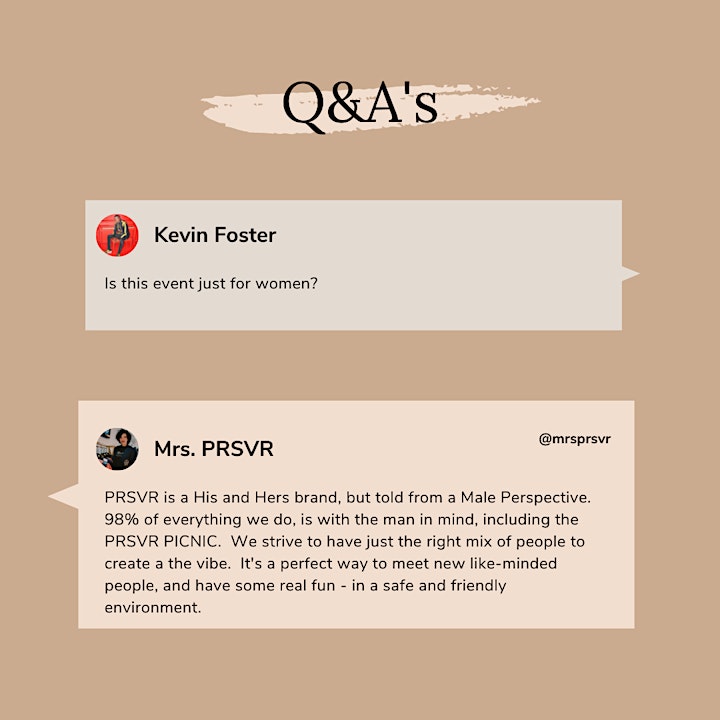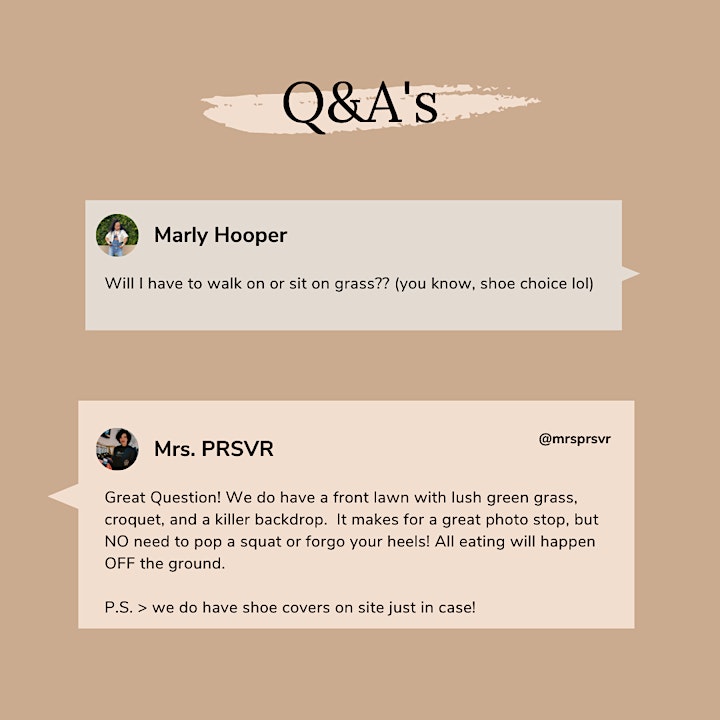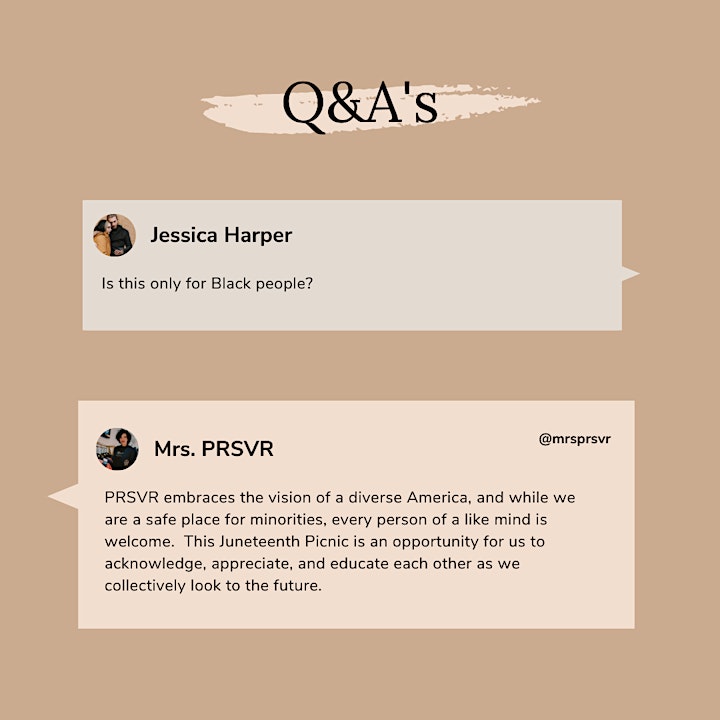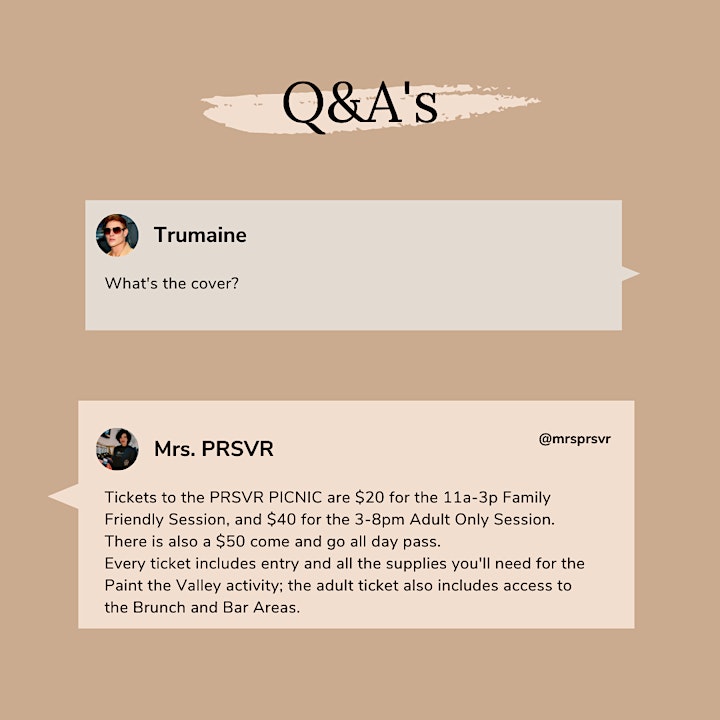 Organizer of The PRSVR Picnic - A Juneteenth Celebration
PRSVR, pronounced Persevere, is a Designer Brand based in Los Angeles.  A brand born in the city, the collections of clothing, footwear, and accessories continually elevate urban expectations. Through a network of family owned suppliers, the husband and wife team designs, manufactures, and distributes the wardrobe for your Moments.
PRSVR Lifestyle Events are always fully shoppable experiences, where fashion, art, music, education, faith, and family meet.  The roving retail experiences pop up around the world for 1 day or even 1 year at a time.
To request a PRSVR Lifestyle Event in your area, please call 877-BY-PRSVR.