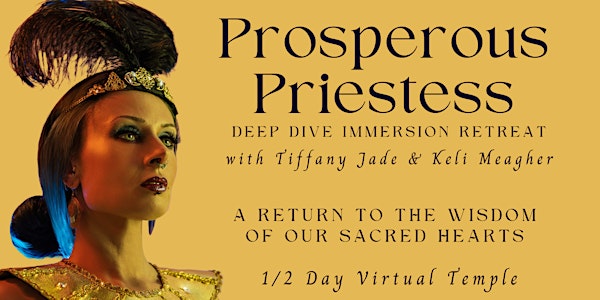 The Prosperous Priestess Retreat (Virtual)
During this half-day journey, we will align with the Prosperous Priestess within.
Refund Policy
Contact the organizer to request a refund.
Eventbrite's fee is nonrefundable.
About this event
The Prosperous Priestess Intensive
The Definition of Prosperous: to flourish financially.
The Definition of Priestess: a female priest of a non-Christian religion.
So, then what is the Prosperous Priestess Intensive about?
The point of the Intensive is to Flourish as the Divinity in Form, God in Form, that we are in ALL WAYS! To reclaim our birthright of innocence, abundance, and unity.
When I first hear the word "Priestess" it didn't resonate with me. I had to look up the definition, and even that didn't really resonate with me.
My definition of a Priestess is a female who is willing to grow, expand, be curious about her power, to embody her divinity, to think and act beyond societal conditioning, and is her own Heroine.
"Heroine" is another term that could be used in lieu of "Priestess", meaning "a woman admired or idealized for her courage, outstanding achievements, or noble qualities."
Every woman's definition of Priestess is unique to her.
The Prosperous Priestess Intensive is about us rising above the 3rd dimension reality we are living in (have lived in for Eons) to create a new reality of our choosing.
What we are seeing in our physical presence is old news. It's time to imagine and create a new world beyond our wildest expectations or previous experience – hence becoming a "Priestess" or "Heroine".
It is a safe place of Sisterhood, where we will come Together to undo the Sisterhood Wounding that has been prevalent in our society…you may be familiar with, the jealousy, competition, backstabbing, etc. that can happen among women.
Yes! It's time to collaborate and support one another – as one of us succeeds, we ALL succeed.
It is a safe place of Sisterhood to undo the Witch Wound. The Witch Wound is what holds us back from speaking our Truth, from Being Seen, from Shining too brightly, because in the past we would be burned at the stake or left for dead in the dungeon.
If you're ready to align with the Prosperous Priestess within, then join Tiffany Jade and Keli Meagher for this deep experience on August 20th from 10am – 2pm PT. On Zoom
We will clear the "sister wound" and the "witch wound" TOGETHER.
If you choose to continue your journey with us in the Prosperous Priestess Mystery School, you will receive $111 off enrollment. Details here:
Virtual: http://www.tiffanyjade.com/prosperous-priestess-virtual/
Sonoma County: http://www.tiffanyjade.com/prosperous-priestess-sonoma-county/
* This event will take place live via Zoom and will be recorded if you are unable to attend live. Please reach out with any questions!