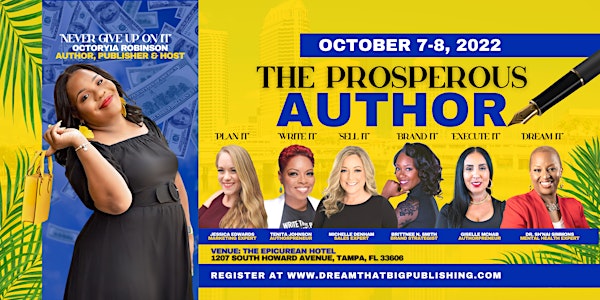 The Prosperous Author
You CAN become a prosperous author - You CAN create a profitable book brand - You CAN make an impact - And you will achieve it!
When and where
Location
Epicurean Hotel, Autograph Collection 1207 South Howard Avenue Tampa, FL 33606
About this event
The Prosperous Author is for you if you're beyond ready to…
Launch your non-fiction story into its own brand and sustainable business.
Jumpstart your BIG dreams and goals (and go from author to Authorpreneur).
Generate some serious bank (we're talking beyond your wildest imagination, like a 6 to 7-figure net worth bank).
Create a personal book brand and transform this into your career.
Become a recognized, worldwide thought leader (so you can educate and impact the masses).
Stop feeling like you failed and follow a breadcrumb-lined trail that leads through the "next steps."
Start selling out conferences and stages. Gosh, why not stadiums?
Quickly grow to thousands of followers and roll your eyes when another post goes viral.
The Prosperous Author
Redefining what is possible
October 7-8, 2022 | Tampa, FL
Reignite your book brand with two days of networking, education, book brand investments, delicious food, and fun as you transform from author to Authorpreneur. Expert speakers from over the US will deliver the 7 key stages required to build your 6 to 7-figure book brand.
The Prosperous Author
Full Access to 7+ Speaker Sessions (value $1,750)
Gather Arrival Mix and Mingle & Author Expo (value $150 )
Build a Thriving Network Luncheon (value $75)
Connect With Best-Selling Local Authors (priceless )
Special giveaways to level up your brand (value up to $5000 )
Breakfast, lunch, and appetizers fully catered by the renowned Epicurean Hotel (value $185)
This event is valued at ($3000+)
Today's Price ($75.99)
Events Itinerary:
Friday, October 7, 2022 @ 7 pm - 9 pm
DAY 1 - Author Expo/Networking Mixer: Join up to 150 industry experts and attendees for our Friday evening Arrival Mix and Mingle. Utilizing the gorgeous rooftop setting, a live DJ will play atop the Epicurean Hotel. Enjoy unparalleled views of South Tampa, delicious appetizers, and non-alcoholic* beverages to kick off The Prosperous Author.
Dress as your next-level self to maximize on-the-ground and drone photography and videography, a chance to mingle with tomorrow's expert speakers, 25+ local author expos, exciting giveaways, and other fun surprises.
Attire: Come dressed as your Authopreneur self in business professional. Professional photographs will be taken and can be used for future marketing.
DAY 2 - Expert Authorpreneur Sessions: Today is the essence of becoming an Authopreneur. Our expert speakers have been gathered to show you what's possible and redefine your revenue and impact goals. We know how much time and energy was required to get your book out of your head and into your hands. And now it's our turn to break down the mindset, sales, and marketing barriers and give you actionable tools and resources to create your 7-figure book brand successfully.
You may enter the weekend as an author, but we promise you'll leave with an unextinguishable fire and be fully equipped with determination and resilience to build your empire as an Authorpreneur.
Schedule
8:00 am - Doors Open (Complimentary light breakfast provided)
8:30 am - Dream IT Session
9:30 am - Plan IT Session
10:30 am - Execute IT Session
11:30 am - Write IT Session
12:00 - 1:45 pm - Networking Luncheon
2:00 pm - Brand IT Session
3:00 pm - Sell IT Session
4:00 pm - Never Give Up On IT Session
Session Details:
Dream It | Dr. Sh'Nai Simmons: Recognize, respond and overcome the internal obstacles created by limiting beliefs and fear. Many authors' dreams get trapped at this phase. Dr. Sh'Nai will empower you with practical steps, tools, and resources to get out of your own way and begin taking the action needed to achieve your dreams and prosper as an author.
Plan It | Jessica Edwards: Go from dream to manifestation by learning how to utilize time blocking, goal setting, task timelines, and other organizational tools. Jessica will equip you with practical steps and resources to create and develop a sustainable project plan that leads to crushing your sales goals.
Execute It | Giselle McNab: Respond and strive towards your author's goals during all seasons of life. Giselle will give you the strategies required to execute and attain your goals throughout life's curveballs and unexpected events. Develop tactics to maintain commitments when you can't see a way out.
Write It | Tenita Johnson: Master content creation fundamentals and learn the technique of elevating your content into bestselling material. Tenita will empower you with confidence, skills, and communication methods to create marketable content that will reach and connect with your intended audience.
Brand It | Brittnee Smith: Establish a marketable brand for the message of your book. Brittnee will walk you through turning your passion into strategy by implementing and executing the key steps of authorpreneur brand development. Articulate what makes your message unique, valuable and how this will attract paying customers.
Sell It | Michelle Denham: How do I sell my book? This is a question many authors struggle to answer. Michelle will empower you to dismiss fears around selling in a saturated market, communicate value without sounding salesy, and create a strategic sales plan to reach your BIG sales goals.
Never Give Up on IT | Octoryia Robinson: Shape perseverance, determination, and resilience to produce your financial goals. Octoryia will be coaching you to put in the work and never give up on your dreams. You'll generate the mindset to keep going through challenges and tough days while learning to adapt and become resourceful until you reach your goals.
This is an event you can't afford to miss.
Imagine yourself one year from now...
You're on the bestseller list.
You're being flown around the country to speak at events.
You run virtual coaching sessions that touch millions of people.
You have become a thought leader.
Netflix has approached you about creating a mini-series based on your book.
Now, close your eyes and envision it. Really feel what this is like.
Because YOU are destined to be a Prosperous Authorpreneur!
Authorpreneur, join us and live your dream at our 1st Annual gathering.