Description
"Make love your aim and earnestly desire the spiritual gifts, especially that you may prophesy"
(1 Corinthians 14:1)
THE PROPHECY SCHOOL
The gift of prophecy is fundamental to the identity of every Christian.  We are a "Prophetic People" (Vatican II) – baptized priests, prophets and kings. Prophecy is the gift of receiving from God His inspired message; words which have the power to exhort, encourage and inspire us in the power of the Holy Spirit. They can bring insight, wisdom, and encouragement for our lives. Do you want to learn how to hear God's voice better? Do you want to be a more effective witness? 

This school will offer you teaching and training in the gifts of prophecy, words of knowledge and wisdom. There will be practical workshops with the opportunity to put into practice what is taught and to receive prophetic revelation, encouragement and comfort from others.

The school will also have times of praise & worship, silent adoration and Holy Mass. Course participants will receive a course booklet.
SPEAKER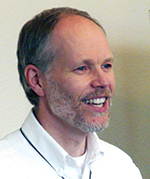 Damian Stayne — Damian founded the Vatican-endorsed organization Cor et Lumen Christi Community, 26 years ago, and has an international ministry of preaching, physical healing miracles and ministering to people the love and glory of God. He has ministered in 26 countries, and seen thousands physically healed and filled with the Holy Spirit through his ministry.
SESSIONS INCLUDE:
The value of prophecy
Preparation for prophecy
Jesus the Prophet
Prophecy in the NT Church
Prophecy through the ages
Receiving words of knowledge
Ministering the prophetic
Interpretation
The creative power of the prophetic word
Prophetic workshops
Prophecy in daily life
PROGRAM
Friday:
7:00 pm – 10:00 pm (doors open at 6:30 pm)
Saturday:
9:00 am – 5:00 pm (doors open at 8:30 am)
7:00 pm – 10:00 pm Miracle Healing Service (admission is free)
Sunday:
9:00 am – 12:00 Noon doors open at 8:30 am)

LOCATION
Mother of God Community
20501 Goshen Road
Gaithersburg, MD 20879
REGISTRATION
Pre-Registration* $40
Clergy/Religious/Students. FREE
Lunch**... $10
*Deadline for $40 registration fee is July 24 at midnight. Starting July 25, registration is $45.
**Lunch is not included in the registration fee. Please bring your own lunch, go to a local restaurant, or pay for a box lunch. If you would like lunch provided for you, please add $10/person to your registration fee and register by July 28.
***There will be a love offering to support Damian's ministry