Description
Mingle and network with the NAHSE Baltimore Chapter at our OPENING MIXER from 7:30pm - 10:30pm on Thursday, August 4th: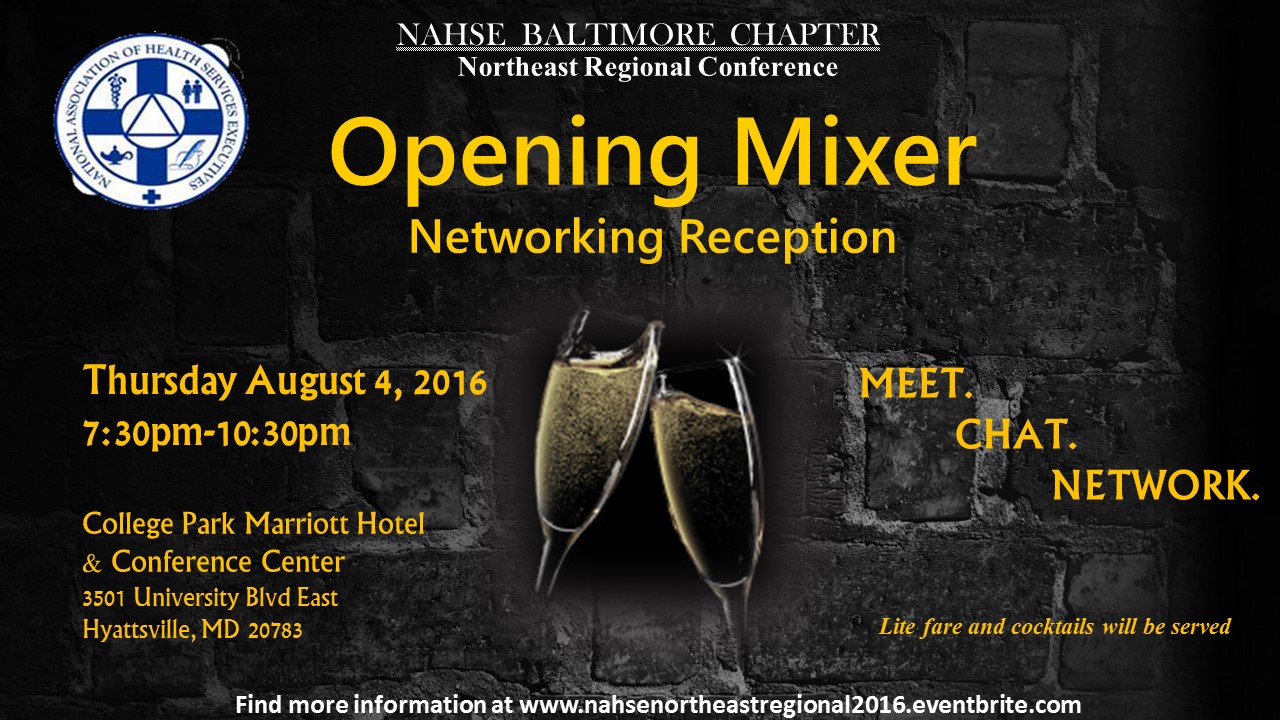 Friday, August 5th, 2016
University of Maryland, College Park - Samuel Riggs IV Alumni Center
7801 Alumni Drive
College Park, MD 20742
Hear from some of the nation's top executives at our POPULATION HEALTH CONFERENCE from 8:00am - 3:30pm on Friday, August 5th: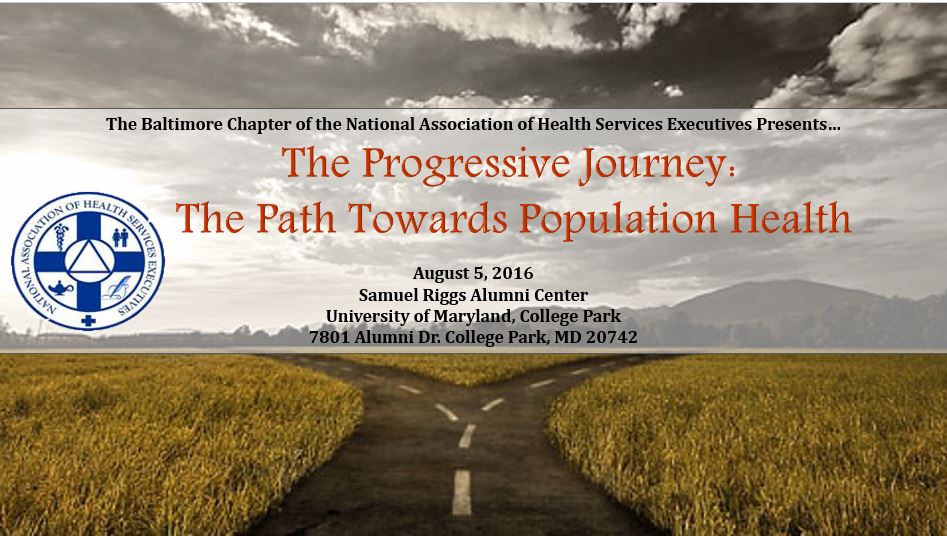 7:00 a.m. – 8:00 a.m. Registration & Check-In
8:00 a.m. – 8:15 a.m. Welcome and Overview
8:15 a.m. – 9:30 a.m. Keynote Breakfast - Moving to Action: Making Health Equity A Reality
Introduction of Speaker:
Dr. Samuel Ross, CEO, Bon Secours Baltimore Health System
Presenter:
Dr. Cara V. James, Director, Office of Minority Health, Centers for Medicare & Medicaid Services
This inter-active session will introduce one of our nation's greatest leaders of the Centers for Medicare & Medicaid Services to the NAHSE Community. The keynote breakfast will speak on the challenges in eliminating health disparities and pathways towards progressive methods within our region. It will provide opportunities to achieving better care, better health and lower costs for patients and families. Through this keynote breakfast, we will engage our communities and convince individuals to make a firm commitment to address health disparities!
9:30 a.m. – 10:45 a.m. Session 1: Healthcare Beyond the Four Walls of the Hospital
Moderator:
Dr. Christopher King, Director & Assistant Professor, Health Systems Administration Program, Georgetown University
Panelist
Dr. Yanique Redwood, President & CEO, Consumer Health Foundations
Dr. Samuel Ross, CEO, Bon Secours Baltimore Health System
Ms. Desiree de la Torre, Director, Community Affairs and Population Health Improvement
Mr. David Zuckerman, Manager, Healthcare Engagement, Democracy Collaborative
This session brings together leaders within different areas of healthcare and public health to discuss what role hospitals and healthcare systems will play in creating healthy communities beyond their four walls as we move towards a more "population health" based world.
10:50 a.m. – 12:00 p.m. Session 2: Investing in the Future of Healthcare; Health Innovation Partnerships
Introduction of Speakers:
Mr. Dennis Pullin, President, MedStar Health Harbor Hospital
Speakers:
Mr. Pete Celano, Director of Consumer Health Initiatives, MedStar Institute for Innovation
Mr. Willis Chandler, Senior Vice President of Health System Alliances, CVS Health
The purpose of this session is to discuss some of the innovation, partnerships, and work that has taken place at MedStar Institute for Innovation and the health system alliances being developed by CVS Health to further progress the patient experience and improve access to healthcare. Some key projects that will be highlighted are the partnerships with Uber, the launching of telehealth services to MedStar Health's patient population, and the growth of ZocDoc – an online platform for patients to schedule appointments.
12:15 p.m. – 1:45 p.m. Keynote Lunch - The Impact of Poverty, Culture and Environment on Minority Health
Moderator:
Dr. Thomas LaVeist, Chair, Department of Health Policy and Management, George Washington University
Panelist
Ms. Sonia Sarkar, Chief Policy & Engagement Officer, Baltimore City Health Department
Dr. Bernard Demczuk, Assistant Vice President for District Relations, George Washington University
Ms. Jan Desper Peters, Executive Director, Black Mental Health Alliance for Education & Consultation, Inc.
Dr. Craig Fryer, Assistant Professor, Behavioral and Community Health, Associate Director, Maryland Center for Health Equity
This discussion, led by experts in their perspective fields, will highlight the underlying factors contributing to health disparities, setting the stage for collaboration across disciplines.
1:45 p.m. – 3:00 p.m. Session 3 - Diversity & Inclusion - Unequal Burdens: #123forEquity Pledge to Eliminate Health Care Disparities
Introduction of Speaker:
Ms. Antoinette Williams, President & CEO, Williams Consulting LLC
Speaker:
Mr. Tomás León, President & CEO, Institute of Diversity in Health Management, American Hospital Association
Universal and rapid progress in ensuring that every patient receives the highest quality of care is essential to our efforts to meet the changing needs of our communities. The focus of this session is to build the vision of a society of healthy communities, where all individuals reach their highest potential for health, and eliminating health care disparities as it is essential to achieving that vision. As our nation makes the demographic shift toward a minority-majority balance, the need to identify and address disparities in care increases. So does the need to increase diversity in hospital leadership and governance.

3:15 p.m. Closing Remarks
3:30 p.m. Adjournment
Annual Scholarship Gala Celebrating Over 20 Years of Scholarship and Service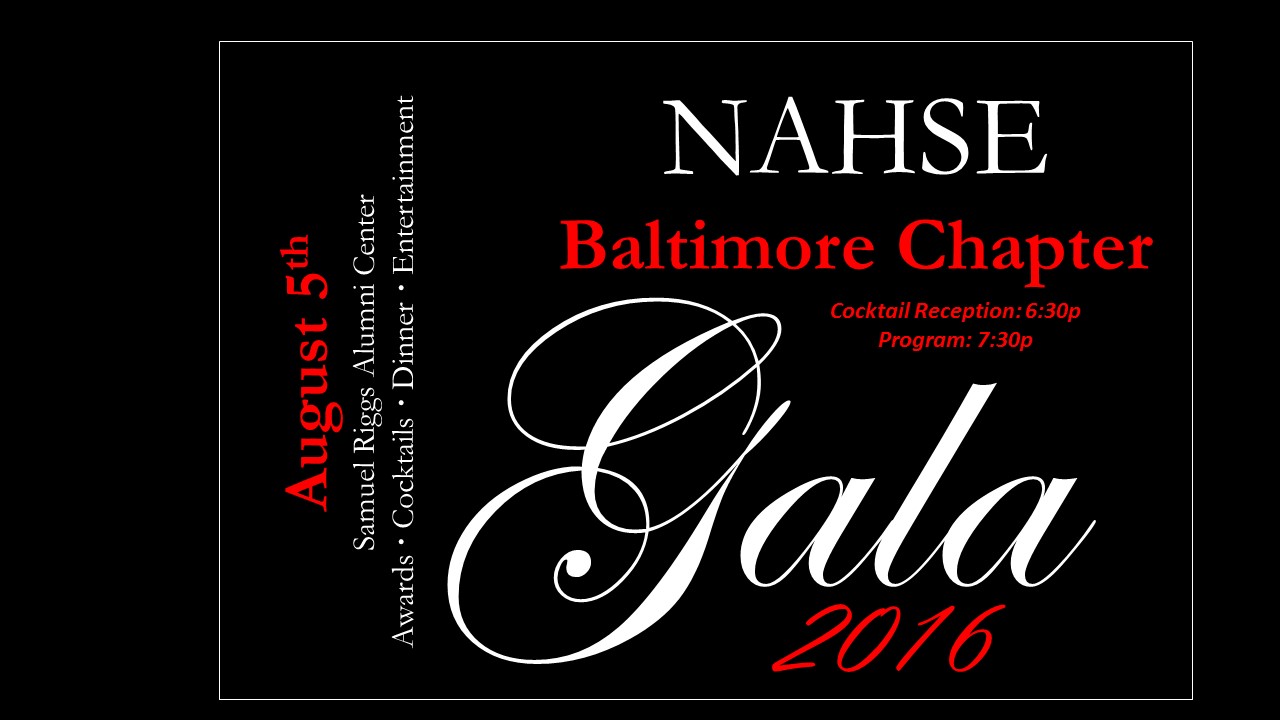 If you have any additional questions regarding this momentous event, please do not hesitate to contact Darren Brownlee at dbrownlee@jhmi.edu or nahsebaltimore@gmail.com. Join us as we help blaze the trail towards the future of healthcare!