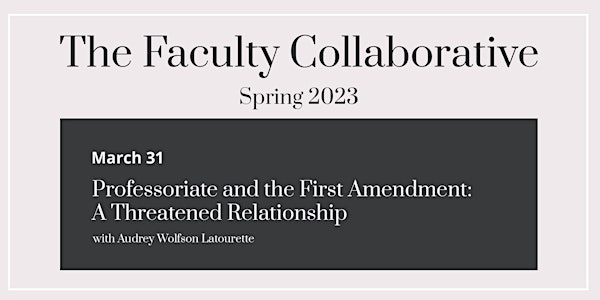 The Professoriate and the First Amendment: A Threatened Relationship
WHEN: March 31 | TIME: 10:00 a.m. - 11:30 a.m. (EDT) | With Audrey Wolfson Latourette
By The Faculty Collaborative (TFC)
Date and time
Friday, March 31 · 7 - 8:30am PDT
About this event
1 hour 30 minutes

Mobile eTicket
The Professoriate and the First Amendment: A Threatened Relationship
With Audrey Wolfson Latourette, M.A., J.D., Distinguished Professor of Public Law
The vigilant protection of the First Amendment is nowhere more vital than in the community of American public schools and universities – "a true marketplace of ideas" as articulated by the U.S. Supreme Court in Healy v. James, 408 U.S, 169 (1972). And while private universities are not bound to uphold the First Amendment, many advertise themselves as bastions of free speech where all viewpoints are expressed and thus are held to such standards premised upon the reasonable expectations of students. Freedom of speech is recognized by the United Nations and by the laws of many countries. A plethora of litigation in the U.S. was engendered by the violation of First Amendment rights with regard to students' exercise of that right: a student distributing copies of the Constitution on Constitution Day, but without a permit, was penalized for doing so; speech codes at numerous universities have substantially restricted First Amendment rights; and a doctoral student was expelled due to her social media content. In every instance, the university action was deemed violative of the First Amendment. FIRE, the Foundation for Individual Rights in Education, represented students asserting violations of their freedom of speech.
In 2021, a wave of litigation ensued addressing the manner in which the First Amendment rights of the professoriate in the U.S. have been wrongfully violated. In the relative absence of advocacy by the ACLU, FIRE, now named the Foundation for Individual Rights in Expression, has now represented faculty in a broad array of cases wherein the First Amendment rights of the professoriate were violated. Examples abound: professors are banned from offering expert testimony in a voting rights case; left leaning professors are severely penalized for engaging in parody with regard to a conservative professorial colleague; a math professor's employment was terminated who mocked the concept of microaggressions; a widely recognized expert's presentation was cancelled at a prestigious university as he had urged academic evaluations should be solely premised on merit; and a professor is suspended who refused to grade black students more leniently in light of civil unrest, among others.
This seminar will review the origin of FIRE which stemmed from the infamous "water buffalo" case at the University of Pennsylvania, its subsequent representation of students asserting First Amendment right violations, and its current focus on those instances wherein faculty freedom of speech has been threatened. The presentation will review recent prominent cases emanating from universities in the U.S. wherein First Amendment violations have been asserted by the professoriate.
March 31, 10:00 a.m. - 11:30 a.m. (EDT)
Only accepting applications from faculty affiliated with institutional members of The Faculty Collaborative. Not a member? Contact us.