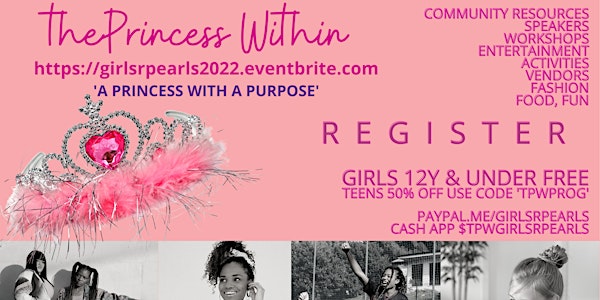 The Princess Within tour BOWIE,MD
YOUNG LADIES it's time! Be BOLD & S.O.A.R. in your BRILLIANCE & BEAUTY thru education, inspiration, empowerment Let's UNITE & CELEBRATE!
When and where
Location
Boswell Hall 6111 Columbian Way Bowie, MD 20715
About this event
The Princess Within TOUR 2022
girls leadership conference 
"A Princess with A Purpose"
REGISTER NOW FOR ANY TOUR STOP ENJOY...WORKSHOPS | SPEAKERS ACTIVITIES | FASHION SHOW | ENTERTAINMENT VENDORS | EXHIBITORS | SPECIAL GUESTS | GIVEAWAYS & MORE!
#GIRLSDAYOUT TO CELEBRATE!!!!!
TWEENS , TEENS ... OLDER, YOUNGER & IN BETWEEN! GIRLS OF ALL AGES STAGES AND PHASES WELCOME AS WE SHAPE THE PRINCESS FOR BECOMING QUEEN!
VENUE & VIRTUAL SEATS
11AM TO 4PM
MARYLAND 2022 TOUR STOPS --- REGISTER TO RECEIVE THE EXACT VENUE LOCATION
BOWIE, MD AUGUST 20TH
HAGERSTOWN, SEPTEMBER 17TH
BALTIMORE, OCTOBER 8TH
TPW2022
PROGRAMME
SPECIAL GUESTS
GUEST EMCEE CHERE COFIELD, RECHARGE STRATEGIST, TOTAL HARMONY ENTERPRISES
WORKSHOPS
PANEL DISCUSSIONS
BRUNCH-N-LEARN SPECIAL GUESTS
ACTIVITIES
NEW NEW NEW
NROYALFASHION HOSTS THE PRINCESS WITHIN FALL FASHION & CHRISTMAS SHOPPING FUNDRAISER TO KING OF PRUSSIA, PA
SECURE YOUR SEAT NOW BEFORE THE SEPTEMBER 1ST DEADLINE OR BEFORE SEATS ARE ALL GONE FOR THE PRINCESS WITHIN FUNDRAISER TAKING PLACE AT THE FABULOUS KING OF PRUSSIA MALL! NEVER BEEN, THEN CLICK NOW SEE DETAILS: https://www.simon.com/mall/king-of-prussia
SATURDAY, OCTOBER 1ST LEAVING FROM HARFORD COUNTY AREA 7:30AM RETURNING 9PM $49PP
EXCITED TO HAVE EPIPHANY OF NAILSBYPIPHY ONBOARD TO DO A NAIL DESIGN DEMO FOR GUESTS DURING OUR BALTIMORE TPW2022 THE 9TH ANNUAL CONFERENCE SATURDAY OCTOBER 8TH
VISION BOARD DESIGN | JEWELRY MAKING SUPPLIES SPONSORED BY GAIL CUFFIE, DIRECTOR, PROJECT THERE'S HOPE
TREASURE CHEST GIFTS - SPONSORED BY DEBBIE GRANT & DENISE MCCULLOUGH WALLACE
NAIL DESIGN DEMO BY EPIPHANY 'NAILSBYPIPHY' SEE HER STELLAR ART DESIGN CREATIONS instagram.com/nailsbypiphy/ & GET READY TO BE INSPIRED & WOW'D
'BLOSSOMING BEAUTY' MAKE-UP ARTIST COMPETITION - OUR FIRST EVER MAKE-UP ARTIST SHOWCASING TALENT FROM THE EASTCOAST, OPEN TO MUA's AGES 15 TO 25YO GRAND PRIZE WINNER, 1ST, 2ND & 3RD PRIZES IN 3 AGE CATEGORIES - SIGN UP ON TPW2022TOUR.EVENTBRITE.COM $15 FEE TO ENTER COMPETITION
GLAMOUR STATION - SPONSORED BY A BEAUTY BRAND
LOVE NOTES MOTIVATION BOARD...POST YOUR NOTE TO INSPIRE OUR GIRLS TO BE BEAUTIFUL FROM THE INSIDE AND OUT
NETWORKING+
NEW EVENT PLANNERS, PROJECT MANAGERS, VOLUNTEERS & AMBASSADORS CONNECT NOW!
LET YOUR PRINCESS SHOW UP IN STYLE ---- ORDER TPW APPAREL FROM CAFEPRESS.COM/NROYALFASHION GRAB YOUR TSHIRTS, SWEATSHIRTS, APRONS, NOTEBOOKS, JOURNALS & MORE!
FOLLOW US ON SOCIAL MEDIA AT FACEBOOK.COM/TPWEvent & INSTAGRAM @OURGIRLSRPEARLS
'LIKE' our SOCIAL MEDIA PAGES FOR A CHANCE TO WIN COMPLIMENTARY SEATS!
--------------------------------------------------------  
VENDORS
DECOR - LUXURY EVENTS BY BRITTANY, LUXURYEVENTSBYBRITTANY.COM
MUSIC/ENTERTAINMENT MANAGER, PGF ENTERTAINMENT - PERFORMERS CONNECT TO PARTICIPATE AT YOUR DESIRED TOUR STOP
CONNECT NOW OURGIRLSRPEARLS@GMAIL.COM
SPONSORS AND MEDIA PARTNERS
CONNECT NOW--- REQUEST PACKAGE AT OURGIRLSRPEARLS@GMAIL.COM