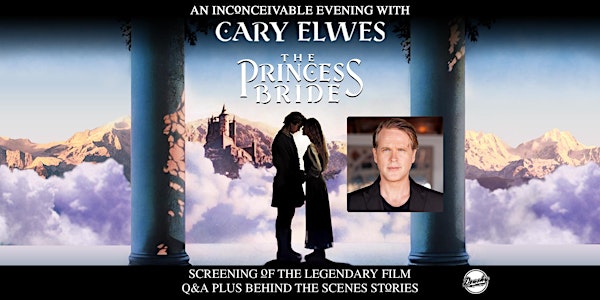 The Princess Bride: An Inconceivable Evening With Cary Elwes
ALL AGES
Drusky Entertainment Presents
Fri. October 15th 2021 | This event is all ages | Proof of Vaccination / Negative COVID Test Required
When and where
Location
Carnegie of Homestead Music Hall 510 East 10th Ave Munhall, PA 15120
About this event
HEALTH AND SAFETY NOTICE
Per the artist's request, for the safety of patrons, artists, and staff, attendees must present proof of COVID-19 vaccination (must be dated 2 weeks from the final dose) or a negative COVID-19 test dated no more than 48 hours prior to the event date. Additionally, all patrons are required to wear masks inside the venue unless actively eating or drinking in designated areas.
If you are unable or unwilling to provide the requested documentation, or if you do not have the ability to provide a test result taken within the requested window, you may request a refund through your Eventbrite account. The refund request window will begin today and will close on Friday, September 23rd at 10AM ET.
Drusky Entertainment Presents
THE PRINCESS BRIDE: AN INCONCEIVABLE EVENING WITH CARY ELWES
featuring guest moderator Steve Cuden
Friday, October 15th, 2021
Doors: 6:30PM / Event Starts at 7:30PM
Carnegie of Homestead Music Hall (Munhall, PA)
$45.00 - $150.00 (VIP Packages available)
Tickets go on sale Friday, December 13th at 10AM!
This event is all ages!
VIP includes: (1) Premium Seat, a Meet and Greet with Cary Elwes, plus a signed copy of his new book "As You Wish: Inconceivable Tales from the Making of The Princess Bride"
In this highly-anticipated event, fans of The Princess Bride will join the heroic Westley (actor Cary Elwes) in a behind-the-scenes look at life on and off the set of the classic film. After a screening of the iconic film, Elwes will engage in a moderated discussion on classic scenes, revealing never before shared secrets and tales of inconceivable antics!  Journey back to the lands of Florin and Guilder; filled with adventure, romance and intrigue (and let's not forget Rodents of Unusual Size!).
Cary Elwes has been seen in a multitude of films, including Robin Hood: Men in Tights, Dracula, Twister, Liar, Liar and many more, and has recently joined the cast of Netflix's hit show, "Stranger Things". Cary is hitting the road to give fans the once-in-a-lifetime chance to capture this piece of cinematic history.
Don't be a Humperdinck, make haste to see The Princess Bride: An Inconceivable Evening with Cary Elwes for a night you will always tweasure.
DISCLAIMER: The requirements as to presentment of either proof of Covid-19 vaccination or of negative testing results for Covid-19 applicable to this event are being imposed at the request of the performer(s) and do not necessarily reflect the official policy or position of the Carnegie Library of Homestead. The Carnegie Library of Homestead disclaims any liability with respect to the establishment of these requirements or as to their enforcement during the event.