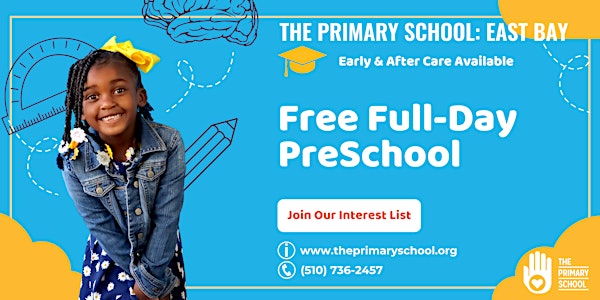 The Primary School–East Bay: PreK Information Sessions (ENGLISH)
Information Sessions for The Primary School–East Bay
About this event
We are starting our recruitment for our next cohort of students at the East Bay campus of The Primary School! Here are some basic requirements for entry into our PreK Prep program:
1. You child is born between December 3, 2018 - December 1, 2019.
2. Your family meets the Income Eligibility requirements in this scale that's set by the California Department of California.
3. You live in Alameda County.
Learn more about our innovative school model that starts several years before kindergarten, integrates health care services, and builds parent wellbeing.
Come find out more, ask questions, and join our interest list!
"WE BELIEVE RAISING A CHILD IS A TEAM EFFORT. We're building a new school model that brings together all of the adults in a child's life, including parents, educators, and medical and mental health providers, starting from a very early age."