The PRIDE CUP Registered Athletes Discount: One Magical Weekend 2020 at Wal...
Description
The Pride Cup Athletes ONLY Discount - Special Instructions Apply*
One Magical Weekend Pride Festival 2020
HOMECOMING - 30TH ANNIVERSARY CELEBRATION
Red Shirt Pride Days
Pride • Music • Sports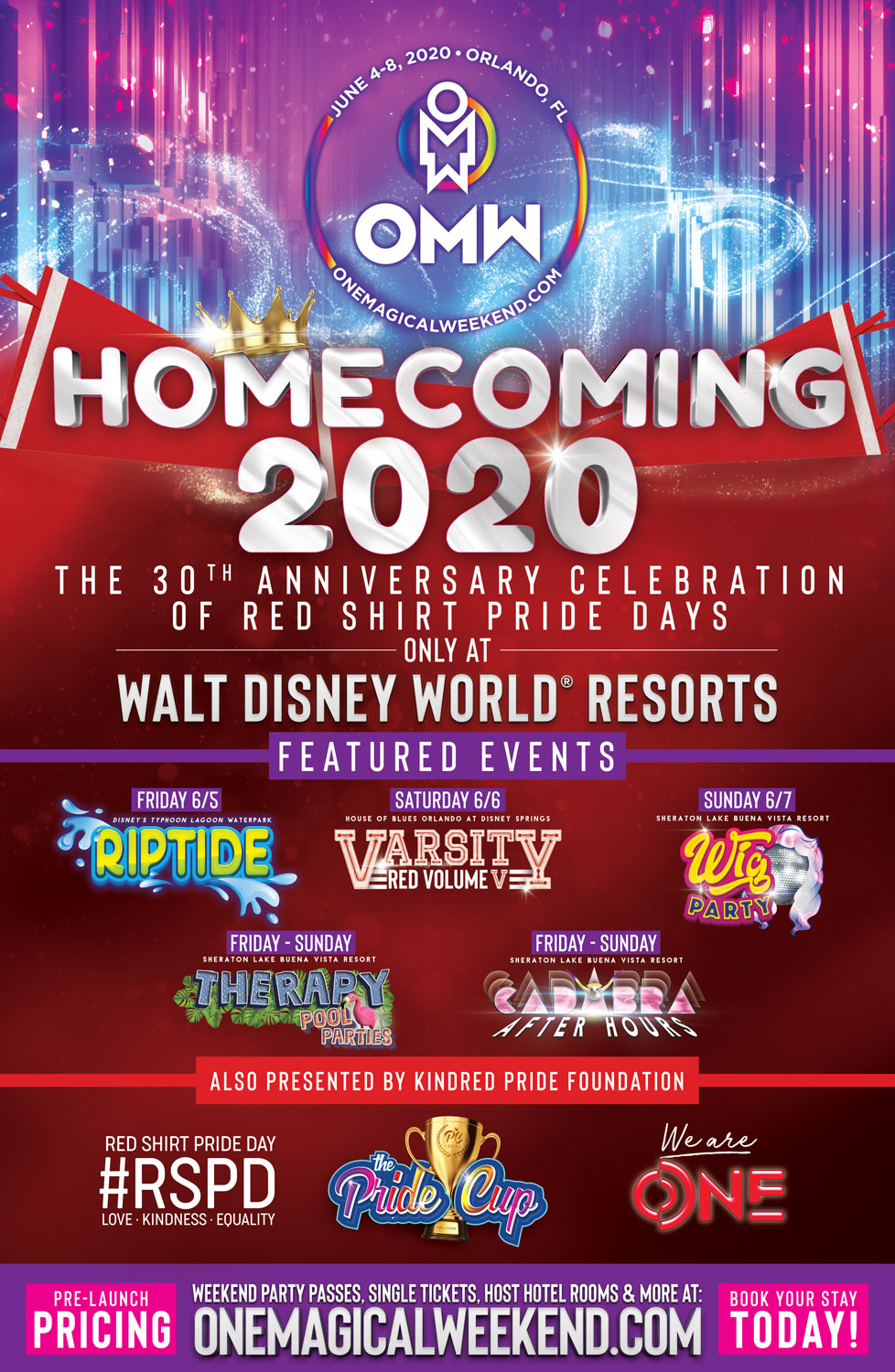 You do not want to miss the 30th Anniversary Celebration of Red Shirt Pride Days at Walt Disney World® Resorts!!!!
The first weekend of June each year – for the 30th year – thousands and thousands of LGBT+ travelers from around the world will descend on Orlando at Walt Disney World® Resorts for One Magical Weekend.
Join us at HOMECOMING 2020 to celebrate Pride at one of the largest annual gay Pride and Music Festivals in the world. We welcome you and your friends to our around the clock events, featuring our roster of International DJ's, and world-class venues at Walt Disney World® Resorts for a weekend that will be Magical!
Re-unite with friends from around the world and make new friends at Riptide at Disney's Typhoon Lagoon Waterpark where 6,000 guests will be dancing under the stars with International DJ/Producers Oscar and Edgar Velazquez. BACK by popular demand: TIDAL WAVE at Bear Lagoon with DJ's yet to be announced - it's going to be "beary" amazing!
Don't miss RED vol. V: VARSITY at the iconic House of Blues at Disney Springs with International DJ/Producer Paulo. Get your favorite locker room gear REDy.
BACK AGAIN IN 2020: And the category is WIG - A Sunday night party worth posing for! WIG, The Party kicks off at the Sheraton Lake Buena Vista Resort with superstar DJ and remixer, Twisted Dee. Hotspots thoughout the night featuring RuPaul performers yet to be announced! WIG Party was a HIT - YOU DO NOT MISS this event.

Cadabra After Hours will be at the Host Hotel, the Sheraton Lake Buena Vista. 2019 was the debut, 2020 will take it to another level!!! For the late night partiers, the magical beats at Cadabra After Hours await you Friday, Saturday, and Sunday late nights with International DJs Alex Acosta, Nina Flowers, Cindel, Alex Cabot, Obra Primitiva, and Bio Zounds. just steps away from your room.
Don't forget the three Therapy Pool Parties at the Official Host Hotel, Sheraton Lake Buena Vista Resort; Friday, Saturday & Sunday, where International DJs Joe Gauthreauz, Edil Hernandez, Morabito, Joe Ross, GSP and Sinna-G will lay down the beats as you and hundreds of your friends frolic in the two resort style pools!
The Sheraton Lake Buena Vista Resort will be the official host hotel for One Magical Weekend Pride Festival 2020. Recently renovated, the Sheraton Lake Buena Vista Resort hosts 3 Therapy Pool Parties, 3 Cadabra After Hours, and the Gay Biz Expo. It just makes logistical and economic sense to "Stay Where You and Your Friends from around the world are Playing!" Plus your reservation at the Official Host Hotel includes 2 FREE Therapy Pool Party passes for each day (a $240 value). Don't forget about the convenience of shuttle buses to all of the One Magical Weekend venues and Disney Parks. Make your reservation now at the lowest rates available at www.onemagicalweekend.com Oh, and earn Marriott/SPG Reward Points with your stay.
#1MW #RSPD
For more information visit: https://onemagicalweekend.com/hotel/
Join our OMW Rewards Ambassador program to earn merchandise, tickets, hotel stays and other amazing experiences.