PERIOD Miami is happy to announce our first Art Basel packing party. We are proud to partner with the Womanish Experience, Cora, and Ipsy
About this event
PERIOD Miami is back and excited to kick off Art Basel week with our Pretty PERIOD Packing Party and fundraiser at the WOMANISH Experience in Wynwood. This is our first big event since the start of the pandemic, so we are super excited to see you there!
We are proud to have the support of our product sponsors, Cora menstrual care and Ipsy beauty. We have also partnered with the amazing creators of Womanish to create an in-person Art Basel experience aimed to bring awareness to period poverty and the unfair tax on women's products.
WE WILL BE PACKING 5,000 PERIOD PACKS FOR MENSTRUATORS IN NEED!
We will also be honoring Ashley Eubanks, founder of The Beauty Initiative and the powerhouse behind the Learning with Dignity Act.
Sounds will be provided by the amazing DJ Penelope! There will also be drinks provided by Lemon Perfect and light snacks for our volunteer attendees.
This RSVP to volunteer to help with the packing party ONLY and you will have access to part of the exhibit. If you are interested participating in the full Womanish Experience, please visit Womanish for ticket information.
PLEASE WEAR READ AND REPRESENT PERIODS!
We are not collecting product for this event, but if you bring some we will always welcome it! Monetary donations are greatly appreciated for this event.
Even if you are unable to join us, your donation ticket is much appreciated. Your monetary contribution allows us to purchases period products at a low cost and keep our day-to-day operations running!
Event Agenda:
6:00pm - Volunteer check-in
6:30pm - Opening words from Ashley Eubanks of The Beauty Initiative
6:45pm - Packing party begins!
8:30pm - Closing words, thank you's and giveaways
9pm - Doors close
Follow our chapter's instagram to keep up with us! @PERIODMiami
For more information on the movement, check out our national organization PERIOD Movement's website! 
Hope to see you there!
*COVID-19 Policy: Masks are highly recommended but not required. Please be considerate of your fellow guests as we will be packing in closed quarters.
*Please note we are expecting a good amount of press at this event. By RSVPing as a volunteer, you understand that you may or may not be on camera or video during the event and PERIOD Miami is not responsible for the use of content captured.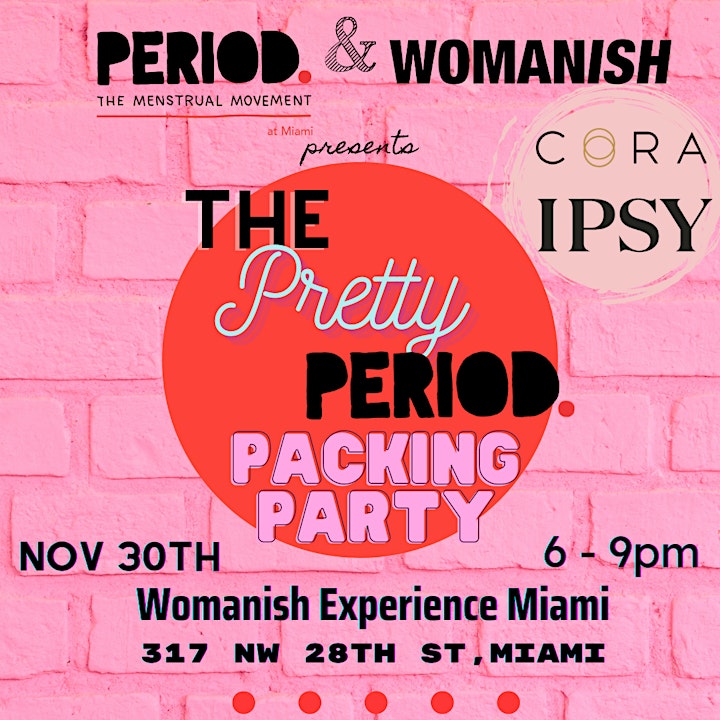 Organizer of The Pretty PERIOD Packing Party & Drive Art Basel Edition at WOMANISH