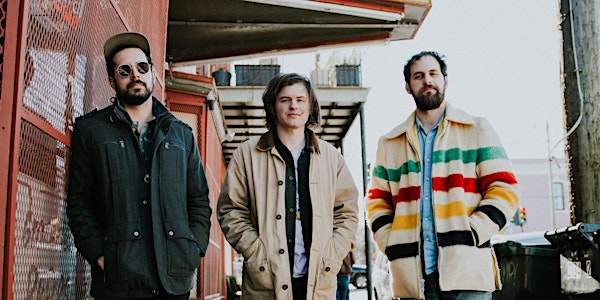 THE PRESCRIPTIONS
The Prescriptions live at The Venue!
When and where
Location
THE VENUE 21 South Broadway Aurora, IL 60505
Refund Policy
Contact the organizer to request a refund.
About this event
The Venue is pleased to present The Prescriptions, Friday, February 24 at 8pm. Doors open 7pm.
General Admission - $10
+ $5 at the Door
ABOUT THE ARTIST
A timeless rock & roll band for the modern world, The Prescriptions sharpen their sound with Time Apart. Produced by Ben Tanner (Alabama Shakes) and Brendan Benson (The Raconteurs), the album funnels a half-century of American and British sounds — including taut power-pop, explorative indie rock, jangling heartland hooks, and New Wave nuances — into something sharp and singular. The result is a warm, widescreen follow-up to The Prescriptions' 2019 debut, Hollywood Gold, its songs balanced halfway between classic craftsmanship and progressive exploration.
When recording sessions for Time Apart began, The Prescription— singer/guitarist Hays Ragsdale, bassist Parker McAnnally, and drummer John Wood — were still riding high on the critical success of Hollywood Gold. The album's diverse sound had earned raves from publications like Billboard, who praised the "breadth in Ragsdale's writing," as well as appearances at SXSW and Jason Isbell's Shoals Fest. Back home in Nashville after a round of cross-country tour dates, Ragsdale filled his head with songs by Big Star, Elvis Costello, and other artists who, like him, used pop melody and rock & roll muscle as launchpads for a bigger, bolder sound. Flush with newly-written material, the band then headed into Brendan Benson's studio to record power-pop anthems like "April Blossoms," stacking vocal harmonies and bright burst of electric guitar into songs that blended street-smart swagger with amplified shimmer.
Months later, the guys found themselves in Florence, Alabama, where they recorded additional tunes with former Alabama Shakes keyboardist (and Single Lock Records co-founder) Ben Tanner. A global pandemic had brought the touring industry to a temporary halt, and The Prescriptions found themselves with unlimited time on their hands. They used that open-ended schedule to their advantage, experimenting with synthesizers and other unexpected textures, chasing down new ways of presenting their melody -driven sound. While the outside world grew increasingly chaotic, The Prescriptions created their own universe inside the studio."When we recorded Hollywood Gold, we spent a lot of time rehearsing, then went into the studio and cut multiple songs each day," says McAnnally, who grew up alongside Ragsdale in Birmingham, Alabama, before forming the band with fellow Tennessee transplant John Wood in 2015. "This record was more about going out and finding something new, and having the luxury of time in order to do that. With each song, we were asking ourselves, 'What's compelling? What have we not heard before?' We were deliberate. We were collaborative. This album is what it sounds like to really mean it."
"You can listen to our first record and hear our different influences," adds Wood. "We've always had wide interests, but Time Apart allowed us to become more specific. We've been a band for seven years now, and that means we're able to move together in one direction, which isn't something we could easily do at the beginning. We wanted to squeeze all the juice we could out of this combination of power-pop and experimental rock."
Fiery and forward-looking, Time Apart explores both sides of the pop/rock divide. It's a 21st century album rooted in everything that made the classic stuff so compelling — sharp songwriting, ringing refrains, percussive stomp, and guitars that chime one minute and churn the next. "Compartmentalize" finds room for icy verses and noisy, open-armed choruses, while "Fire Moon" mixes acoustic guitars into a spacey, neo-psych soundscape. On "I Get Lost," Ragsdale sings about his own human fallibility over textures that are beautiful one minute and booming the next.
Much of Time Apart finds its frontman in an introspective mood, turning his personal journey toward honesty into something universal. "My favorite songwriters don't just make up clever phrases," he says. "They're speaking some sort of truth, and I don't know if you can speak that truth unless you've become truthful with yourself. It's a process of accessing that honesty and communicating it to others. That's the goal of a lot of these songs."
Released by Single Lock Records, Time Apart is an album for the heart, head, and hips. The Prescriptions have never been shy about nodding to the hook -driven rockers who came before them, but here, they carry those influences into uncharted territory, uncovering something that's truly theirs along the way. It was time together that created Time Apart, and The Prescription have never defined their ambition or abilities so clearly before.
"It's so refreshing to hear bands who refuse to stick to one thing, and on first impression, The Prescriptions are a rock band ready to transform into who knows what. They've struck a truly charming indie rock sound in their debut album, but this is very clearly the start of long career full of possibility."
— ATWOOD MAGAZINE
"If you've ever daydreamed about hearing "Being There"-era Wilco jam with "Bends"-era Radiohead, your wish is granted. "
— AL.COM