Description
Calling all Cougs! Join us on Saturday, September 28, 2019 for The PreGame at Utah. This is WSU's official tailgate event before the Cougs take on the University of Utah Utes. This epic fan experience will take place at The Jaden Event Center. Two drink tickets, unlimited tacos, and FREE parking will be included with your entrance fee. Multiple bars will be available for cash and card purchases after your two drink ticket allotment. Butch will be there to take pictures with fans, and The Bookie will be selling plenty of Coug gear!

---
Date: September 28, 2019
Time: Event will begin 4 hours prior to kick off
3 Hour Event
---
To receive member pricing, click the green "REGISTER" button on the top right of this page, then click "Enter Promotional Code" on the top left of the "Register" box. Enter your email with which your WSUAA or CAF membership is associated, click "APPLY." This will allow you to purchase the tickets at the member discounted price (limit 4 discounted tickets per WSUAA or CAF member). Should this not work, please contact the WSUAA Office, and we will refund the difference.

REGISTRATION WILL CLOSE ON WEDNESDAY, SEPTEMBER 25 - WALK-UPS ARE NOT GUARANTEED!
---
Cover Charge

WSU Alumni Association or Cougar Athletic Fund Member: $39.00
Non-Member: $44.00
Walk-Up: $50.00 (if space is available)
Children 5-12: $15.00

Children 4 & under: FREE


---
Meals
Taco Truck will be providing unlimited street tacos.
Menu
Drinks
2 Drink Tickets Per Person to include:
Non-Alcoholic Beverages: Soda, Juice and Energy Drinks
Beer: Budweiser, Coors Light, Shock Top, Moab IPA
Wine: Pinot Grigio, Cabernet Sauvignon, Merlot
Spirits: Titos, Fireball, Jack Daniels, Hornitos Reposado
---
Frequently Asked Questions
Location + Directions:
602 E 500 S - next to Orange Theory and Core Power Yoga in Trolley Square at Jaden Events Center North Building
What does the cover charge include?
The fee covers unlimited tacos & two drink tickets per person, venue rental, bussers, bartenders, security personnel, table and chair rentals, event supplies, decorations, trash collection, parking, music, free Wi-Fi, etc.
How do I become a member and receive the member discount?
To become a member of the WSU Alumni Association, click here or give us a call at 1-800-258-6978. To become a Cougar Athletic Fund member, click here or call 509-335-0220.
Does Rice Eccles Stadium have a clear-bag policy?
Yes. For more information on their policy, click here.
Where should we park?
There is FREE parking in the Jaden Event Center parking structure as well as plenty of street parking. You can park your car here during the duration of the event & the game. Did we mention, it's free? :)

PARKING is free and available in the 600 South parking lot and along the 700 East buildings. There is also parking along building A in front of Alice Lane and building B in front of Pottery Barn. There is also an underground parking garage that is accessible along the corner of 500 South and on the corner of 600 East. There is roof access parking on the 500 South/700 East corner above Whole Foods.
http://www.trolleysquare.com/parking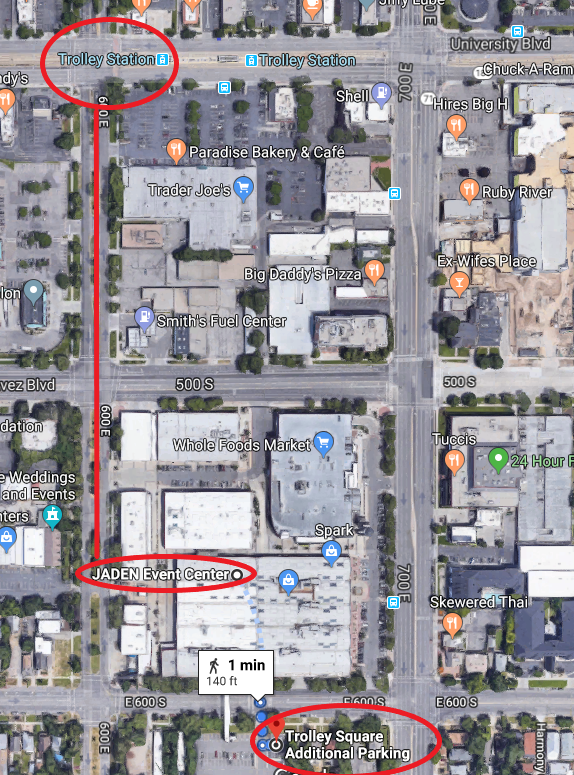 How do I get to the stadium after the PreGame Tailgate?
Use the UTA TRAX (light rail) Trolley Station (625 E 400 S). It's a two block walk from the Jaden Event Center. For more information visit the UTA TRAX website here: this website. No need to buy a TRAX ticket, your game day ticket serves as your FREE TRAX ticket for game day only.

Walk to Trolley Station – Two blocks north on 600 E toward University Boulevard
Trolley Station is in the middle of University Blvd (across from Ace Hardware)
Board 703 Red Line (5 min ride)
Exit at Stadium Station
Walking Directions from Jaden Event Center to Rice Eccles Stadium?
1.3 mile (32 minute walk) to Rice Eccles Stadium. Follow walking directions here.
Is this a family-friendly event?
Yes, families are welcome!
What types of drinks will be served?
A variety of beverages, both alcoholic (premium spirits, wine, and beer) and non-alcoholic. Alcoholic beverages are available to those 21 years and older with a valid ID. Each guest will receive two drink tickets to utilize for all beverages at the bar.
Do I need cash at the event?
We recommend bringing cash to this event for quicker service at the bars.
May I purchase food at the event?
No, all-you-can-eat tacos will be provided with admission to the event.
Will there be Cougar gear available for purchase at the event?
Yes, The Bookie will be at The PreGame selling plenty of Coug Gear. The Bookie will take cash or card, cash will get you faster service.
Will Butch be at The PreGame?
Yes, you will have the opportunity to mingle, take a photo, and high-five with Butch.
What is the refund policy?
Refunds will be provided for cancellations received 7 days before the date of the particular PreGame. No refunds will be given for cancellations made within 6 days before the date of The PreGame. No-shows to a PreGame will not receive a refund.
Who may I contact with additional questions?

WSU Alumni Association
alumnievents@wsu.edu
1-800-258-6978