Description
Huddle up, Cougs! Join us on Saturday, October 12, 2019 for The PreGame, WSU's official tailgate event before the Cougs take on the Arizona State Sun Devils. This epic fan experience will take place at Macayo's Depot Cantina. Multiple no-host bars will be available for alcoholic & non-alcoholic drink purchases.
An assortment of food stations will be available for a la carte food purchases. Butch will be there to take pictures with fans and The Bookie will be selling plenty of Coug gear!
---
Date: October 12, 2019
Time: Event will begin 4 hours prior to kick off
3 Hour Event
---
To receive member pricing, click the green "REGISTER" button on the top right of this page, then click "Enter Promotional Code" on the top right of the "Register" box. Enter your email with which your WSUAA or CAF membership is associated, click "APPLY CODE." This will allow you to purchase the tickets at the member discounted price (limit 4 discounted tickets per WSUAA or CAF member). Should this not work, please contact the WSUAA Office and we will refund the difference.
Cover Charge
WSU Alumni Association or Cougar Athletic Fund Member: $5.00
Non-Member: $10.00
Walk-Up: $15.00 (if space is available)
Children 12 & under: $5.00
---
Meals
Macayo's Depot Cantina will set-up various stations for a la carte purchases.
Menu
Tacos

Chips & Salsa
More To Be Announced Soon!
Drinks
Full non-host bars will be available for cash or card purchases
---
Frequently Asked Questions
What does the cover charge include?
The fee covers venue rental, bartenders, bussers, cooks & servers, dj, security personnel, restroom rentals, event supplies, decorations, trash collection, etc.
How do I become a member and receive the member benefit?
To become a member of the WSU Alumni Association, click here or give us a call at 1-800-258-6978. To become a Cougar Athletic Fund member, click here or call 509-335-0220.
Does Sun Devil Stadium have a clear-bag policy?
Yes. For more information on their policy, click here.
Where should I park?
There is $10 parking (CASH ONLY) next to Macayo's Depot Cantina at 180 S Ash Ave, Tempe, AZ 85281 parking lot. There is also a parking structure across the street. 201 S Ash Ave. This structure will be subject to event rates.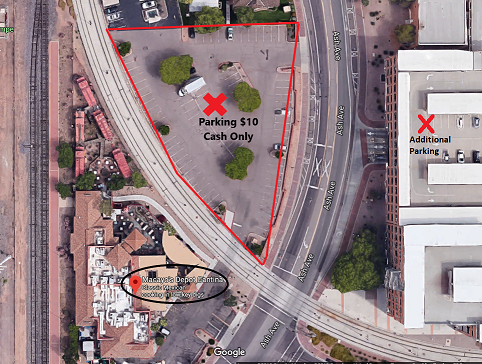 How do I get to the stadium after the PreGame Tailgate?
You may walk, utilize the Valley Metro Rail, or ride share to the stadium.

Valley Metro Rail Information
Cross Ash Avenue and continue walking east on West 3rd Street
Walk to the Mill Ave/3rd St Station (.01 mi walk from Macayo's Cantina)
Purchase ticket
Board Velly Metro Rail. Exit Rail at Veterans Way/College Ave (1 minute ride)
Walk east (.2 miles) to Sun Devil Stadium
For more information on the Valley Metro Rail, click here.

Walking Directions from Macayo's Depot Cantina to Sun Devil Stadium?
It's a .7 mile (14 min) walk to Sun Devil Stadium. See map below.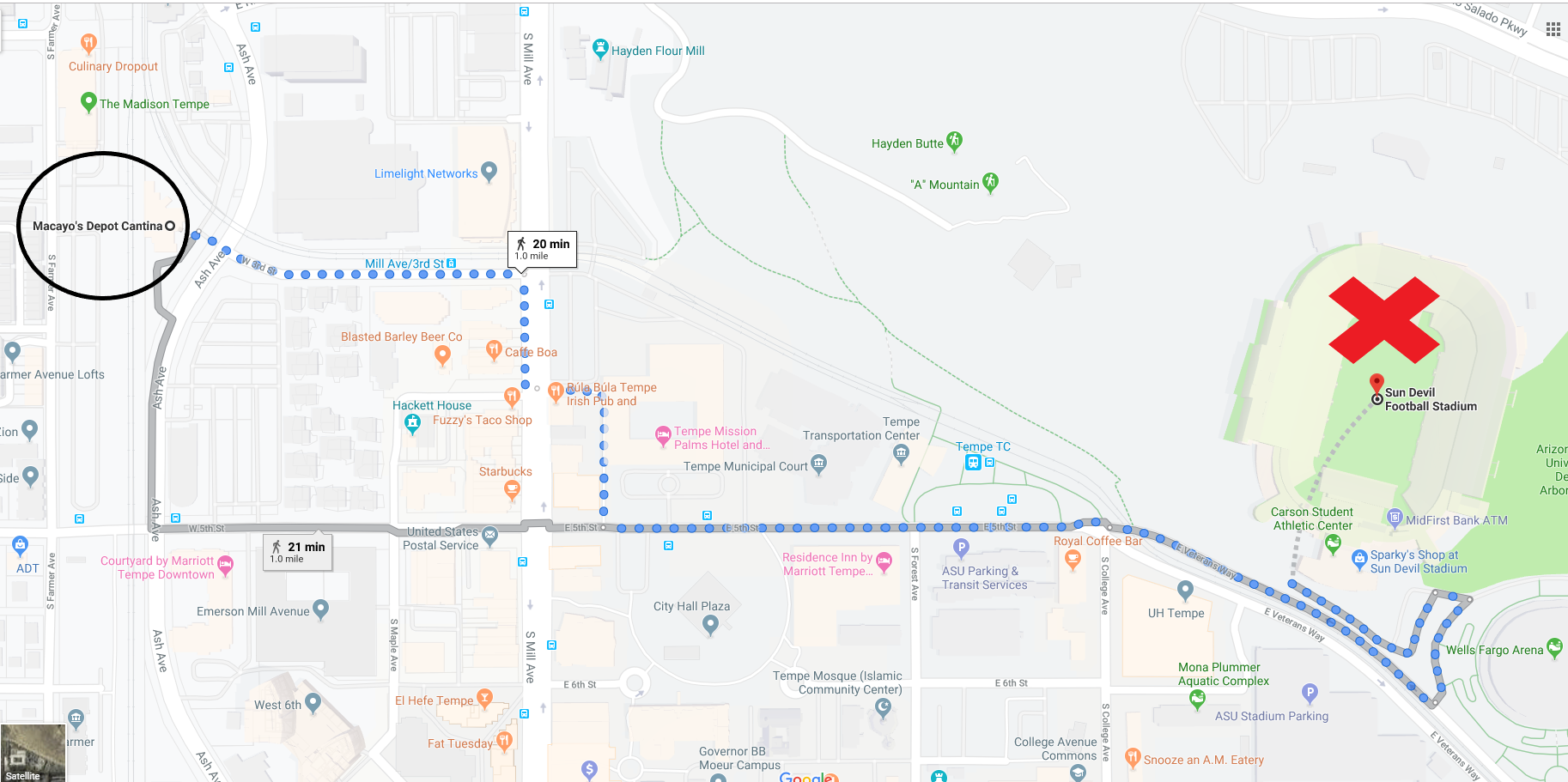 Ride Share
Pickup & Drop-off
The two convenient Ride Share pickup and drop-off zones are located on the corner of Rural Rd. and Rio Salado at Lot 10 and off Veterans Way, in front of the San Pablo residence hall, accross from Wells Fargo Arena in Lot 50. Lyft is offering 20% off rides to any game using code ASUGAMEDAY.
Is this a family-friendly event?
Yes, families are welcome!
What types of drinks will be served?
A variety of beverages, both alcoholic (premium spirits, wine, and beer) and non-alcoholic. Alcoholic beverages are available to those 21 years and older with a valid ID. Each guest will receive two drink tickets to utilize for all beverages at the bars.
Do I need cash at the event?
We recommend bringing cash to this event.
May I purchase food at the event?
Yes, you can purchase food a la carte at this event.
Will there be Cougar gear available for purchase at the event?
Yes, The Bookie will be at the PreGame selling plenty of Coug Gear. The Bookie will take cash or card. Cash will get you faster service.
Will Butch be at the PreGame?
Yes, you will have the opportunity to mingle, take a photo and high five with Butch.
What is the refund policy?
Refunds will be provided for cancellations received 7 days before the date of the particular PreGame. No refunds will be given for cancellations made within 6 days before the date of The PreGame. No-shows to a PreGame will not receive a refund.


Does Sun Devil Stadium permit re-entry?
For the safety and security of all guests to Sun Devil Stadium, re-entry is NOT permitted at Sun Devil Stadium. Once a ticket is scanned at the gates, guests may no longer exit and re-enter Sun Devil Stadium.
Where are my seats located?
Find out more information on ASU's fan zone site, click here.
Who may I contact with additional questions?
WSU Alumni Association
alumnievents@wsu.edu
1-800-258-6978