Description
2019 will be here sooner than you know it and it's always a good idea to re-evaluate your life and set some new goals in order to live your best life ...one that is free from the emotional and mental bondage of resentment and grudges.
Let TOTAL FORGIVENESS be one of your NEW YEAR'S RESOLUTIONS, so that you can live strong and walk boldly into your future without having to carry the added psychological weight of resentment, bitterness, self-loathing or guilt. ...Because carrying old hurts and offenses into the new year, not only prevents you from moving into the new year with a fresh start, it also Holds You Back from SHOWING UP FOR YOUR LIFE AS YOUR MOST RESILIENT & POWERFUL SELF.
If you are depressed, frustrated, angry and sad ...disappointed or disillusioned by the people who've hurt you and let you down ...or you want to get your confidence, joy and peace back ...TOTAL FORGIVENESS is the answer you've been looking for.
TOTAL FORGIVENESS does not require you to pretend that you're not hurt or angry. TOTAL FORGIVENESS empowers you to honor your feelings more than ever, while helping you create an inner shift to in your soul to move from walking through life with a closed heart to heart that is DISCERNING While LOVING ..JOYFUL while WISE, ....FORGIVING while TESTING for TRUTH & INTEGRITY.
Come to the TOTAL FORGIVENESS EXPERIENCE on December, 30, 2018 in New York City and gain Bible-based tools to let go of the hurts, disappointments and resentment that do not serve you well and that hinder you from living your best life now.
Click ON The Link To WATCH THE VIDEO https://www.youtube.com/watch?v=QWLNhpUTAqk
Hebrews 12: 1 reminds us to lay aside every weight and to run our race with endurance.
What this Bible verse implies is that ….our lives, in many regards, can be compared to a race, because there is an eventual finish line. And in order to run your life's race with joy, resilience, victory and purpose you have to cast aside any hindrances that weigh you down with spiritual yokes, emotional burdens and mental strongholds that eat away at your peace, keep you stuck in a place of perpetual resentment and that undermine your success.
God has given each of us a race to run during our time on this earth in order to fulfill our purpose. And in this race God includes plans to PROSPER You and He gives you HOPE and A FUTURE too. ...But, more often than not, we hold ourselves back from living our most abundant lives because we carry around the excess weight of unforgiveness in our hearts and minds and then wonder why our lives are not flourishing, our dreams are not coming into fruition and our relationships are filled with dysfunction and drama.
Unforgiveness is a spiritual weight that will hold you back, slow down your rate of success and make your race more cumbersome and difficult than it has to be.
Believe it or not ...Unforgiveness is like a weight in your spirit in that, when you are weighed down with resentment, bitterness, anger, envy or even self-blame, it's hard to show up for life as your best and brightest self. Plus, the baggage that you may not even be aware that you are carrying will eventually get in the way of you living your most enriched and resilient life.
While I won't even pretend to know what you've been through in your life that has caused you a lot of hurt and pain. ...Here's What I Do Know: ... GOD knows what you've been through and HE DOESN'T want you to SPEND ANOTHER YEAR OF YOUR LIFE or even ANOTHER DAY OF YOUR LIFE holding on to excess baggage that depletes your joy, breaks your focus and diminishes your light. So Let It Go ...Once and For All!
Come and spend a life-changing evening with Cassandra Mack where you will be empowered and refreshed with Kingdom empowerment principles for total forgiveness, so that you can enter 2019 EMOTIONALLY FREE and READY TO STEP INTO YOUR NEW SEASON of LIVING.
About Your Host & Speaker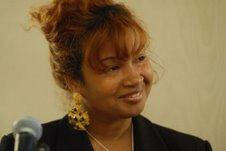 Cassandra Mack, is a life coach, corporate trainer and Minister of the Gospel, with a mission to help people heal their lives, accelerate their path to success and embrace their greatness.
She has written more than 15 highly successful personal-growth books that are widely utilized in the health and human services, youth organizations as well as the faith-based community.
Cassandra Mack is the founder of Cassandra Mack Ministries a bible-based Christian ministry that utilizes social media, special events and live conference calls to help people seize their success, increase their personal wellbeing and navigate life with grace. For more information go to: www.CassandraMackMinistries.com
Cassandra Mack, is also the owner of Strategies for Empowered Living Inc., a training/consulting/coaching company established in 2000 in New York City that offers workshops, consultation services and publications designed to help individuals and organizations maximize success, build capacity and eliminate the roadblocks that undermine their vision. For more information go to: www.strategiesforempoweredliving.com.
ADVANCED REGISTRATION IS REQUIRED FOR THIS EVENT.
YOU MUST PRESENT YOUR TICKET TO ENTER THE SESSION.
***********Due to limited seating and the room occupancy policies of the Event's Venue, if you do not have your Eventbrite ticket with you upon arrival, we will not be able to accomodate you.
Conduct
We expect all attendees to behave in a respetful manner. We reserve the right to ask an attendee to leave the event if their behavior is disrespectful to attendees or the speaker.
This Event Will Be Videotaped
This event will be videotaped and used for promotional purposes in appropriate publications eg newsletters, brochures, website and social media. Photos will also be taken during the course of the event. Participation in this event confirms your acceptance of images and video recording to be taken for this purpose.