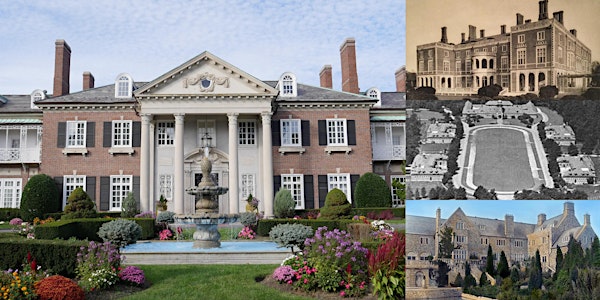 'The Pratt Family Estates of Long Island' Webinar
Can't make it live? Register and get access to the full replay for one week! New York Adventure Club | www.AdventureClub.com
About this event
While 19th-century American businessman Charles Pratt started his career in the whale oil business, and later made a good sum of money in the petroleum industry, it was his company's eventual merger with John D. Rockefeller's Standard Oil Company that made him one of the wealthiest people in the country. And with that vast fortune, he created a 1,000 acre family compound on Long Island's "Gold Coast" known as Dosoris, where each of his six children could build a "comfortable" country house. It's time to uncover the stories behind many of these palatial estates and the legacy each left behind.
Join New York Adventure Club for a digital exploration of the opulent Pratt Family estates and mansions throughout Glen Cove, NY, from their days as some of Long Island's most extravagant private homes to their conversion into a variety of modern-day uses.
Led by historian Gary Lawrance, our virtual showcase of these incredible Pratt Family properties will include:
A historical overview of the North Shore of Long Island and why it became the social epicenter of New York's prominent families and known world wide for its wealth, glamour, and dazzling social life
The life and legacy of Charles Pratt, from his early years and how he made his incredible fortune
How the children of Charles Pratt created individual estates and mansions on the original 1000 acres their father assembled in the Long Island town of Glen Cove
An in-depth look at each estate and their luxurious mansions and gardens
The story of the Pratt Oval, a large compound of service buildings where each family member kept their personal automobiles and horses
Rare archival photos featuring estate floor plans, interiors, and furnishings
What became of their estates and how they're being utilized today, from conference centers to college campuses
Afterward, we'll have a Q&A with Gary — any and all questions about the Pratt Estates on Long Island welcomed and encouraged!
Can't make it live? Don't worry, you'll have access to the full replay for one week!
See you there, virtually!
*Immediately upon registering, you will receive a separate, automated email containing the link to join this webinar
**For the best possible viewing experience, please ensure you're using the latest version of your internet browser — Google Chrome is the most compatible. Exact technical requirements and a webinar user guide will be shared in the automated confirmation email upon registration.
***A full replay of the experience will be available to all registered guests for up to a week
About Gary
Architect, Author, and Historian Gary Lawrance is an architect from Stony Brook, New York. His firm, Lawrance Architectural Presentations, provides design presentations, architectural models, digital renderings, and design development services to architects, landscape architects and interior designers.
Mr. Lawrance has an extensive background in the history of Gilded Age architecture, landscapes, and society, and co-authored the bestselling book, "Houses of the Hamptons 1880-1930" with Anne Surchin (Acanthus Press 2007, Revised 3rd Printing 2013).
Mr. Lawrance's work has been featured in The Wall Street Journal, Hamptons Cottages & Gardens, Newsday, New York Social Diary, Southampton Press, and more. Mr. Lawrance has written for Architectural Digest, Dan's Papers, Quest magazine, and his two blogs, Mansions of the Gilded Age and Houses of the Hamptons in addition to founding and contributing to the two very successful Facebook groups, Mansions of the Gilded Age & The Gilded Age Society with over 160,000 members combined. Mr. Lawrance also manages two equally popular Instagram accounts, Mansions of the Gilded Age & The Gilded Age Society.
Testimonials
"I enjoy the subject matter." -Rebecca
"I love the pictures of gardens and house interior." -Miranda
"I have family in Glen Cove and know the general area discussed. I love history and architecture, so this touched on those. Some good pictures in the mix!" -Terrence
"Interesting facts." -Michael
"Great pix, much info." -Thomas
"I look be the topic and focus on gilded age and architecture." -Susan
"All of the slides and pictures." -Geoffrey
"Interesting history of the Pratt family. Enjoyed the photographs of their houses." -Katherine
"I had never heard of the Pratt Mansions so it was fascinating to learn about them!" -Patricia
"Learning about a family I had never known about before and inspiring me to do my own research." -Leslie
"Excellent details and stories. Clearly the presenter has affection for his subject. Enjoyable." -Sharon L
"So much info discussed. Easy to follow along and event available to watch again." -Pamela
"Interesting history." -Michael
"The information about a family I had. Ever heard of." -Deedee
"I used to live near some of the mansions, and it brought back memories." -Mary E
"So much history complete with photographs that back up the stories. Very thorough, well presented.Thanks....." -Robert
"The speaker, Content." -Kyrylo
"Photos and histories of the properties." -Joel
"Archival photos and Gary's expertise!" -David
"Good images and informed commentary." -Sarah
"The pictures that have been restored & the history of the people who lived there." -Elizabeth
"Peaked my interest in learning more about the family." -Brian
"Detailed history, great images, interesting presenter, somewhat obscure subject (lesser known mansions), photos of Pratt NYC residences." -Peter
"Excellent detailed accounts of all the Pratt homes and their current status." -Fanny
Disclaimer
By attending a New York Adventure Club experience, you accept our terms of service.
Categories: Virtual, Gilded Age