The PowHer Network Women, Wine & Wisdom Dallas Edition

Saturday, August 5, 2017 from 12:00 PM to 3:00 PM (CDT)
Event Details
You are cordially invited to an intimate and inspiring afternoon of sipping and sharing at the Dallas edition of The PowHer Network's Women, Wine & Wisdom! The event is hosted by founder Chauntel McKenzie with panelists: Michelle Williams, Jasmine Hillman, Obia Ewah and Mia Lawrence In Partnership with Bella Kinks™.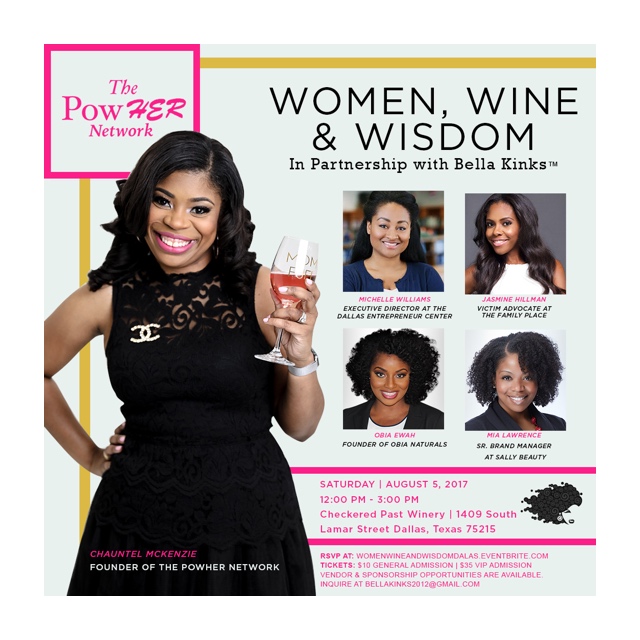 The PowHER Network™ is a movement founded on one simple yet powerful belief. We believe that powHERful things happen when women support other women. Our mission is to inspire and equip women to reach their full potential in every area of life. We do this by sharing value added information, resources, and event based networking opportunities. We are dedicated to improving the way women as a whole look at themselves; and interact and support one another. We are focused on spreading this powHERful movement of sisterhood throughout the globe one woman, one city, one event, one interaction at a time. 
Meet Our Panelists:
Michelle Williams - A Texas native, Michelle Williams is a self-proclaimed equity advocate. She currently serves as the Executive Director where she is overseeing southern sector expansion for The Dallas Entrepreneur Center, a non-profit organization dedicated to helping entrepreneurs start, build and grow their businesses through education, mentorship and access to an entrepreneurial community. Previous, Michelle worked as Dallas Program Manager for Leadership ISD, a non-profit organization committed to the mission of creating a movement of informed, empowered and engaged citizen-leaders positively influencing educational excellence and equity for all students. Having sat on multiple boards and commissions around both the city and the nation, Michelle is committed to serving her community wherever she is needed and much of her work and passion is fueled by the belief that access to a high-quality education is a civil right issue in a democratic society. In 2013, Michelle had the honor of working with the White House Initiative on Educational Excellence for African Americans: a cross-agency effort aimed at identifying evidence-based practices to improve student achievement. She has been a member of the Dallas-Fort Worth Urban League Young Professionals since 2010. She has served in numerous capacities from Youth Conference Chair to Vice-President and newly elected 2016-2018 DFWULYP President. Most recently, Michelle was the honored by Texas State Senator Royce West as a recipient of the Outstanding Texan award by the Texas Legislative Black Caucus. 
Jasmine Hillman - was born and raised in Dallas, TX. After graduating from Desoto High School, She went on to get a Bachelor's in Early Childhood Education at Texas State University in San Marcos. With only two years of teaching under her belt, she decided to leave the classroom to have a greater impact in the community. She is currently a Victim Advocate at The Family Place, one of the largest domestic violence agencies in Texas. Being a voice, a beneficial resource and extra layer of support for survivors has allowed her to help each one of them navigate their way to safety and security, while experiencing quality services that empower them to make healthy choices and reach long term goals. God and a strong circle of family and friends continue to be a solid foundation in which she has established faith to fuel her on the path of excellence. She hopes to have her own mentoring program that caters to youth in the inner city and suburban areas.  Her blog, Honeycomb Diary will be launched August of 2017. However, her passion for serving others who have endured a greater loss remains her primary focus. 
Obia Ewah - Presented with the "2015 Best Emerging Brand for Type 4 Natural Hair" by the editors at Naturally Curly; OBIA Naturals is focused on producing vegan, pH balanced, non-toxic hair and body care products that offer a natural alternative to conscientious consumers.   The OBIA Naturals™ journey began in 2012, when Obia Ewah decided to use her dual bachelor's degree in both Chemistry and Biology to start a hair and skin care line that addressed her sensitive skin needs. 
On the path to becoming a doctor, it was during Obia's 3rd year of medical school when she fell ill and started becoming more conscientious of the foods she ate and the products she used on her hair and body.  As a part of her quest to live a healthier lifestyle, Obia decided to shed her relaxed tresses for her naturally tightly coiled texture.  Known as the "Big Chop," Obia's newly embraced coif left her needing the right combination of products to tame her thick hair without jeopardizing her overall health with toxins.  A former chemist for private label cosmetic manufacturing companies, Obia recognized the void in the market and began tinkering with her own formulas that used the natural ingredients that she had spent years studying about during her days at the University of North Texas.
In just 4 short years, what started out as botanical blends for friends and family has blossomed into a global business of pH Balanced, herbal based vegan products that do not contain: mineral oil, sulfates, petroleum, alcohol, silicones, honey, beeswax, goat's milk or animal protein.  Being a member of the Society of Cosmetic Chemists enables Obia to attend seminars regularly to stay on the pulse of the latest beauty industry studies and research.   Using science based technology, OBIA Naturals products have developed an award winning reputation for high quality formulations that are composed of easily absorbed natural humectants that nourish all hair textures and skin types.
A well-respected beauty industry thought leader, Obia Ewah uses educational Instagram clips and DIY YouTube videos as a platform to inspire and educate women on the science behind healthy hair.  Obia's passion for quality ingredients has propelled OBIA Naturals to the forefront of the natural hair movement with features by top beauty influencers and magazines.  OBIA Naturals is now available in Wal-Mart, Target, Sally Beauty, CVS, Bed Bath & Beyond and in beauty supply and salon's in over 21 countries.
Mia Lawrence - with nearly 10 years of corporate experience in innovation management and new product development, Mia's career has centered around one philosophy: If you're not innovating, you're not growing.
Elevating and growing brands by driving innovative concepts to market continues to be a strong passion for this determined professional. In her present role as Senior Brand Manager, for Sally Beauty Supply, Mia oversees development, strategy, and execution for Multicultural Hair Care and Hair Extension brands for the multi-national retailer. Her experience in delivering and marketing new products has resulted in double-digit sales growth for several private brands under the Sally Beauty umbrella including Silk Elements, Pure Oils by Silk Elements and Satin Strands.
Since joining Sally Beauty in 2012, she's developed and launched more than 100 new products across eight different brands that are sold throughout the Americas and Europe. She looks forward to continued success for these brands and products as she and her team work to identify new opportunities to offer them to a diverse range of consumers.
Mia enjoys working in a field that impacts her personally. Like many other women of color, she celebrates a rich legacy of passion for hair and beauty. A native of the Midwest, Mia grew up in the Dallas/Ft. Worth Metroplex and holds a bachelor's degree in Marketing from Hampton University and MBA from Texas Woman's University.
Check out more from the PowHer Network at http://www.powhernetwork.org
*By entering the event, you agree that Bella Kinks LLC may videotape and photograph you, record your voice, conversation and sounds. You also agree that your photo or likeness may be used for promotional purposes without compensation to you. There are NO refunds.*

Have questions about The PowHer Network Women, Wine & Wisdom Dallas Edition?
Contact Bella Kinks
When & Where

Checkered Past Winery - Wine Pub
1409 South Lamar Street
Dallas, TX 75215


Saturday, August 5, 2017 from 12:00 PM to 3:00 PM (CDT)
Add to my calendar
Organizer
Julian R. Addo is the Founder of Bella Kinks, The Bella Kinks Expo and Dallas Textured Hair Marketplace .
Bella Kinks is a movement. Conceived for the promotion and awareness of the transcendent beauty of natural hair, transformative impact of an organic diet, and the tranquil benefits of exercise for women of color. Bella Kinks operates to motivate women for action and embrace their beauty. Sharing knowledge and resources of such a lifestyle is the cornerstone of how B...ella Kinks strengthens its mission.

Bella Kinks further stretches is commitment to a holistic lifestyle through hosting educational seminars quarterly that implements the "each one, teach one" model. As a lifestyle brand, through e-commerce, Bella Kinks presents beauty product lines with companies that follow the tradition of organic and or handmade.

Bella Kinks is a lifestyle choice. As a brand it wants to challenge how you define beauty and accept the true natural beauty that is within you. Bella Kinks knows that once your natural beauty is turned on, a movement will be ignited.

Let's Unleash our Glamorous Beauty and Power Together, Naturally.
See More