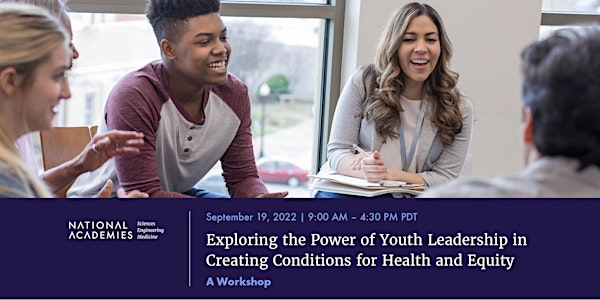 The Power of Youth Leadership in Creating Conditions for Health & Equity
This workshop explores how America's youth is engaging in and leading efforts to improve the health and equity of their communities.
When and where
Location
2000 Franklin St 2000 Franklin Street Oakland, CA 94612
About this event
Join the National Academies of Sciences, Engineering, and Medicine Roundtable on Population Health Improvement as it explores how young people are engaging in and leading efforts to improve the social, economic, and environmental factors that influence the health and equity of communities and the nation.
This event will include presentations and discussions that highlight case examples from select domains in which young people engage (e.g., education, climate justice, community safety); consider the types of civic infrastructure and resources that support youth participation and leadership of change efforts; and explore the available evidence on how young people themselves (and society at large) benefit from being involved in this kind of work.
Please visit the event webpage on our website for more information and event updates. Note that this is a hybrid event, with virtual and in-person tickets available. The event will host speakers and members at The California Endowment Center for Healthy Communities in Oakland, California from 9:00 AM - 4:30 PM PT (12:00 PM - 7:30 PM ET). It will also be streamed online on this event page for public viewing.