Description
#ThePowerofWE #WomenEntrepreneurs #empoWEr
On March 28, 2019, more than 200 women business owners and entrepreneurs will gather from 11:00 am – 1:00 pm at Belmont University Inman Conference Center, Frist Lecture Hall, for the 4th annual Power of WE - Women Entrepreneurs Luncheon, presented by Nashville Electric Service.
This luncheon was started four years ago as an educational and networking opportunity for women in business and particularly entrepreneurs. Flip or Flop Nashville star, Page Turner, will be our Mistress of Ceremony. Page Turner is an entrepreneur, top Real Estate Broker, speaker and vision strategist. She has taken her passion and successful principals of being a mother, CEO and Principal Broker and created the LIFE-Changers, Int'l Signature Success System to empower women, business owners & budding entrepreneurs to move beyond inspiration and into implementation and execution for their personal and professional lives.
Our speaker is Ms. Vivian Pickard, President and CEO of The Pickard Group, President & CEO (retired) General Motors Foundation and Director of Corporate Relations.
Mayor David Briley of Nashville Metropolitan Davidson County will address his landmark Equal Business Opportunity legislation, highlighting the benefits it will have for minority- and women-owned businesses that work with Metro.
Ms. Marilyn Robinson, Executive Director of the Nashville Minority Business Center, will be the recipient of the inaugural Trailblazers Award for her life long achievements in the Nashville business community.
Ms. Pickard and Ms. Robinson will join Ms. Sarah Patton, owner of Social Bliss Events, and Ms. Courtenay Rogers, Director of Pathway Women's Business Center, forming a four-member panel to share their personal stories of what it takes to succeeded and address questions from the audience.

---
This event is open to the public and is an exceptional opportunity to empoWEr and inspire women business leaders and entrepreneurs across Middle Tennessee. Tickets are $50 and $25 dollars for students.
Some sponsors of the event are: NES, The Maynard Group, Belmont University, Nashville Voice, and Apex Financial Services.
Attached is a link to an article featuring last year's luncheon https://www.pridepublishinggroup.com/pride/2018/04/19/34378/ and the link to The Maynard Group is http://www.jmaynardgroup.com/
---
Be empowered and come network with inspirational women business leaders and entrepreneurs.

There is limited seating, so please purchase a ticket today!

---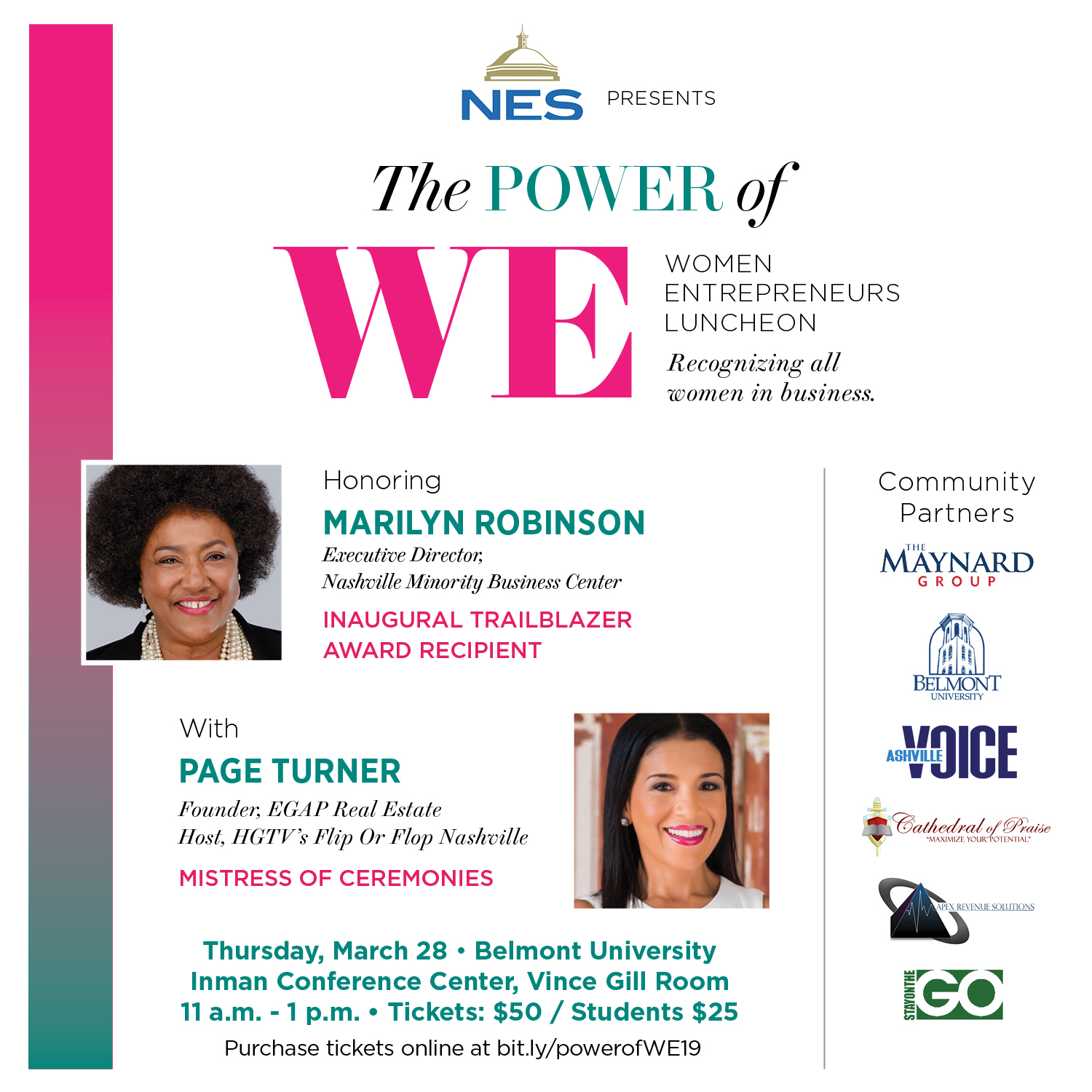 ---
If you have any questions, please contact WEluncheon@gmail.com. Also, if you are interested in applying for a scholarship to the luncheon, please contact the email above for more information.