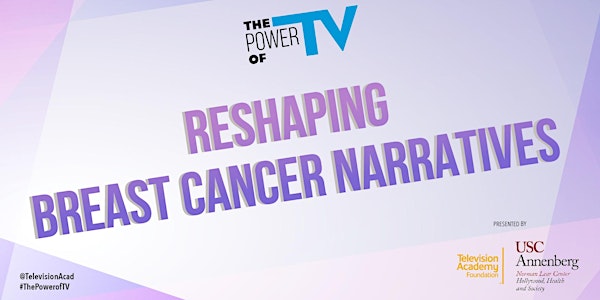 The Power of TV: Reshaping Breast Cancer Narratives
The Power of TV is a Television Academy Foundation public program harnessing the power of television to inspire social change.
When and where
Location
Saban Media Center 5210 Lankershim Boulevard Los Angeles, CA 91601
About this event
The Power of TV: Reshaping Breast Cancer Narratives
Presented By: Television Academy Foundation and USC Hollywood Health and Society
Wednesday, January 25, 2023 at 9:00AM PT
Developed in partnership with Hollywood, Health & Society, a program of the University of Southern California Annenberg Norman Lear Center, the event will assemble storytellers and a medical and public health expert to discuss the very-real disparities in health care services that exist in access to health risk, prevention, treatment messages, and care for people of color.
The conversation will focus primarily on young women who are most affected by early onset breast cancer, the inequities in access to risk information and health care, and how television programs can inspire young women to take action for their health. Speakers will explore ways in which content creators can shed light on the topic and promote positive social change by incorporating more storylines on these issues in their programs.
Join us for an in-person conversation with:
Kristi Korzec, Writer and Co-Executive Producer for Superman & Lois
Alena Smith, Creator of Dickinson on Apple TV+
Krista Vernoff, Showrunner and Executive Producer, Grey's Anatomy and Station 19
Moderated by:
Carri Twigg, Co Founder and Head of Development for Culture House
Continental breakfast will be provided from 8:00am-8:45am PT.
Complimentary self-parking will be available in the structure adjacent to the Saban Media Center.
You may also take the Metro to the North Hollywood Metro Red Line stop two blocks north of the Television Academy on Lankershim Blvd.
This is a public event and Television Academy members as well as the public are invited to attend; each individual may reserve up to two tickets. 
All attendees must provide proof of vaccination or proof of a negative COVID test taken within 48 hours of the event. The date of the last shot must be more than two weeks prior to the event.
Digital or hard-copy proof of vaccinations will be accepted. The COVID test must be time and date stamped.
About the Television Academy Foundation
The Television Academy Foundation is a 501(c)(3) nonprofit organization. We rely on support from philanthropists and sponsors who share our mission of educating and inspiring those who are shaping television's future. While free tickets are available, we ask you to consider a $5 donation to support the Foundation's public programs.