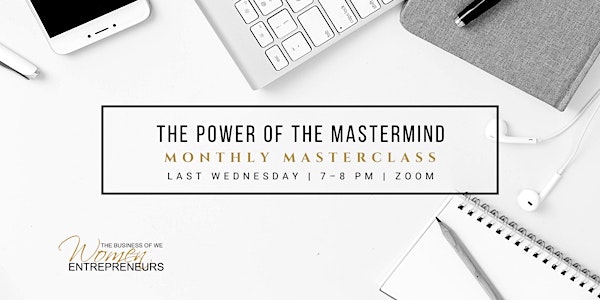 The Power of The Mastermind - VIRTUAL Masterclass
The Business of WE (Women Entrepreneurs)
About this event
We Invite You To Join Us At a VIRTUAL Monthly Masterclass and Experience The Power of The MASTERMIND.
Join us on WEDNESDAY, FEBRUARY 23rd with guest speaker THAIS R. SULLIVAN, SVP/ National Director of Community Lending at Valley National Bank.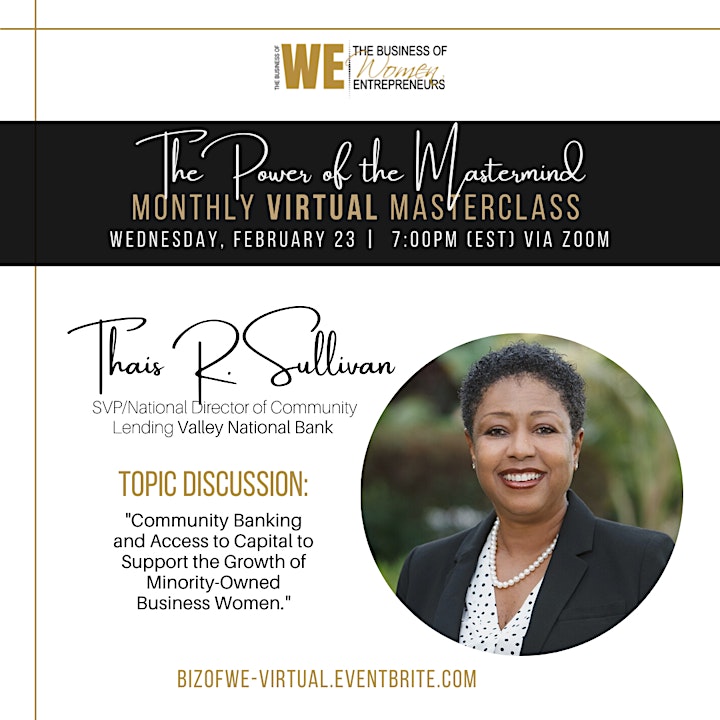 The Business of WE, believes in the positive impact that Women in Business and Entrepreneurs provide. This meet-you-where-your-at virtual space is for the woman who are ready to make that next big bold move, in a highly impactful way, and knows that NOW is the time!. Let's STEP-UP and SHOW-UP With a Collaborative Spirit of Leadership!
Spend an evening with us from the comfort of your HOME, and experience this unique Mastermind setting. Enjoy a glass of wine or your favorite cup of tea, while virtually engaging with other businesswomen and entrepreneurs.
An intimate place and sacred space to share, be heard and be supported. A tight group that stands firmly behind you, holds you accountable and encourages you to just "go for it." We promise you will leave equipped with information, resources and a new sisterhood of like-minded women.
We've designed our signature monthly Masterclass workshops to support women just like you to navigate through their business and professional challenges using the collective intelligence of others. We are confident that the powerful conversations created between like-minded women who are committed to growing, evolving and manifesting greatness for themselves and others, will catapult us all to new heights of achievement!
No matter where you're at in your journey, The Business of WE is where dreams are strengthened and WE get inspired. Where compelling masterminding and brainstorms happen, meaningful connections are made and collaborative partnerships are born... Where uncertainty and fear perish and together #WEThrive!
LIMITED VIRTUAL SPACE AVAILABLE. REGISTER TODAY!
*Help us expand our network (and yours) by inviting other like-minded women to join us!
THE MORE OF US, THE MORE WE CAN ACCOMPLISH!!

ARE YOU SEEKING RESOURCES, CONNECTIONS AND A VIBRANT COMMUNITY OF INSPIRED, PASSIONATE, LIKE-MINDED #LADYBOSSES TO SHARE THE JOURNEY?
First and foremost, we believe in the advancement of women's entrepreneurship by investing in women, plain and simple! For many women there are simply not enough mentors, role models or community, professional networks available to strategically guide them through entrepreneurship — especially in under-served communities or in less formal businesses.
Our vision is to bring together the tri-state area's growing community of energetic and passionate women entrepreneurs and small business owners who are ready and committed to unlock their fullest potential with industry experts – trailblazing women who are truly pioneering progress and who understand what it takes to break-through the barriers to business growth.
As women entrepreneurs acquire the tools and resources, gain experience growing and expanding their businesses, their confidence and aspirations grow, and we want to be at the forefront of that transformation. By providing a sacred space to foster organic and authentic connections, business relationships and collaborative partnerships that would serve as a catalysts for making women more effective and successful as entrepreneurs and leaders.
For more info on the Business of WE and the #WEThrive community, please visit: www.bizofwe.com/community