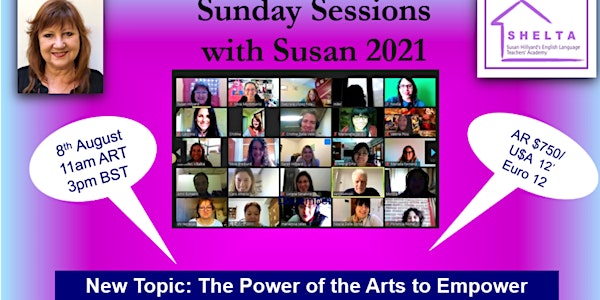 THE POWER OF THE ARTS TO EMPOWER
Want to change? Want to motivate and inspire your students? Come and join our wonderful Professional Learning Community !
About this event
USING THE ARTS IN ELT
This webinar examines the power of the arts in education to empower the individual to construct a more equitable and sustainable society. We will explore recent changes in global educational paradigms and seek a vision for a better global society taking into account the Earth Charter, worldwide movements for a more creative curriculum and the necessity for a transformative education for all. We will analyse drama as a social art and in particular its capacity to develop empathy. There will be a little theory and lots of interactive practice to test out this notion of the power of the arts to empower. The teachers should be able to put into practice many of the activities in their own real or virtual classrooms whatever the level or age of their students.
This is an exciting Webinar (as always!) based on 48 years of experience in 5 countries and more recently on Sir Ken's book:"The Element - How Finding Your Passion Changes Everything"
Presented by: Susan Hillyard
Susan Hillyard, B.Ed.(Hons) Warwick University U.K., Susan has work experience in seventeen countries as a teacher, Head of Department, Director, speaker, webinar presenter, workshop facilitator, consultant, researcher, Professor and on-line tutor. She was Prof. Language IV in Lenguas Vivas and UTN Teacher Training Colleges, Buenos Aires, Argentina. She has authored a Resourceful Teachers Book for Helbling: English through Drama, co-authored a Resource Book for Teachers for OUP: Global Issues, and the TDI-TKT On-line Course for Pearson, New York. She has been involved with two Theatre in Education troupes, based in Buenos Aires, as diction teacher and as an adviser. Former Coordinator, English in Action, teaching English through Drama in Special Education, Ministry of Education, City of Buenos Aires, Argentina, training 20 teachers through blended learning courses to teach English through Drama in Special Education.
Founder and tutor of SHELTA, a global on-line Academy for English Language Teachers.