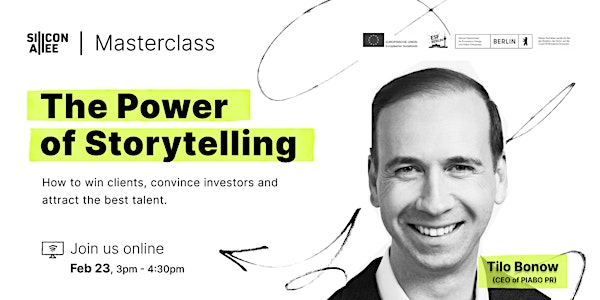 The Power of Storytelling
The Power of Storytelling: How to win clients, convince investors and attract the best talent
Date and time
Thursday, February 23 · 6 - 7:30am PST
Refund Policy
Contact the organizer to request a refund.
About this event
How do your customers perceive your brand? Do they trust it?
Brand positioning is crucial for attracting more clients and investors. The key is to create a brand image that people admire and respect.✌️
Learn how to capture the hearts and minds of your audience:
📅 Join our Haus Masterclass on February 23 at 3pm as we invite Tilo Bonow, Founder and CEO of PIABO to teach you how to harness the power of storytelling to attract clients, investors, and top talent for your business. Learn how to craft compelling stories and build a strong, authentic brand.
You'll gain a deep understanding of the best practices and strategies for creating a strong narrative for your business, and Tilo will provide insight into current trends for 2023 and what's important to remember for the future. Don't miss the opportunity to learn from an expert and avoid common pitfalls.
We welcome you to bring any questions you may have about the topic or any PR challenges you may be facing. This could be, for example, a press release that had no responses, or an article you've been trying to get off the ground for the past 6 months.
We hope you enjoy this exclusive opportunity to learn from an expert in this field! Register now to guarantee your spot! 🔥
See you online! 😉 💻
---
About the Speaker:
Tilo Bonow is the founder and CEO of PIABO, Europe's leading communications partner and growth platform for the digital economy headquartered in Berlin. He established PIABO with the mission to support the rise of globally ambitious tech entrepreneurs in achieving growth targets and ultimately conquering the market. Tech heavyweights such as Google, Stripe, Silicon Valley Bank, GitHub, and Shopify trust in his advice. Tilo is a keynote speaker at international innovation conferences such as NOAH, DLD, and MWC as well as a passionate and active supporter of the tech ecosystem as a mentor for founders. As a value-adding investor in over 40 VC funds worldwide he accelerates the growth of upcoming business stars.
PIABOCommunications is the leading full-service PR partner of the digital economy. From its headquarters in Berlin, PIABO achieves outstanding international media presence for its clients. PIABO's expertise comprises the areas of E-Commerce, Adtech, Traveltech, Fintech, Foodtech, HR-tech, Healthtech, Blockchain, Consumer Electronics, IoT, Artificial Intelligence, AR/VR, Security, Big Data, SaaS/Cloud and Greentech. The range of services offered by the multidisciplinary consulting team includes public relations and social media management, as well as brand strategy, content marketing and influencer relations. PIABO's client portfolio includes Shopify, Google, Stripe, GitHub and Silicon Valley Bank.
*This masterclass will be recorded and the content and resources will be released afterward.
---------------------------
The Berlin Founders Fund is financed through funds from the European Union (European Social Fund) and the State of Berlin.
BFF founders have free access to this event*
About the organizer
Berlin's International Startup Community